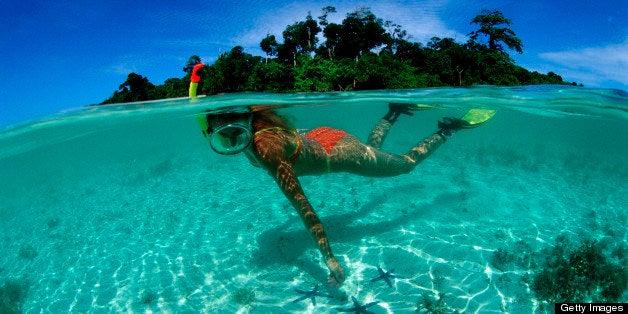 Days are getting longer, the mercury is rising and kids are getting antsy for school to end. It's time to start thinking about family getaways. A unique proposition for single moms. We need to create vacations that allow us special time with our kids, but also activities that together everyone can independently enjoy. My daughter's grown and we're all very athletic so this month we chose to explore the hidden gems of water sport destinations worldwide.
SURFING IN BUSUA, GHANA
For the real adventurous, Busua, in the western region of Ghana, has some of the best undiscovered waves in the world. Remember the 1967 movie Endless Summer? That is what Ghana's beaches look like today, with the added bonus of warm water all year round. Accommodations vary. I suggest you try Fanta's Folly, a beautiful handcrafted ecolodge, very colorful and rustic. Or check into a treehouse or bungalow at The Hideout. While in Busua take a day trip to Dixcove or Butre. Each is a small fishing community with 17th century Dutch historical sights to visit. Take a guided tour through the rain forest, a canoe trip to Abokwa Island, try your hand at traditional farming or simply skateboard, kayak or snorkel. Contact Green Bug Adventures to arrange your family surf tour. You might even want to combine it with a voluntour day or a safari
KITE SURFING/WINDSURFING DAKHLA, MOROCCO
Where the desert meets the beach on the Atlantic coast of the Western Sahara sits the secluded Dakhla. It's a spit of sand sandwiched between a lagoon and the ocean 600 miles south of Marrakech. It is a wind-and kite-board surfing paradise with 365 days of sunshine a year and a near-constant breeze. The huge flat water of Dakhla lagoon offers ideal conditions for learning and improving your kitesurfing and windsurfing skills. It has been the host of the Annual KiteSurfing World Cup, bringing the best athletes from all over the world. For special family bonding live like a nomad at Dakhla Attitude, a Bedouin Tent Camp. Set up only a few meters from the water, nestled into the sand dunes they have modern luxuries like electricity and comfy beds. With this all-inclusive opportunity, meals are served buffet style in a long dining tent. You and your family can choose between a private two person or a shared tent (up to seven). If your family is not into vagabonding, the Calipau Sahara might suit your style: its got 43 bedrooms, an infinity pool and flat screen televisions.
SNORKELING THE KOMODO ARCHIPELAGO, MALAYSIA
How about packing up your snorkeling gear and heading off to Indonesia! The truth is my girlfriend Janet who lives in Malaysia is the one who convinced me to write this watercentric blog post in the first place. She was bragging about the superb reefs in Southeast Asia, and with 17,000 tropical islands to visit I agree; she is right. Southeast Asia is an ocean sport paradise. The Komodo Archipelago's abundance of hard and soft corals provides a Technicolor habitat for many of the great Pacific species of invertebrates and pelagics, including sharks, lionfish, rays and turtles. The great thing about snorkeling in Indonesia is the variety of options for the veterans and beginners alike. The waters sport some wild currents for the experienced snorkeler in search of adventure. On the other hand, tranquil bays abound, providing safe anchorage sites and fabulous snorkeling opportunities, especially for families. To make this destination easily accessible for families, Asia Transpacific Journeys offers personal, customized journeys, as well as small-group trips with local, experienced guides and unique, cultural and adventure experiences. Other activities can include cruising on traditional Indonesian schooner, whitewater rafting, traditional puppet-making, Balinese cooking classes, a local family home visit with dinner or bicycling to local markets. The dry season starts in late April or May, and is generally recommended as the best time to go.
DIVING FORT MYERS & SANIBEL, FLORIDA
Located in 90 feet of water, roughly 28 nautical miles off of Sanibel Island on Florida's southwest coast is the Coast Guard Cutter Mohawk. Still in full fighting trim, it offers an exceptional diving experience with the ship's replica guns, huge smokestack, crow's nest, bridge, deckhouse and massive propeller all accessible for exploration. Trained and equipped divers descend the smokestack into the Mohawk's enormous engine room to the giant engine's inner parts and reduction gear. Divers report many species of fish, sea turtles and bull sharks. And recently, wreck divers have spotted whale sharks, the world's largest living fish with a maximum size of about 65 feet. The World War II warship was deployed to its final resting on July 2, 2012. As a result, it created the first Veterans Memorial Reef in the area dedicated to all U.S. veterans. Staying at South Seas Island Resort will make for the perfect blend of an above- and below-the-water family getaway. Located at the northern end of Captiva Island, this iconic 330 acre resort village is situated on a wildlife preserve and features two-and-a-half miles of shell-laden beaches. South Seas was named one of the top 10 Beach Resorts for Families by Parent's Magazine.