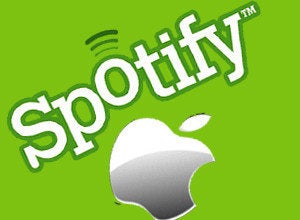 Move over Harry, after casting its magic over Europe for the past several years, Spotify has made its way to the States. The digital music service is currently available by invite-only in the U.S. Users can access the service for free (with ads) or a small monthly fee (sans ads). Then after six months, the service limits free accounts to 10 hours per month.
If you're familiar with services like Pandora and Grooveshark, you might be asking yourself what the fuss is all about?
Indeed, the ability to legally access music on the Web and share among friends has evolved since Spotify first came on the scene in 2008. However, the company believes that its model is sustainable and readily points to the 10 million-plus users in Europe that it has acquired of which 1.6 million are paying subscribers. There's much interest in Spotify on platforms like Twitter, where would be users and those with accounts share the latest news regarding the music service.
There are also high hopes that Spotify and similar services will contribute to new revenue streams for traditional recording industry giants like Universal Music Group (UMG). Mashable reported that UMG plans to launch a playlist site:
"Digster taps into Spotify's free tier. Billboard reports that the service is set to go live today (Wednesday). It's a U.S. version of a pre-existing product in Sweden and Norway developed by Universal Music Sweden. Digster basically adds some authority to the music subscription service's offerings, tapping music editors (UMG employees and artists) to create curated playlists from songs both on-label and off."

Whether or not Spotify and its brethren will revive the recording industry remains to be seen, but their "exclusive" introduction to the U.S. market is bound to generate enough buzz to make users curious. If it's vaguely reminiscent of Google + and their recent invite-only wire act, then you're not alone in this perception. The search behemoth has grown its nascent social network to more than 10 million users in a few short weeks. Both companies employed an "influencer first" approach.
For example, Spotify teamed with online influence measurement site, Klout. People with perceived influence, according to Klout, were granted early access to the service and in turn these "influencers" have helped spread the gospel around the digital music service. Identifying influencers and seeding a product in this way isn't new in and of itself, however, the use of teaming with a service that "validates" the maker of the product or service and the "influencer" is a developing trend.
New research indicates that the "tipping point where a minority belief becomes the majority opinion" lies with 10% of opinion holders. Therefore, the approach of tapping into the early adopters (influencers) in the hopes that their opinions about the product or service will catch on like wildfire is not only supported by research, but anecdotally through the seemingly endless conversation around Spotify's magical turn in the U.S. It will be interesting to see how new campaigns glean insights from Spotify's launch and leverage assets like Klout for launching new and innovative products and services.
Have you used Spotify? What other digital music services do you use and why? Do you pay for services like these or just use the free accounts?
Please be aware that I was given access to Spotify because I'm a Klout influencer. I was under no obligation to receive it or talk about this company. I get no additional benefits for talking about the product or company. To sign up for a free early account, please go here.
Related
Popular in the Community