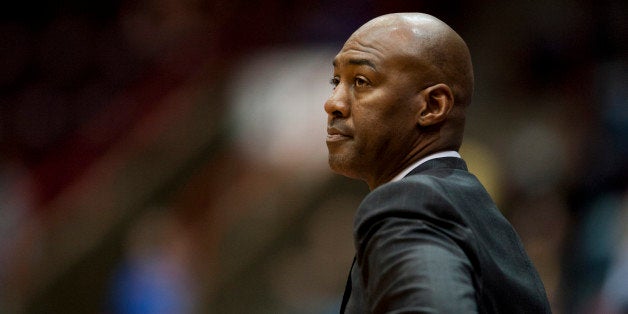 By Mike McLaughlin, Assistant Sports Editor
Long before he was the No. 1 pick in the 1988 NBA Draft, Danny Manning knew Wake Forest. Manning grew up only 30 minutes away in Greensboro, N.C.
Well aware of the basketball tradition at Wake Forest, Manning believes that the university and his values mesh well. Moreover, Manning has a vision for the program, partly drawing upon the vast array of experiences he has accumulated as a player and coach.
Despite Manning only being at the university for a week, the camaraderie of the campus community has already impressed him.
What were you initial impressions of Wake Forest?
Going into it you know it's an ACC school, you know it's a very prestigious academic institution and you know it's a very unique and intimate campus, student-body and faculty.
I grew up in Greensboro for the most part and the Demon Deacons played in the Greensboro Coliseum when I was growing up here. So they were kind of the ACC team of Greensboro so to speak. I was pretty well educated on Wake Forest and the thing that has blown me away has been the camaraderie, not only amongst the coaches but among the students.
I had the chance to go to a couple of functions and I had a visit with some seniors that were leaving and preparing to leave after they finish this year. They all talked about the impact this university had on their lives and how prepared they feel to step out in to the real world. That was something that struck a cord.
How will you market the university to recruits?
We have a great product. A few years back, Wake Forest was ranked No. 1 in the country. Honestly, that's where we want to get back to. We want to get back to the days of Coach Odom when he went to multiple NCAA tournaments and we won ACC Championships.
We want to get back to this being one of the programs that you always talk about and mention when you talk about the ACC. We have some work to do and we are not naive of the fact that we do, but we are embracing the challenge. We know that we are up against great, great coaches in the ACC.
There are four Hall of Fame coaches in the league. We understand that, that's part of the challenge, it's part of our journey. I'm looking forward to leading the charge of getting Wake Forest basketball back to where we think it belongs.
You were an assistant coach under Bill Self at Kansas. What have you taken away from his coaching style?
There are a couple of things. His people skills were something that impressed me and that continue to impress me. How he relates to his players, how he relates to the different alumni groups that he speaks with, and his relentlessness in coaching and teaching guys while challenging them.
Coach Brown, my college coach, and Coach Self, along with my father, probably had the biggest impact on my philosophy and how we are going to run our program.
Coach Brown was probably the best coach I have ever played for. I [want to] do what he did for me in terms of how he made me a better person [and] a better player. If I can make those three things happen for every individual who comes through our program's doors, we are going to be pretty successful.
How are you going to implement your philosophy at Wake Forest?
Everybody has their own recruiting pitch, everybody is unique in their own sense. I have been very fortunate throughout my playing career. I've been a starter, I've been a guy who is depended on to score points, I've been a guy who has been a facilitator in the starting lineup, I've a been a guy who is the sixth man, I've been a role player, I've been in the rotation, I've been out of the rotation and I've been hurt. I've experienced every role on a team that anybody on our team is going to have.
Now I may not know exactly how each individual is feeling but I have a pretty good idea because I have been there. And then I look at our staff, everyone on our staff has played basketball. We have two guys that played at the University of Kansas, some of us went the Junior College route, we've got Randolph [Childress], one of the best and most beloved players here. So we will be able to relate to the guys and it's about helping them along their journey.
We are able to pull experiences because we have been there and we can share them with them. It might be saying 'Hey, I can see what you're going through' and us having a conversation and he is like 'Coach, this is what is happening, I don't know what to do' and I can say 'Well, when I was in that situation, this is what worked for me. Or this is what didn't work for me.' Being able to give them some different ideas, help them think outside the box on how they are going to attack certain situations and certain problems; that's the biggest deal for us as a staff. We're teachers. We're labeled as coaches but we are teachers and we teach life through the game of basketball. We have to win games and we have to be successful on the basketball court but that carries over in life too. We have to make sure that when our guys leave here, they're prepared for life. They're prepared to go out and attack the world and make a positive contribution.
Should players be treated differently?
Absolutely. Everybody is unique. Everybody is different. You have young men that are verbal and language learners, you have young men that are visual learners. You have young men that you can just say 'Hey, go do this' and they do it. You have to get a good feel for the individual and the personality, and the avenue that best reaches them. So no, everybody is not going to get treated the same. That's life, it's how it is.
When you guys [students] leave here and you leave and you go out in the business world, you're not going to make the same as the executive in the corner office. That's not happening, that's just how it is. It's our job to make sure that those guys (players) understand that. But it is also our job to get them to know "Hey, each and everyday I gotta put forth my best effort. And I've got to continue to grow and grind and get better. And climb and develop." That's your journey. That's what your journey is all about but you have to enjoy the journey along the way.
You preach defensive intensity, how are you going to make it a focal point for players?
If they want to play, they'll play defense. It's simple. If you don't play D, you won't play. That's just how we do it. That's how my program is run. That's how our system is run and if you don't want to play defense, than I'm not the coach and this is not the school for you.
What kind of player do you want to recruit to the university?
The player that we want to recruit to the school is one; a willing student. After that, it depends on the personnel on our team. You obviously want to go out and get the best players that you can, that fit your system, but you are going to need players who are facilitators and can get other guys involved. You are going to need players that are defensive minded. You are going to need players that are shooters. You are going to need all of these pieces. We have to make sure that we continue to go out and get pieces that fit what we are trying to do and its on me to make sure that they mesh and come together.
What is your message to the Wake Forest community?
We are going to be a program that works extremely hard everyday to get better. We are going to be a program that gets out and is visible on campus, in the community and we want people to see us and appreciate the amount of effort and intensity we are going to play with. That's something we can control each and everyday. We can't control whether we make shots, and we can't control some of the other things that are going to happen out on the court. You are going to make good decisions and you are going to make bad decisions as a player. Hopefully we make more good decisions than bad decisions but as long as people understand that we are going to play with a great deal of effort and high level of intensity, people are going to be proud of how we carry ourselves.
At the end of the day, wins and losses are very important but also how we go about our business everyday is important as well. I know this university understands and respects hard work.
Calling all HuffPost superfans!
Sign up for membership to become a founding member and help shape HuffPost's next chapter