Francis Greenburger is the Chairman and CEO of Time Equities Inc., a real-estate investment and development company, and chairman of Sanford J. Greenburger Associates, a literary agency representing some of the most successful writers of our time. He is also an art collector, the Founder of The Omi International Arts Center, which includes The Fields Sculpture Park, international residency and children's education programs. Time Equities Inc. founded Art-in Buildings, an innovative program that brings contemporary art to non-traditional exhibition spaces. In our recent conversation, Francis Greenburger talked to us about his involvement with art, his passion supporting artists, and his desire to expand the audience for art.
Lilia Ziamou: Your interest in art – How did it start?
Francis Greenburger: I had an intuitive interest in art from a very early age. Even though I grew up in a literary family because my father worked in publishing, somehow art was a compelling interest of mine. And when I was 14, I bought my first painting, for a very small amount of money, maybe $25. I already had the impulse of somebody who liked to have art in their life.
Lilia Ziamou: How did your interest in art evolve over the years? Were there any critical moments?
Francis Greenburger: I think one critical moment was when I was in my early 30s and my business life had been very busy and intense for some time. I decided that I wanted to be consumed by business and that I wanted to have a passion was separate from the world of business. I chose to focus on my art interest. At the time, I decided to express it in two specific. First, to sponsor an art prize. I decided to invite prominent people from the art world to select the artists, since receiving the prize from these prominent people would give special meaning to the prize. In 1986, the first year of the prize, the jurors who selected the winners were Robert Motherwell, Clement Greenberg, Tom Messer, Andre Emmerich, and Eloise Spaeth. This began the tradition of the prize, which continues to this day. Second, at the invitation of Anthony Caro, a prominent British sculptor, I helped reorganize the Triangle Artists' Workshop, a residency program that he had begun. That was my first experience with residency programs. These were of the first pivotal proactive steps I took to expand my interest in art.
Lilia Ziamou: In 1992, you founded the OMI International Arts Center that offers five residency programs: music, literature, dance, architecture, and of course, the visual arts. How did OMI start? How did it evolve?
Francis Greenburger: As I mentioned, I was working with Anthony Caro on his residency program. I spent about three or four years as the Chairman of the Board of that program, and at a certain point, I had some different ideas about how it could be developed, so we agreed that we should work separately. I didn't really intend, in the beginning, to start my own program, but a certain situation presented itself: a property that was suitable and very inexpensive. I spoke to a couple of my friends who had worked with me on the Triangle Board, and we thought we should try to implement our ideas on how to make a better residency. We wanted to mix artists of different traditions and different interests. We didn't really know what to expect, but we thought we would try it, and in fact, it worked very, very successfully. And as you know, over the years we built a very strong reputation. So, people find it meaningful, career changing, and sometimes life changing.
Over the years, different people came to me with ideas about various programs that we could incorporate into OMI and we now have five different residency programs. We also have an outdoor sculpture park and an indoor gallery. And we have a very, very large children's day camp and education program that is very popular. So it has become a whole world, and it is a very different from the idea that I started with, which was a rather small and specific art residency only. But I enjoy the fact that it has evolved and changed and I hope it will continue to do so in the years ahead.
Lilia Ziamou: Since the early days of OMI, you have been very open to new ideas. How do you evaluate these ideas?
Francis Greenburger: They have to be consistent with our program and overall mission and they have to somehow complement what we are doing, as opposed to being something completely new. So it has to be the right fit and it has to be something that is really quite compelling to us. I also think that many people have ideas, but it is not enough. If people have a good idea and they have to commit themselves to implement it.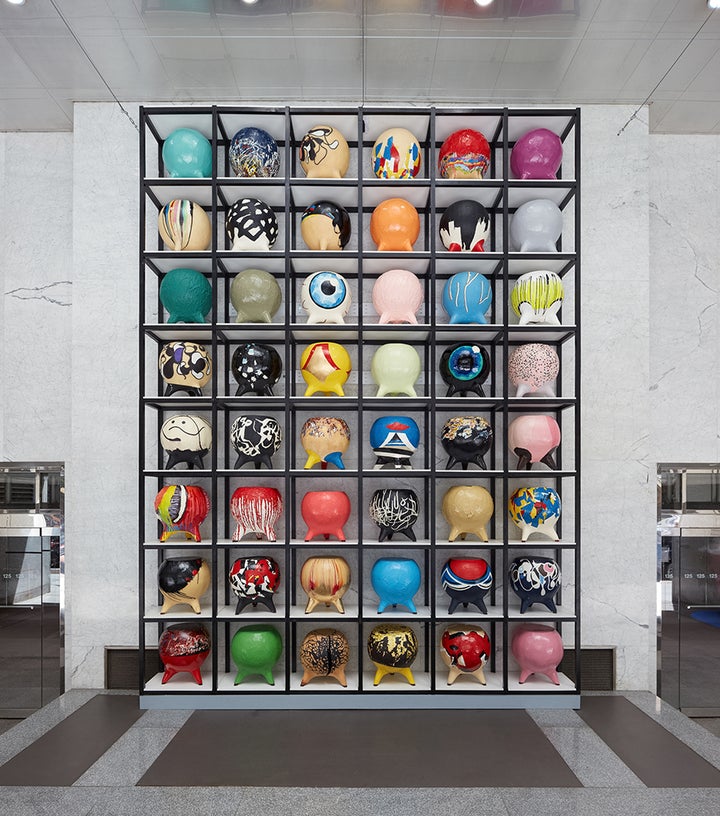 Lilia Ziamou: In 2000, you founded the Art-in-Buildings Program. How did this program start? How is it different today from when it first started?
Francis Greenburger: I think the very earliest moment that I remember - and the program didn't even have a name yet-, is that I was buying an office building downtown in New York City as part of my usual real estate activities, and I noticed that the lobby was quite large. I thought that this could be a nice place to exhibit art, and I proposed to Elisabeth Akkerman, who at the time was helping me to organize my collection, and some other friends, to organize exhibitions in this space. We had numerous very successful exhibitions and some of them even got published reviews. That was the very beginning, and led me to the understanding that the public areas of buildings (office buildings and even residential buildings) could provide interesting exhibition venues for art. The Art-in-Buildings program now spans across more than 25 buildings. And we just completed a very large exhibition in the new building that we built downtown, at 50 West street. This building has over 95 works of art in it, and has created, I think, a very special experience for the residents there.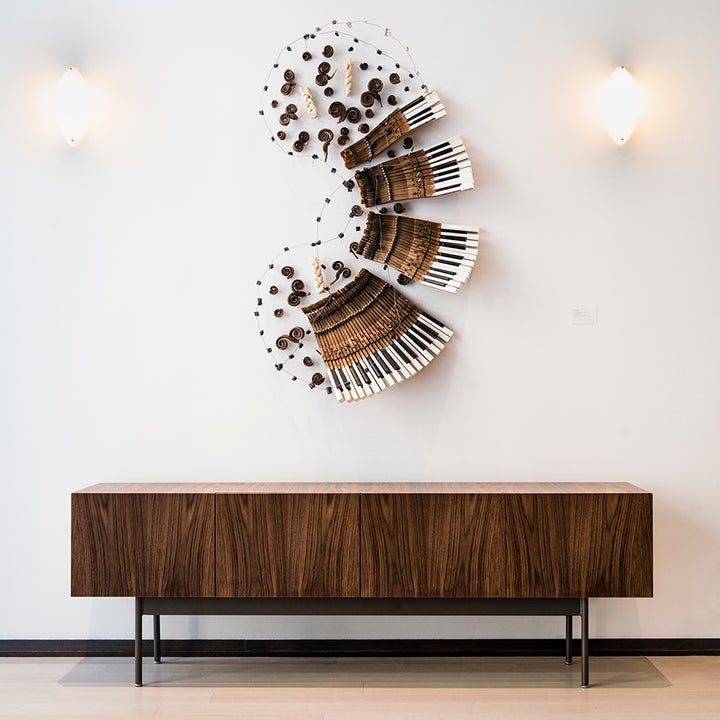 Lilia Ziamou: Your most recent project, 50 West street, included an Artist-in-Residence Program that was received enthusiastically by the participating artists. Tell us about it.
Francis Greenburger: In this case, full credit goes to Jennie Lamensdorf, my curator. We had rented an office nearby for our sales showroom before the building was completed, and we had quite a bit of extra space. Jennie suggested that we invite some artists who might be interested in having a studio space for six months and access to the construction site, which normally wouldn't be available. We were surprised how enthusiastic artists were about it and we had quite strong participation. The interesting thing was that not only the artists were enthusiastic about it, but the construction workers and the people who were part of the construction management team liked the fact that their work was being documented, and appreciated that this documentation would exist after the building was completed. So, this site specific residency turned into a very successful experiment.
Lilia Ziamou: In your recent memoir, Risk Game, you said: "I love the way the pieces in Art-in-Buildings spark dialogue …" Could you share some of your experiences that involve these dialogues?
Francis Greenburger: I think that the dialogue can occur in two contexts. First, how the physicality of the building interacts with the artwork. For example, the Alice Aycock sculpture, at the plaza by the entrance of 50 West street, creates a terrific dialogue between the design of the building and the sculpture itself. The second context is the dialogue between the building occupants, the residents and their guests, and the works of art. I can tell you about an experience I had in suburban Detroit, in an area called Southfield where we have a very large office complex. When we bought it, the building was half empty, and we were able to attract two very large tenants although there was a lot of competition - there were other buildings available that these tenants could choose from. The building had been kind of neglected and lacked life. So we installed artworks in the public areas and they brought life to the building. Both large tenants said that they liked some of the art but not all of it. What mattered most to them is that art in the public areas was an indication that the owner cared about the building and this was critical to them.
Lilia Ziamou: You also said that you "fostered the creation of many beautiful things…"
Francis Greenburger: I can respond to that. I am somebody who has, let's say, at least two different talents in life. One is that I am very entrepreneurial. I can organize, manage, and bring to life both for-profit and not-for-profit organizations. But I also have a very strong aesthetic interest and I love visual experiences. Paintings, sculptures, landscapes, architectural design, anything that is visually stimulating is an important experience for me. So, in my entrepreneurial work, I try to bring these interests together to help the creation of meaningful and high quality visual experiences.
The transcribed text has been edited for length and clarity.
Popular in the Community