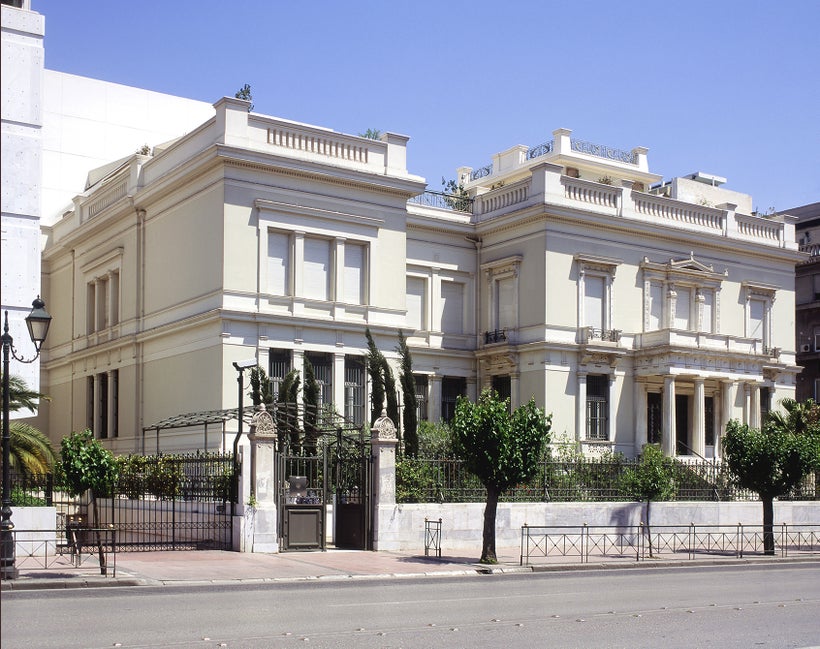 In recent years, Athens has witnessed a remarkable revival of cultural events. One museum at the heart of this revival is the Benaki Museum. We reached out to George Manginis, who along with Irini Geroulanou and Haris Siampanis comprise the Benaki Museum Executive Committee. During our conversation, Dr. Manginis spoke about the uniqueness of the Benaki Museum. He also shared his enthusiasm about the Museum's exhibition program, partnerships, upcoming plans and initiatives.
Lilia Ziamou: What is unique about the Benaki Museum?
George Manginis: The Museum's main venue is situated at the heart of Athens. There are also six satellite museums in various locations around the city and one in Southern Greece. Therefore, our network constitutes one of the largest cultural conglomerates in Europe. The Benaki Museum of Greek Culture, our flagship building, is the only museum in the world where a visitor can get a concise history of Greek culture, from the prehistoric period to the twentieth century, within a few hours. If one dedicates a whole day, she or he can truly focus on magnificent details—and enjoy a delicious Greek meal. The building was the family home of the Museum's founder, Antonis Benakis, and although it was enlarged several times, it retains its intimacy, which makes people come back as if visiting a friend's house. It is Greece's most beloved museum.
The Benaki Museum is also special because, contrary to most museums in Greece, it does not have an exclusively Greek focus. It perceives the culture of our country in dialogue with cultures around the world, and in dialogue with contemporary art. Our extensive collections of Islamic art (housed in a dedicated museum) but also Chinese, Southeast Asian, African and Pre-Columbian art can support and inspire this dialogue. Furthermore, a state-of-the art cultural centre (@ 138 Pireos Street) hosts dozens of exhibitions, mostly but not exclusively of contemporary art. Since its opening in 2004 it has allowed us to highlight the latest discourses and "hottest" breakthroughs in the Greek and international scenes in an inclusive, welcoming space which is attractive to all visitor groups.
Lilia Ziamou: Tell us about the Museum's exhibition programs. How are these developed? How did they evolve over the years?
George Manginis: The Benaki Museum has organized and hosted dozens of exhibitions drawing from its collections or focusing on Greek artists, architects, musicians, and politicians. We have also presented the work of Old Masters as well as international contemporary artists and architects, for example, Marina Abramović, Santiago Calatrava, Tony Cragg, David Hockney, and Sean Scully.
We receive hundreds of exhibition proposals each year and of course they have to be filtered (our own ideas have to be filtered as well!). The first filter is "Do they fit the Museum's mission?" The second filter is "Would they engage our public?" And the third one is, of course, "Are they viable? Can we support them curatorially and financially?" In recent years, we have orientated ourselves towards more international and more contemporary exhibitions. Such orientation is, generally speaking, familiar to most museums around the world.
Lilia Ziamou: Can you elaborate on the "fit with the Museum's mission" in the context of an exhibition?
George Manginis: For example, the upcoming exhibition "Liquid Antiquity" is a telling example as it is ideally suited to one of our missions, to maintain a dynamic connection with ongoing cultural processes in Greece and beyond while keeping a focus on the Benaki Museum's permanent collection. The exhibition was conceived by Prof. Brooke Holmes (Princeton University), in collaboration with Dr. Polina Kosmadaki (Benaki Museum) and Dr. Yorgos Tzirtzilakis (University of Thessaly). "Liquid Antiquity" is "a critical reflection on the fluid and open-ended relationship between antiquity and contemporary art." It includes a book and a site-specific video installation of interviews with six artists, who contributed to the publication, in dialogue with objects in the Museum. Furthermore, the exhibition allows us to work again with a long-term partner and supporter, the DESTE Foundation, on one more exciting project.
Lilia Ziamou: Can you also elaborate on "engage with the public"?
George Manginis: We want our exhibitions to be interesting and educational. For example, a contemporary art exhibition should touch upon the human experience in Greece, or feature something that people living here or visiting our country would find relevant. One of the consequences of the recent economic and cultural crisis is that international artists and curators have focused on Greece. For example, the working title of this year's documenta 14 (the important quinquennial art exhibition taking place for the first time outside its German birthplace, Kassel) is "Learning from Athens." By the way, the Benaki Museum will provide three of the main venues for documenta 14 and our team has worked in partnership with its curators throughout the exhibition's setup. Furthermore, Greeks have become more extrovert in trying to comprehend their experience within a global perspective. There has been some sort of spark coming both from international artists, institutions and the public and from their Greek counterparts; this spark ignited something fascinating, a true fire of creativity. This is not art for art's sake. It is art that satisfies the need to express, to define, and to understand.
Lilia Ziamou: Tell us about your partnerships with other institutions
George Manginis: The Benaki Museum has been supported over the years by major institutions, foundations, private individuals, and the Greek State. In our effort to build new partnerships, we pledge to engage with new audiences. For example, an exhibition on Greek culture called "Gods, Myths and Mortals," featuring objects from our collection, has traveled to the Hellenic Museum in Melbourne, Australia for ten years. We also curate temporary exhibitions at this affiliate institution every year. This is consistent with our educational mandate: Melbourne is the third largest Greek city in the world! We have also organized exhibitions in the United States of America. On behalf of the Greek Ministry of Culture, we curated a major exhibition on Byzantium entitled "Heaven and Earth." It traveled to the Art Institute, Chicago and to the National Gallery of Art. We also present smaller traveling exhibitions of photographic or archival material. For example, an exhibition on a very rare photographic album from the first modern Olympic Games in 1896 has toured cities in the United States, including Washington D.C. and New York City. Over the years, we have joined forces with dozens of museums in Asia, Europe, South and North America. Back in Greece, we have worked in partnership with almost every educational, art-related and museum institution in the country. Nevertheless, we continue to seek collaborations with a wider network of museums in Greece and abroad in order to engage with ever-expanding audiences.
Lilia Ziamou: Any concluding thoughts?
George Manginis: I have been a friend of the Benaki Museum since I was a child and, for the past fifteen years, I have researched its Chinese art collection. Despite this long-standing relationship, when I recently joined the Museums' Executive Committee, I was pleasantly surprised by one thing: Although this cultural organization has suffered deprivations due to the post-2008 predicament, which (I am repeating myself) is not only an economic recession but also an identity and cultural crisis, there is optimism within its walls. This is possible because we tap into a deep reserve—our cultural values and educational mandate, a reserve which does not seem to be depleted.
The transcribed text has been edited for length and clarity.
Calling all HuffPost superfans!
Sign up for membership to become a founding member and help shape HuffPost's next chapter
This post was published on the now-closed HuffPost Contributor platform. Contributors control their own work and posted freely to our site. If you need to flag this entry as abusive,
send us an email
.