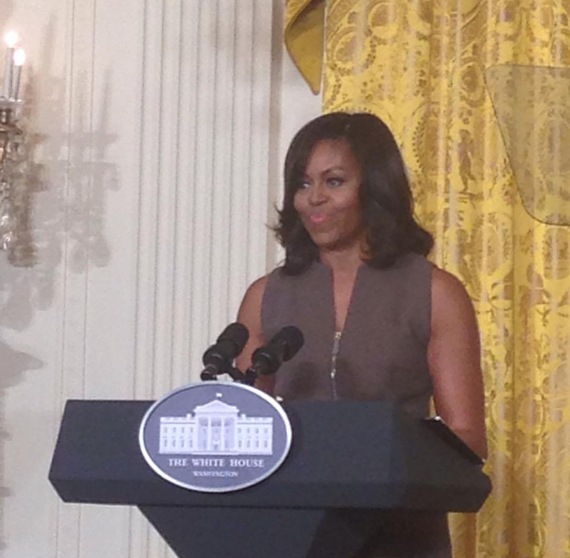 It's not every day one gets invited to the White House because First Lady Michelle Obama needs your help; so when the invitation came, I put on my fearless "Wonder Mom" cape (figuratively) and showed up! On March 15, 2016, First Lady Michelle Obama invited 150 influencers to join her at the White House for a conversation about the Let's Move! initiative!, which focuses on the health and wellbeing of the nation's children. The day was inspirational and truly life changing -- not only for the women in the room, but for the millions of youth whose lives have been and will be changed by this initiative.
Attendees heard from a panel of health advocates and leaders... I knew I was in a room with movers and shakers when the #LetsMove hashtag began to trend! The day of empowering speakers ended with a cooking demonstration by the White House Executive Chef and a tour of the White House Kitchen Garden.
Over the past three decades, childhood obesity rates in America have tripled, and today, nearly one in three children in America are overweight or obese. The numbers are even higher in African American and Hispanic communities, where nearly 40 percent of children are overweight or obese. The First Lady saw a need, and realized that if we don't solve this problem, more than one third of our nation's children would suffer from diabetes at some point in their lives. From our nation's fiscal health perspective, by 2018, we'll be spending nearly $350 billion a year treating obesity-related conditions...and by 2030, obesity-related diseases could cost more than half a trillion dollars. So, how do we solve this problem? This is where Let's Move began:
Inspires Action: Let's Move! inspires action, because the physical and emotional health of an entire generation and the economic health and security of our nation is at stake. The First Lady launched Let's Move! in 2010, to help kids and their families lead healthier lifestyles.
Fosters Healthier Environments: The goal is to foster environments that support healthy choices, whether it be healthier foods in our children's schools, making sure that families have access to healthy foods that are affordable, along with promoting physical activity. The first lady believes that, " No one plays a bigger, more important role in our kids' health than we do as parents."
Engages Parents and the Community. Let's Move! focuses on helping children have a healthy future; giving parents information and fostering environments that support healthy choices; providing healthier foods in our schools; ensuring that every family has access to healthy, affordable food; and, helping children become more physically active.
Impact: In just six years, nearly 80 million people -- or nearly 1 in 4 Americans -- now live in a Let's Move! City, Town or County; more than 30 million kids have access to healthier school breakfasts and lunches; 2 million kids have a Let's Move! Salad Bar in their school; more than ten million kids attend Let's Move! Active Schools where they work to get 60 minutes of physical activity a day; 1.6million kids now attend healthier daycare centers where fruits and vegetables have replaced cookies and juice; thousands of chain restaurants have created healthier kids' menus, and food and beverage companies cut 6.4 trillion calories from their products; and religious leaders are teaching their congregations about healthy eating through Let's Move! Faith and Communities.
First Lady Michelle Obama believes that, as parents, we hold the purse strings:
That's really our secret weapon...we decide where to spend our money. And believe it or not, we truly have the power to control the marketplace for food in this country. All these healthier, better-for-you products that we're seeing on the shelves now, they didn't just come out of nowhere. Fast-food places didn't just randomly decide to add apple slices and skim milk to their kids' meals. No, these products were developed because we demanded them, and companies stepped up to meet the demand. And if we want to keep seeing better food options for our families, then we need to keep raising our voices and convincing more parents to join us in voting with their wallets. We as parents need to be leading this conversation about kids' health in this country. It's up to us as parents to push back and say, "We can't afford not to give our kids nutritious food." Because when we're spending hundreds of billions of dollars treating obesity-related diseases, we simply don't have the luxury to ignore this issue.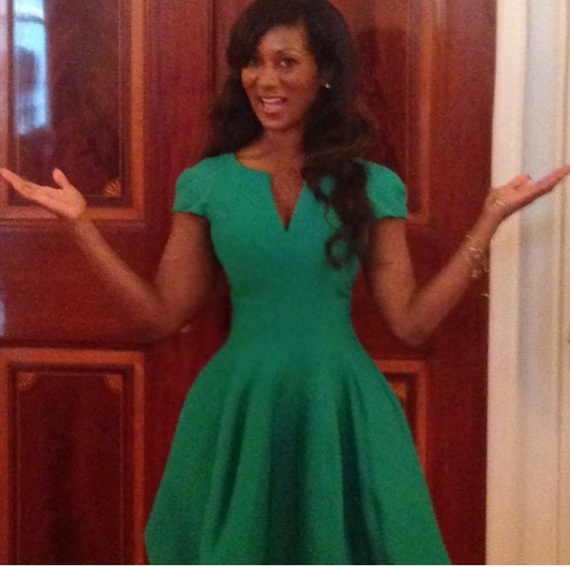 FLOTUS inspires me in so many ways -- as a breast cancer survivor, as the mother of a 13-year old girl; and on March 15, as an advocate, I was more in awe of her than ever -- in how her vision to help our youth live healthier lives has changed the lives of millions and will continue to do so for years to come. As an advocate with a passionate belief in using my life to make a difference, I applaud her work. To learn more about Let's Move!, get involved and to stay connected with the First Lady's initiative, follow the social media accounts here. Twitter: @LetsMove and on Facebook: www.facebook.com/letsmove.