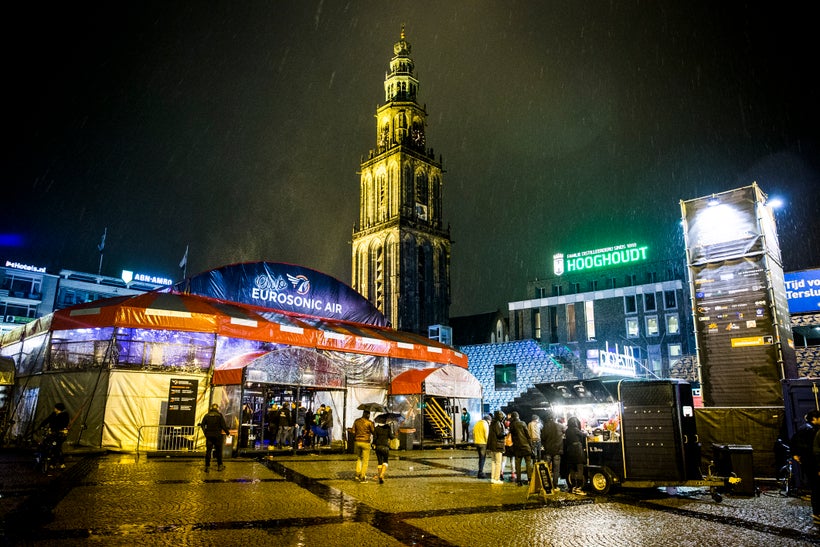 Chances are you haven't heard of Groningen, a gem of a city located in the north of the Netherlands. Holding many of the signature charms of Amsterdam, with canals, coffee houses, and more bikes than people, Groningen is cozy and almost completely walkable. It has a large student population (roughly 50,000 out of 200,000 inhabitants), a diverse music scene, and an innovative spirit. Known as the "City of Talent," the month of January truly embodies this nickname, when the city hosts Eurosonic Noorderslag.
Eurosonic is not your traditional festival, the focus is mostly on industry professionals. Many say it signals the beginning of the year for the European music industry, where up and coming artists and breakout acts play side by side for booking agents, promoters, managers, and press. And with a focus on live, it prides itself on having given an initial platform to many artists, including Ellie Goulding, Stromae, and Bastille. The first three days of the festival, featuring acts from all over Europe, is Eurosonic. The fourth day, when only Dutch artists perform, is Noorderslag.
In addition to the official Eurosonic bill, music can be heard all over town. There are locally curated festivals, including Euromoney at the electronic focused Oost Club, and Grunnsonic hosted by POPgroningen. And many acts from the festival also perform showcases in venues such as the Plato Cafe, and the family run brewery, Brouwerij Martinus.
Ever year, a different country is highlighted at Eurosonic, and the focus of 2017 was Portugal, "the land of festivals." Twenty-one acts performed, including Neev, the multi-instrumentalist, who is also the vocalist and songwriter of the track "Breathe" by electronic group Seeb.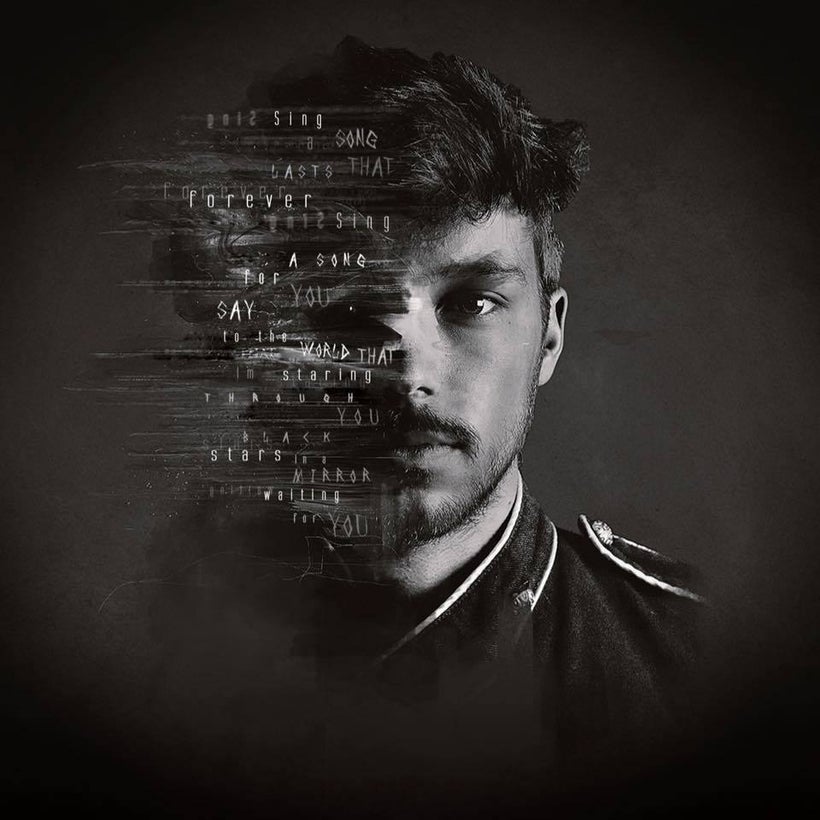 Can you tell me about your concert and Eurosonic experience? For me, an artist is born on stage. I've always seen that in every act. The experience is very human, it's all about the music and what's happening there. Sonically, it involves a lot of my styles and influences. I use a custom guitar, which has like four instruments inside of it.
One of the things that I have been happy with is that I actually feel, in a strange way, that people were there with me. When you see the response and people reaching out to you, it's very touching, because it's very personal, that's the only proof you need that the show was good, the show was right. That's what is missing these days, the connection. I see a lot of concerts where people are afraid of connecting, of being vulnerable on stage. That's what elevates music.
What do you like about Lisbon? It's a very nostalgic city, I like that about Lisbon. One of the greatest things about Portugal is that it"s growing a lot, but it's still traditional. It's one of the things that brings the city alive. You still have a culture that you can feel is from a long time ago and is still there. Amazing how a city is booming so much. It's rare. There's so much standardization, but when you come to Lisbon, you see the soul of this city.
What instruments do you play? Piano, guitar, basically I play a lot of string instruments. It was very natural, I started with the guitar and sort of grew up from there. Also bass and drums.
Honestly before starting in music, I was a writer. Not only like poetry, but more prose. Music comes as a consequence of an idea. Music was an organic process and the music evolved based off of this.
How did the collaboration on "Breathe" come about? We worked with some common people and Breathe was a song that was written and we always felt that it needed something different. And I was completely open to that, it was the perfect mix for us.
Is your music more electronic focused? No, my music focuses more on organic sounds, although it has some electronic based sounds.
What are you working on now? I'm finishing work on my debut album, my first single is out and I'm very excited about that. And the live show, the live show is the most important thing to me. That's where an artist is born for me. The acoustic version of "Breathe" just came out, and I'm going to start putting out my songs.
Who are some of your influences? People usually look for references and expect to see some sort of older reference. Ben Howard, Clementine, James Blake, you know those names are for me very important. I don't like to catalog my music, but Bon Iver, for example, I admire their work and what they're doing.
Any Portuguese artist we should know about? Mariza, she's one of the biggest names in Portuguese music.
Any passions other than music? Writing, not only poetry and prose. Novel writing. And drawing, reading, and surfing.
Any gigs from 2016 that stood out? Reeperbahn Festival. There was this one guy that came up to me and said he came from Stuttgart just to see the show and that was amazing. I wasn't expecting that at all and I was overwhelmed. It was the show that put us here. Robert from Eurosonic was at the show and he booked us here. Like I said, it's all born in the live shows.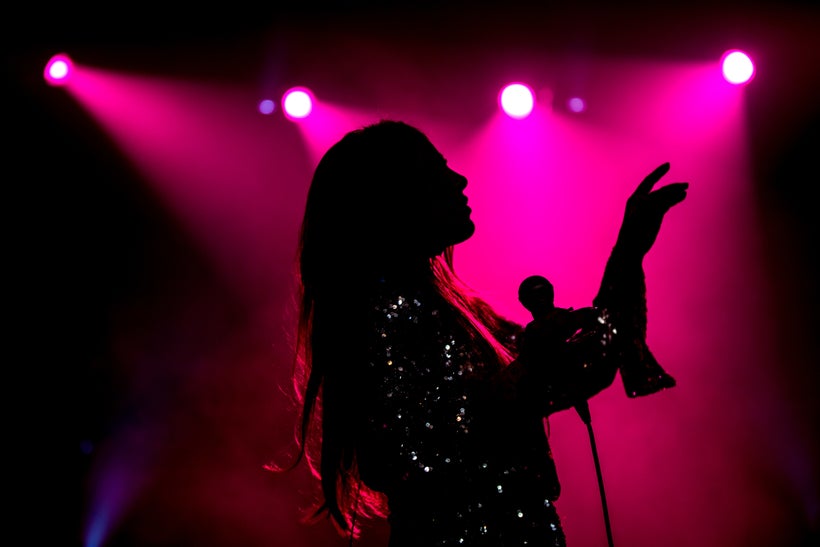 Reeperbahn Festival (also a showcase festival), takes place in Hamburg, Germany in September. But in January, their team is at Eurosonic. This includes Frehn Hawel, media relations for Reeperbahn who echoed the importance of Eurosonic as not only the start of the year for the industry, but also a place for bookers to fill up the lower and mid slots on their rosters.
He also shared some of his favorite acts from Eurosonic Nooderslag 2017: The Courettes, John Grvy, Fil Bo Riva, Her, Francobollo, Drangsal, Klangstof, and Mozes and the Firstborn.
Patrik Larsson, head of A&R at Playground Music Scandanavia, also shared some of his favorite acts including Rein, Idles, Paceshifters, and Alma.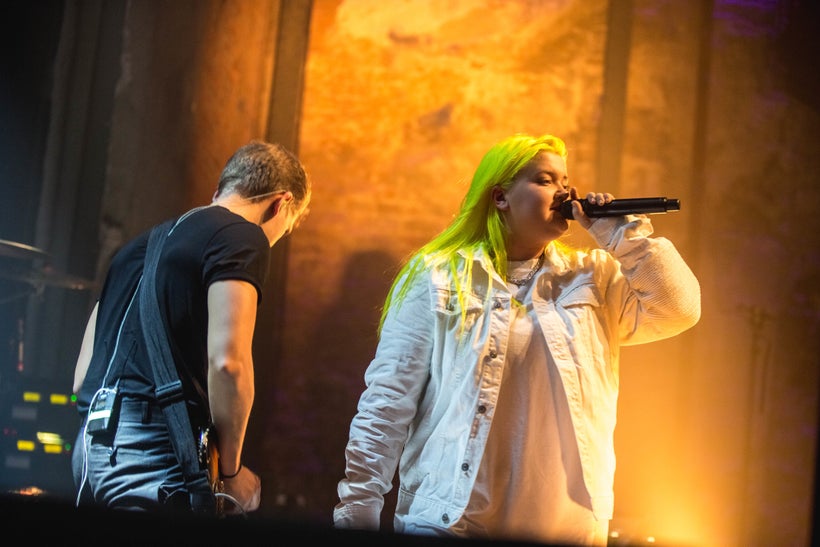 Alma has been on my radar since her single Karma was released on Berlin based music blog, label, and event brand Selected. At some point last year she was referred to as the hottest thing out of Finland since Nokia, and Alma is riding this momentum into 2017. She is following up her recent EP with new music, a video shooting in Las Vegas, and a slot at the BBC Radio 1 Future Festival.
How does it feel to be at Eurosonic? I'm very excited, it's a good place to play. This is our first time that we have changed the gig line up a bit. It's a new show now. We haven't been training that much, and we have a couple new things here.
You were recently in the studio with MNEK, how was that? You know I just love him, he is amazing.
How do you start writing a track? I usually just start with chords and I start vibing, what I have in my mind today. I don't play anything, but I'm very involved with the production.
How did the idea for "Karma" come about? It was the first time that people had some "comments." I was in Finland and some people I know were like, "Alma's doing music now" and they were like "Nah, she's not gonna make it," so I was in that state of mind. I was thinking of the people that weren't good to me.
Any favorite places in Helsinki? Kallio. It's the area that I live and it's also my favorite place.
How has it been adjusting to your new schedule? You need to learn to live this kind of life. It took me a while to understand that you need to travel a lot and sometimes you are tired and I'm not complaining because of the experiences that I get to have. You know I'm 20 and its hard to see your friends at a party or something and I'm alone in a hotel. But this is my work, and I love to do this.
What are you working on in 2017? I'm working on an album. We are releasing a couple of singles and there are loads of tracks with different people and every song is different. I don't want to be in a certain kind of box.
You've been to L.A. quite a bit, how is that? I like L.A., it's sunny with the beach, and it's opposite to Finland. I thought that it was way different, with just very fancy houses.
Any artists from Finland we should know? PMMP, they were a band. And Gasellit, I'm a big fan.
Do you have any passions other than music? Yes, I have loads. I was studying to become a youth counselor. Just being with youth and talking to them. I like to hang with kids and young people, and would like to be something to do with kids and youth, and helping them.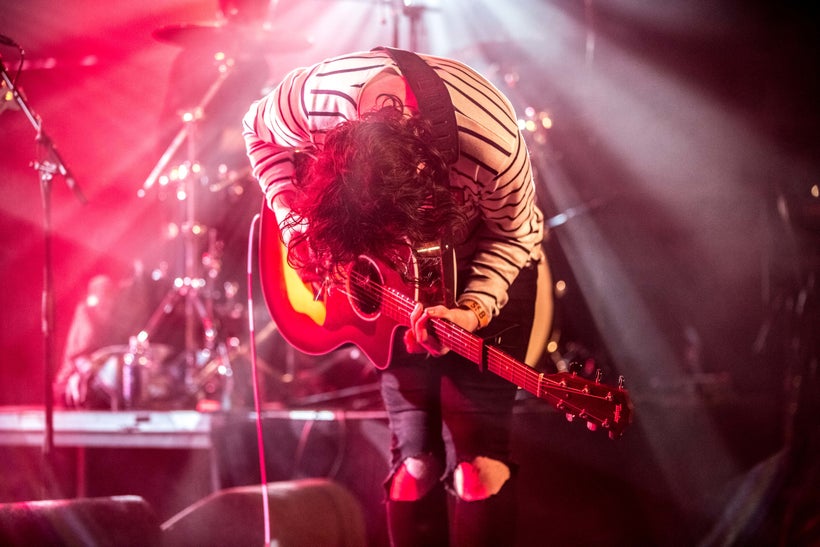 Eurosonic Noorderslag has been taking place for 31 years, and as live becomes more and more important to an artists income, it seems it will only continue to grow. Panels ranging from the challenges that booking agents are facing, to upcoming technological trends (2017 is the year of blockchain), successfully encompass multiple aspects of the business. And with a welcoming backdrop like Groningen, it seems that no amount of rain will ever be able to stop the music.
REAL LIFE. REAL NEWS. REAL VOICES.
Help us tell more of the stories that matter from voices that too often remain unheard.
This post was published on the now-closed HuffPost Contributor platform. Contributors control their own work and posted freely to our site. If you need to flag this entry as abusive,
send us an email
.