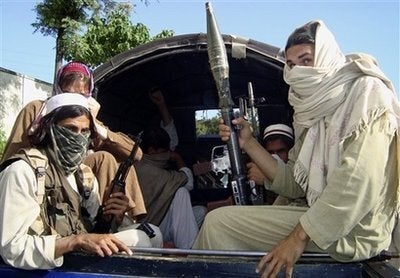 The Spotlight on Pakistan project is a joint HuffPost World and HuffPost Eyes&Ears initiative to cover the political crisis in Pakistan from the ground up, building a network of citizen reporters who can help us understand what is happening there.
The unrest in Pakistan has intensified in recent months, as the Pakistani military engages in a campaign against Islamic militants -- including the Taliban -- who seized regions along the border with Afghanistan, including areas such as the Swat Valley and South Waziristan. But the military offensive has lead to a refugee crisis of extreme proportions: as many as three million people have been displaced, their homes and villages destroyed.
Spotlight on Pakistan contributors have sent in full-length reports, news tips and photographs that have allowed us to share their unique perspective on how the political crisis affects life in Pakistan. We're looking for people living in Pakistan, or with contacts in Pakistan, to join our Spotlight on Pakistan citizen reporting team. If you're interested, this is an opportunity to have a continued conversation with American readers about what's happening in your country. If you would like to get involved, please sign up here.
PHOTOS SUBMITTED TO THE SPOTLIGHT ON PAKISTAN PROJECT:
HIGHLIGHTS FROM OUR SPOTLIGHT ON PAKISTAN COVERAGE:
- Kalsoom Lakhani discusses the "phased return home" for refugees: "If the government can ensure safe travel and basic services for the returnees of Swat Valley in this upcoming shift, great. But their responsibility does not end there."
- Rani Singh on violence in Karachi: "With paramilitaries in their armored personnel carriers on every street corner and the streets completely empty in the Mohajir neighborhoods, I could feel a palpable tension in the air."
- Emi Foulk discusses how the Taliban offers poverty-stricken Pakistanis hope of a way out: "But if the US wants to curb the Taliban's growing influence in Pakistan with long lasting effect, it must shift its attention to basic social reform."
- Ahsan Butt on Pakistan's military offensive: "The military operation, while necessary to turn back the Taliban, has ...led to over two million people being displaced from their homes, people who have now become refugees in their own land."
- Farrukh Rehan believes there's a lack of leadership in Pakistan: "In the absence of national leadership or even basic coherence at the top, rumors and ideological punditry masquerade as reason."
Related
Popular in the Community