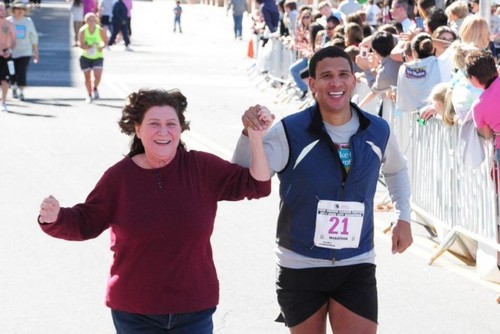 As the social media editor for Charity Miles, I see thousands of inspiring stories daily. Stories of survivors, of fighters, of incredible athletes, of every day people doing everything in their power to make a difference in the world. Charity Miles is comprised of a large and enthusiastic community of do-gooders, and we'd like to share some of their stories with the Huffington Post community.
First up, we're featuring Robert Reffkin, the founder and CEO of Urban Compass, a recently-launched technology company that is helping people find a place to live in New York City. Robert is also the founder of New York Needs You, a nonprofit that provides scholarships for students who aim to be the first in their families to attend college. He received a B.A. and M.B.A. from Columbia University.
What is your greatest accomplishment as of late?
Outside of founding Urban Compass, I am running 50 marathons, one in each state, to raise $1 million for nonprofits. I have run 49 so far and am intending to run my last marathon in New York City this November.
I have been training fairly consistently over the past several years and for some time was running a marathon each month. Now I try to fit running into my schedule wherever possible and often run very early in the morning or late at night.
What motivates you to make the world a better place?
I want to give back to the people and organizations that helped me when I was growing up. I want to use what I've been given -- my health and physical stamina, my abilities and my connectedness with others -- to reach out to young people and make a difference in their lives.
What do you do to stay healthy and fit?
I run either really early in the morning or really late at night -- like around 11 or midnight. I love running outside, generally along the Westside Highway or, if I have time, I'll do loops in the park. I also like to run home from the office instead of getting in a cab or taking the subway. Eating healthy is also important to me, especially when I don't have the time to run as much as I'd like to.
What's the best piece of advice you've ever received?
"Life becomes harder for us when we live for others, but it also becomes richer and happier."
What's your favorite aspect of using Charity Miles?
The Urban Compass team is really excited to be using Charity Miles to enhance our mission of finding people a home through supporting Habitat for Humanity. Charity Miles has also been a great team building tool for us and a way for us to solidify our shared values.
Who do you exercise for, and why?
I exercise and run to support the aspirations of all the young people out there, so that their dreams can become a reality.
To hear more stories from our amazing community of philanthropists, athletes and everyone in between, read our Spotlight On series.
Aneya Fernando is the Social Media Editor for Charity Miles. She is also a writer and producer.
REAL LIFE. REAL NEWS. REAL VOICES.
Help us tell more of the stories that matter from voices that too often remain unheard.