This is the second post of my series of inspirational "Spotlight" articles that will feature young adults who are pursuing their passions in various fields like art, technology, athletics, and entrepreneurship. For my first "Spotlight" post, please click here.
Stacey Ferreira, 19, is passionate about entrepreneurship, music, making the world a better place, and technology and how it can change the way humans experience life. Born and raised in Scottsdale, Arizona, Ferreira is now studying Music Business at New York University. In her senior year of high school, Ferreira and her brother Scott founded MySocialCloud.com, a technological startup based in Los Angeles, California.
Nina Vir: Tell us about what you're working on right now.
Stacey Ferreira: I am currently working on making online life easier through MySocialCloud.com! I co-founded MySocialCloud.com with my brother, Scott Ferreira, last year. The site is for anyone, like myself, who loves discovering and sharing new websites online, but cannot remember all their usernames and passwords to each of these awesome websites. MySocialCloud.com allows people to share all the websites that they love with friends and family and login to all of these sites easily and securely through our one-click login. I'm also a student at New York University and am working on spurring entrepreneurship and innovation.

NV: How would you describe success?
SF: Success to me is about freedom, the freedom to follow your heart, change lives, and build disruptive, innovative products.
NV: What's your mantra?
SF: Life is only as good as you make it.
NV: What's your favorite quote?
SF: "Life is an adventure. Live accordingly." -- Not sure who said it.
NV: What inspires you?
SF: What inspires me is the fact that everything in this world, everything around us, everything we use, was thought up and created by someone similar to each and everyone of us. Knowing that I can make a change in this world through hard work and dedication like many before me, and surely many after, is one of the most inspiring and motivating factors in my life.
NV: What's next for you?
SF: Next year, I plan on taking a leave of absence from New York University to move to Los Angeles in order to focus my energy on MySocialCloud full time. Although New York has provided me with an amazing experience and personal growth, I personally feel that, with the guidance of our investors Jerry Murdock and Sir Richard Branson, it's time to grow the company with the rest of the team at our home base in California.
NV: Where do you see yourself in 10 years?
SF: In ten years MySocialCloud.com will have grown into a globally recognized web app, we will have started working on our community centers. The site and our other stealth ideas will be disrupting social standards around the world. In bringing new people to the Internet, we plan on changing the way people interact on a global level by allowing new knowledge to spread to a radically wider audience.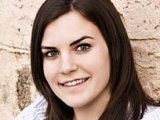 Stacey Ferreira

REAL LIFE. REAL NEWS. REAL VOICES.
Help us tell more of the stories that matter from voices that too often remain unheard.