Co-authored by Ellen Dobbyn-Blackmore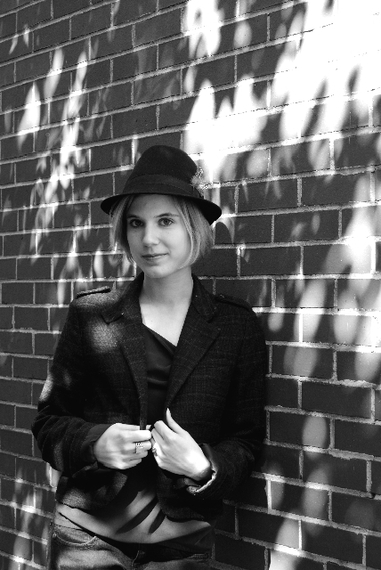 Allison Brzezinski, Choreographer, ChEckiT!Dance
Photo by Aehee Kang Asano
Whenever there are large scale dance events the question almost inevitably arises: where are the women choreographers? The fact is that they're everywhere. Why they aren't always well represented in the top tier of the world's dance companies is a more complex and vexing question. The good news is that aspiring women choreographers aren't just sitting around waiting for the phone to ring. Allison Brzezinski, a New York-based choreographer, is working to give other women the opportunity to show off their work in the annual ChEck Us OuT Dance Festival which she founded four years ago.
The festival features works choreographed and danced by women from all over. This year the festival takes place at 5:00 p.m. on July 19th at Summit Rock in Central Park. The event is free and open to the public. Following a rehearsal of her latest piece at the Spaceworks studio in Long Island City, Ms. Brzezinski spoke about her work with her own company, ChEckiT!Dance, and her aspirations for the festival. Ms. Brzezinski's comments have been edited for space and continuity.
Andrew Blackmore-Dobbyn: How did ChEck Us OuT Dance Festival: A Celebration of Female Choreographers start?
Allison Brzezinski: We just wanted to produce work and thought that Central Park would be a great place for it. We walked around the park and thought we could use the bandshell and it would be wonderful but of course we called Central Park and reality set in. They said, "We have this other beautiful location, Summit Rock." We went there and we fell in love. It's challenging but it's so beautiful to see nearly any work that we've done there.

ABD: How does the environment of Summit Rock affect the way you choreograph?
AB: Typically I don't really consider the rock but this year, for this piece, it's the first time I've ever done that where I've used the benches as the ledge. When choreographers come to perform they get twenty minutes in the space to play their music and space it out and then it's on to the next. It's tech and performance on the same day.
ABD: What can you tell us about the piece we saw in rehearsal today?
AB: In the piece, the benches that we've set up are representations of the ledge at Summit Rock and that represents the old idea of feminism. The whole piece is based on a reading that we all did of Debora L. Spar's book, "Wonder Women." It's about these two ideas of feminism and where it leaves women today. Their relationship with the ledge where they're perching, the hesitancy of not knowing if they're going to find the liberation to try out these new ideas or if they're sticking to old concepts. I wanted the trio juxtaposed with the duet because there are more individuals working in their own world with the two women working together, leaning on one another and supporting each other. They can't just find it from theoretical principles. They have to actually work together to make something.
ABD: Is it logistically difficult to get enough rehearsal time with your dancers?
AB: Absolutely. Three of my dancers are in other companies. On top of it, everyone has a full time job. It's very challenging to make sure that we have enough time. I would love to do it all day, every day, but right now it's just not possible.

ABD: Why is it important to make this festival by and about women?
AB: Our mission at ChEckiT!Dance is to create a crack in the stereotypical structure of how women are seen in today's society and I want to give them a platform that aligns with our mission and allows female artists' voices to be heard. There are so many prominent male choreographers that I deeply respect but I think this a really great way for women who are in certain phases of their career to get their foot in the door and show off what they can do in a challenging and very beautiful setting.

ABD: What do you think women gain from working with each other and without men?
AB: It's kind of cliché but goes back to sisterhood and being able to support one another and being able to deal with a variety of personalities. In terms of the movement, it can be different. How they move together, how they feel the timing is slightly different than when there's a man involved. I feel like when women are working together there's more willingness to explore with their bodies and do things that they feel aren't attractive or that are awkward and uncomfortable. They're different when a man is present.
ABD: Why do you think that women have trouble reaching the top tier?
AB: I don't actually know. There are women that are reaching the top tier but there's such an abundance that are at our level. I think they don't know what the next steps are. I think they need someone or something. Mentoring. There are fewer female mentors out there from my perspective.

ABD: How has the ChEck Us OuT Dance Festival evolved since its inception?
AB: The audience has grown. I think we started with about a hundred people coming to shows with eleven choreographers and about seventy dancers. I did all the math recently and we have worked with almost forty choreographers and about one hundred and sixty dancers over the past four years. Last year the audience was over four hundred. We're actually getting to the point of "does the space serve for the evolution of the festival?" That's another bridge we'll have to cross in the next year or two.
ABD: What is your goal for the festival?
AB: I want to create a community of female artists which is really great because I continue to work with some of the same choreographers and continue to work with some of the same dancers. I want to find that community within New York City. I feel like the dance community can be highly competitive and I try to make it as welcoming and informal as possible while still putting on a spectacular show. I want them to find one another and then have the courage to go on and do other things with their work. Inspire site specific work. If this is the first time they're adapting their piece for a non-traditional space I want them to contribute that in the future.
ABD: What can audiences expect when they come to see the festival?
AB: They can expect a fun, welcoming evening of dance. A lot of contemporary, I would say, but a lot of variety within that genre. There's a variety of group pieces this year, a couple of trios, a couple of solos and a couple of duets. The music is kind of similar. In the past we've had a little bit more variation. This year, based on the applications that we accepted, there's more of a through line.
ABD: What about your personal goals? What's ahead for you?
AB: The next step after the festival that we're doing in July is we're taking that solo piece that Kendra Dushac is doing to the Edinburgh Fringe Festival and we'll see whatever opportunities that may offer. That at least gets us into an international level which is very exciting. I would like to eventually have us teach more workshops. I would like the festival to be two days long and have workshops intertwined with it. And I'd like us to tour a little bit more. Right now we're very localized in New York, We've performed in Jersey and Pennsylvania and I'd like to be able to offer more opportunities based on the availability of the dancers.
ABD: What do the participants gain from being in the festival?
AB: They become part of the artistic community and people then use those dancers to make other pieces and create more work together. I want to create that collaborative environment. I'm not that kind of choreographer who just solely sets pieces on my dancers. My dancers are very involved. It's collaborative and improvisational so I would love to have that happen for the other dancers as well. Last year we had a choreographer come from overseas and it was inspiring and wonderful. She re-set her piece with New York dancers in under two weeks and they performed it. It was fabulous and wonderful. I like those opportunities to discover new kinds of work that I wouldn't get to see elsewhere.
Popular in the Community