Caroline Pugh started a health tech company that developed 3D scanning hardware and software in her sophomore year of college. She led a team of 13 and raised $1.8 million in capital. Now, she is the Chief of Staff to Aneesh Chopra, who is the first Chief Technology Officer to the United States (appointed by President Obama in 2009). At Mr. Chopra's firm called NavHealth, Caroline works to make health systems nationwide more intelligent. Using data analytics and research insights, NavHealth ensures that patients have access to vital knowledge so that they can make informed decisions regarding their health.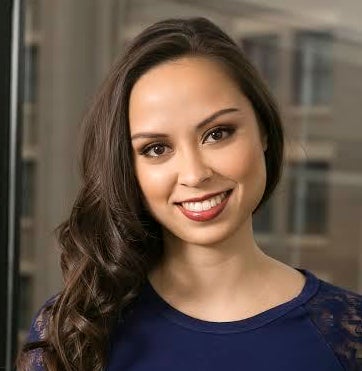 "I am a tech geek and entrepreneur at heart," Caroline said. "Since I was a little girl, making a positive difference through science and technology had always been a goal of mine. My first passion in science was green energy and for my 9th grade science fair project, I worked to create a biodiesel extraction method that could feasibly and cost-effectively be performed in homes."
For the next six months, Caroline conducted extensive research. She spoke with biodiesel experts across the country and spent hundreds of hours scouring online databases. Finally, a solution was created that she named "The Blender Method." Despite winning 3rd place in the state science fair, she was disappointed that she hadn't won the grand prize. But looking back on the experience, Caroline says she feels proud of her level of curiosity and perseverance...and that she was dreaming big at such a young age!
"Even though I didn't win, the process of researching and the things I learned along the way set the precedent for my passion of technology. I remember sending emails to seasoned professors and international experts asking for a few minutes of their time to give feedback on my project. It never once dawned on me that these people would have better things to do than talk to a fourteen-year-old from Roanoke, Virginia."
I went on to ask Caroline to describe the challenges she faced.
"I was very shy of public speaking. I feared embarrassing myself. Within the first week of college, I joined the Entrepreneur Club, as I thought it would be a good extracurricular activity that would marry my two passions: business and technology. I immediately was drawn to the club member's passion towards their ideas and relentless approach to solving the problem. I started taking on more responsibilities within the organization, raising money for the club, and meeting successful local entrepreneurs who had each started their own small business."
Eventually, Caroline overcame her fear of public speaking. "The very essence of entrepreneurship is doing the uncomfortable. Entrepreneurs must persevere through challenges. We must be willing to keep trying even when things get difficult," she said.
One of Caroline's coolest moments was when she spoke in Lake Como, Italy, at the Ambrosetti Forum. "The audience was a little different from what I was used to," she joked. Her audience included the Prime Minister of Italy, IMF Director Christine Lagarde, the former President of Spain, and the Prime Minister of Denmark. Imagine the nerves!
Since Italy, Caroline has spoken at a variety of publicized conferences such as the Milken Institute Global Summit and the "Hello Tomorrow" Conference in Paris. She's presented on the floor of the New York Stock Exchange and pitched at the Bloomberg's "Next Big Thing" Summit.
"One of the most important lessons that I've learned through being an entrepreneur is that being fearless and in a constant pursuit of being challenged is one of the best things you can do for yourself. There are many instances from the last four years that I ran a startup in which I was so exhausted or discouraged because what seemed like the 100th investor pitch didn't go as planned. However, looking back, every one of those instances made me stronger. Every meeting where an investor would critique my pitch, I became better, until one day, we raised over a million dollars."
"I think that one of the secrets to being a successful business person and entrepreneur is the ability to utilize your network," Caroline said. "Connections and relationships that are built on a personal and human bond are those that succeed for the long term."
Here are Caroline's "3 Must Do's" for networking:
Always follow up and show your appreciation. Within 24 hours of meeting with someone always follow up via email with a short and sweet note saying how much you appreciate their time. People pay attention to this and really do remember follow ups so do not forget to do it.
Maintain a level of engagement. Speaking to someone once a year is not a relationship, however, constantly asking to go for coffee to talk about the same thing discussed last time isn't advisable either. People appreciate short reminders knowing that you think about them and see value in your relationship.
Mentorship is not a one-way street. Usually, mentors are more experienced and farther in their careers than their mentees. But this doesn't mean that mentors don't have anything to gain from your relationship with them. If they're an investor, it could be that you recommend a startup for them to invest in. If they're an entrepreneur, it could be that you refer a talented friend for a position they're currently hiring for. Never take for granted someone else's success and always be thinking how you can contribute.
Lastly, I asked her about any advice she has for prospective young female entrepreneurs:
"Media and society tell women that they "belong" in a certain domain or field. There will be many people that assume that women do not have the ability to become a tech entrepreneur, let alone work in technology. However, this is far from the truth. There a dozens of women that serve as executives of many tech Fortune 500 companies, here is a list that proves it. As for leadership positions, in a recent study by The Peterson Institute, it was found that companies with management teams comprised of just 30% by females had an increase of 6% in gross margin. It begs the question, "what would happen if there were more women in the c-suite?" An encouragement and support of young females to start and lead companies not only should happen but needs to happen for the world economy to continue to prosper. We make up 80%of all consumer purchases and 50% of the population, so shouldn't we also have a voice in how these products and technologies are brought to life? My advice to young, female entrepreneurs ties to my notion above that networking is crucial. Look at examples of other women who have paved the way and took the unconventional path. Develop strong relationships with mentors and supporters who will be able to be your champions throughout your career. Most of all, engage with other women who think as big as you do."
I want to thank Caroline Pugh for sharing her experiences with me, and I wish her the best of luck in all her future endeavors.
Check out my other posts in this series:
Popular in the Community