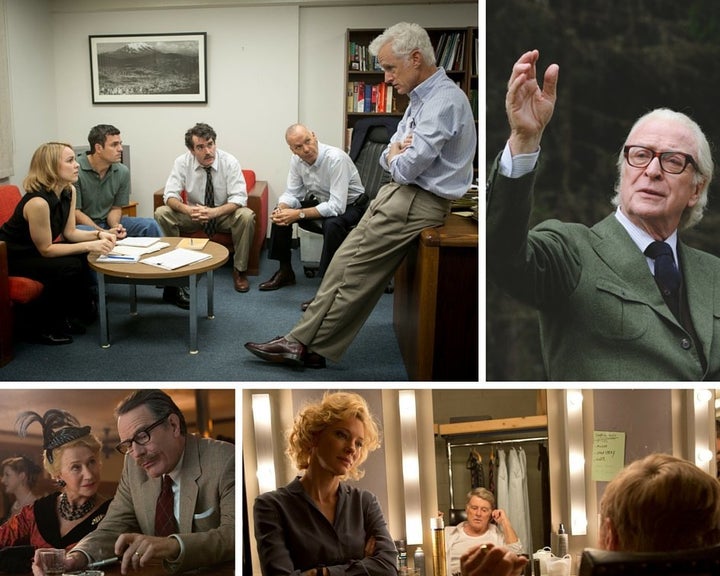 The Toronto International Film Festival is winding down, which means fatigued journalists are departing Canada to return to a strange world where back-to-back movie screenings aren't the norm. Entertainment editors Erin Whitney and Matthew Jacobs did exactly that, but first, they are revisiting a few more movies they saw while stationed in America's hat. At least one of them is a probable Best Picture nominee, but they all cap off a festival filled with plenty of wonderful films. Here are reviews of "Spotlight," "Truth," "Youth" and "Trumbo." Their single-world titles are pure coincidence.
Written by Tom McCarthy and Josh Singer
Directed by Tom McCarthy
Starring Michael Keaton, Mark Ruffalo, Rachel McAdams, Liev Schreiber, John Slattery, Brian d'Arcy James, Stanley Tucci and Billy Crudup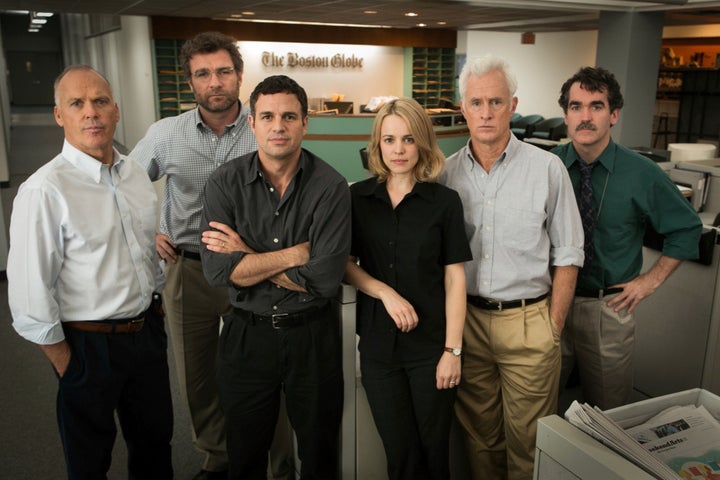 We may have found our Best Picture front-runner. Tom McCarthy's "Spotlight" chronicles the Boston Globe reporters who uncovered the Catholic Church's sexual abuse scandal in 2002. But the film doesn't resort to tediously recounting the events that led to the widespread exposure of the church -- it details the investigation with a sharp, unwavering precision. With a taut script co-written by McCarthy and Josh Singer ("The West Wing"), "Spotlight" homes in on the staunch team of journalists and doesn't let up until the final title card.
Michael Keaton plays Walter "Robby" Robinson, the leader of the Globe's Spotlight team, a quartet of reporters dedicating to thorough investigations of single topics. When the paper's new editor-in-chief, Marty Baron (Liev Schreiber), arrives, he suggests Spotlight look into a little-discussed story about a Boston priest accused of child molestation. Michael Rezendez (Mark Ruffalo), Sacha Pfeiffer (Rachel McAdams) and Matt Carol (Brian d'Arcy James) dig into the case, which was brought to light by lawyer Mitchell Garabedian (Stanley Tucci). When the team starts reaching out to victims from a local survivors' group, it becomes clear just how deep the scandal goes. What started out as a single-digits list of pedophiles multiplies until Michael and Sacha can't fathom how many priests have been abusing children for decades.
What's most effective about McCarthy's film is how focused it remains on the investigation and the startling impact the exposure will, and eventually did, have on the Boston community, along with the country. McCarthy doesn't waste much time on the characters' personal lives, besides the fact that their work dominates most of it, but just enough to hint at how immensely the Church has woven itself into the city. In once scene, the leader of the survivors' group asks the Spotlight writers how many of them grew up Catholic. They all raise their heads and explain how they've drifted from the religion in their adulthood. But as the man begins to recount his abuse, along with the other victims' stories, the realization that such horror could've happened to any child in a Boston hits hard. Later, during a meeting with his high school alumni, Robby tells one man that the two of them were simply lucky for not playing on the hockey team, which was coached by the school's accused priest.
The film works well by capturing the reporters' shock at the magnitude of the situation and the extent to which no one wanted to believe and initially report on the scandal. Billy Crudup's high-class lawyer, Eric MacLeish, appears to be the bad guy, until he reveals that the Globe ignored the scoop he gave them on the Church years prior. No one realized at the time the decades of abuse by the priesthood, but it took one small team of writers to blow it up for the entire world. Beyond being an excellent piece of filmmaking, "Spotlight" is a testament to the sheer power and importance of journalism, and proof of how desperately we need it. -- EW
Written and directed by James Vanderbilt
Starring Cate Blanchett, Robert Redford, Dennis Quaid, Topher Grace, Elisabeth Moss and Bruce Greenwood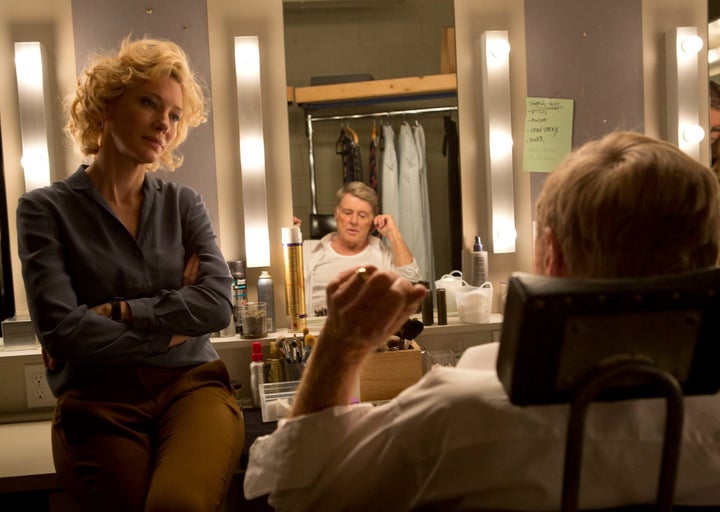 Seeing news stories play out on the big screen a few years later is inherently uncanny and hokey, making such recent-history biopics a gamble for any filmmaker. It mostly pays off in "Truth." Dan Rather's decade-old fall from grace is told with such precision that, by the movie's halfway point, it feels like it was birthed for cinema. James Vanderbilt, in his directorial debut after having written "Zodiac" and "The Amazing Spider-Man," constructs a tightly paced political drama that is a dissection of both the state of journalism and the personal effects of a public scandal.
Critics at this year's Toronto International Film Festival found themselves weighing "Truth" against "Spotlight," a rather different journalism paean that depicts the Boston Globe's 2002 investigation into local Catholic priests' child sex abuse. "Spotlight" seemed to find more favor, but "Truth" is also rousing and economical in its storytelling. Robert Redford is the obvious choice to play Rather, who was the prime-time anchor when CBS News producers received a tip that questioned the legitimacy of President George W. Bush's service in the Vietnam War. Months away from the 2004 election, Rather's crack team -- spearheaded by venerable producer Mary Mapes (Cate Blanchett) -- gunned hard for the story, doing their best to trace the validity of 1970s documents that seemingly proved Bush used preferential treatment to avoid fighting. The "60 Minutes" report found instant critics, however legitimate the story may have been, and "Truth" lends a sympathetic ear to the aftermath that Mapes and her cohorts endured from their CBS bosses and the public.
The first half of "Truth" is an illuminating look at how the Bush piece was patched together, told in the tradition of "All the President's Men" and "Good Night, and Good Luck." As the clock winds down on the team's deadline, the movie becomes increasingly tense. By the time the scandal erupts, "Truth" is both a hard-boiled political drama and a character-driven look at the toll the fallout takes on these individuals' lives. Rather may be the face of the scandal, but the movie belongs to Mapes, who wrote a 2005 memoir chronicling the experience. It is Blanchett, then, who stands out, doing top-notch work as the dogged producer. She is particularly moving in showcasing the heartbreak of the career-damaging scandal, which culminates in a fierce standoff with the committee interrogating her about CBS's reporting. With a supporting cast that includes Topher Grace, Dennis Quaid and Elisabeth Moss, and despite a manipulative score that swells at unearned opportunities, "Truth" remains an involving, if one-sided, exposé. There's a bigger story to be told here, but instead it unfolds from Mapes' point of view. In its own preachy way, that means we feel pride at the tenacity of these journalists, rage at the network's subservience toward the White House and, ultimately, compassion for all angles of the narrative, because what resounds is a series of retaliations that have a grave impact on the livelihood of these very real people. -- MJ
Written by Paolo Sorrentino
Directed by Paolo Sorrentino
Starring Michael Caine, Harvey Keitel, Rachel Weisz, Paul Dano and Jane Fonda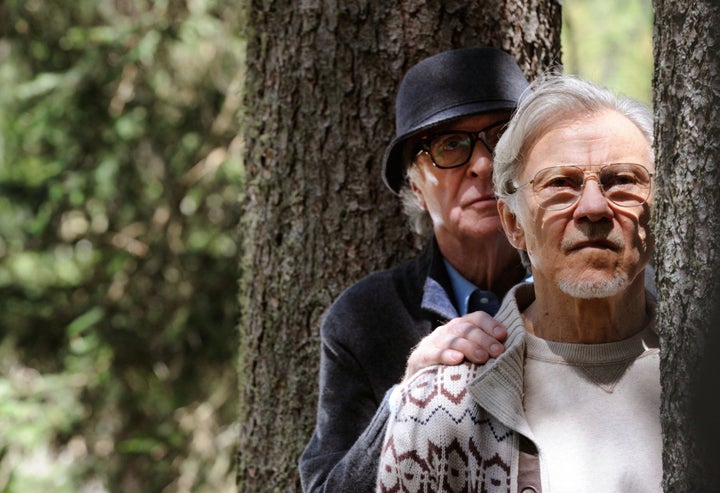 There's a dazzling, existential beauty to Paolo Sorrentino's latest film that stays with you long after. The Italian director is known best for 2013's "The Great Beauty," 2011's "This Must Be the Place" starring Sean Penn and 2008's "Il Divo." In "Youth," which was in competition for the Palme d'Or at Cannes this year, Michael Caine plays Fred Ballinger, a legendary retired composer living at an extravagant hotel in the Swiss Alps. Fred's longtime best friend Mick Boyle (Harvey Keitel) is an iconic film director also staying there. As Mick works on finishing the script for what he believes to be his ultimate masterpiece, Fred spends his days at the hotel spa, watching singers and dancers perform in the courtyard each evening, and failing to give his daughter Lena (Rachel Weisz) proper acknowledgment. It's the other characters checked into the hotel that add a richness and vibrancy to "Youth." There's Paul Dano's Jimmy Tree, a talented actor who's only recognized for his one major blockbuster, as well as a European football star, Miss Universe, wealthy socialites and eager young screenwriters.
Yet while each character adds a sense of eccentricity, humor and delight to the film, it's what their stay at the hotel expresses that's important. A faraway utopia where the rich, the famous and the aged get to escape their lives, the hotel is a place where you can step away from the reality of the world to realize your place within it, and its place without you. Regardless of age or wisdom, everyone in "Youth" is experiencing some crisis of life and the weight of the unknown. The young actor is searching for who to become next as much as the lived composer is contemplating who he was. The elderly detached couple never exchange a word at dinner while the young hotel masseuse with braces feels the pain and longing within the muscles of her client through nothing but her touch. Jane Fonda, who appears in only three scenes, but fantastic ones, is a renowned actress pompous from her celebrated career, while Mick is still haunted by and unsatisfied with his.
It's these little moments with each character and their interactions that add to the grand portrait of life the film paints. With moments of surrealism and Sorrentino's patient, observant eye, "Youth" ultimately reveals how youth is not an age or a physicality, but a frame of mind, an embracement of the spirit. You can walk away from the film feeling the density of that, or you can simply enjoy it for its many colored performances. Either way, walk into it with an open mind and let the rest wash over you. -- EW
Written by John McNamara
Directed by Jay Roach
Starring Bryan Cranston, Helen Mirren, Diane Lane, Elle Fanning, John Goodman, Louis C.K. and Michael Stuhlbarg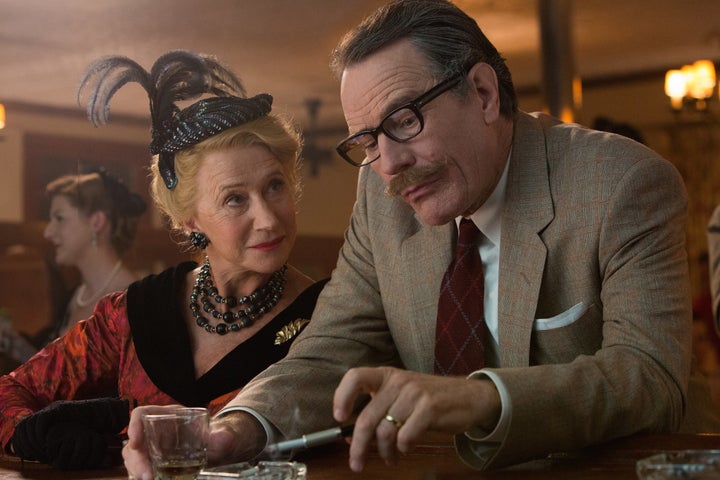 Hollywood's biggest romance is the one it has with itself, which is also probably why so many middling films are made about the industry. "Trumbo" isn't bad enough to be one of them, but it also isn't good enough to defy the campy quasi-genre. The story of screenwriter Dalton Trumbo, who was blacklisted alongside other Hollywood communists in the 1950s, is an effective, if lukewarm, encapsulation of a man who became the face of the political paranoia that was pervasive after World War II.
Bryan Cranston portrays the mustachioed scribe with believable Old Hollywood camp, presenting him as loquacious and intellectual. Trumbo did some of his best work ("Roman Holiday," "The Brave One," "Spartacus") during the days of the House Un-American Activities Committee's infamous blacklist, and seeing him navigate the back roads of the industry in order to find work is where the film finds its best nuances. Within his personal life, where Diane Lane can't find any grooves as his wife but Elle Fanning is compelling as his progressive daughter, Trumbo begins to unravel. Unfortunately, that's where John McNamara's script feels the most lifeless.
When it doesn't drift into made-for-TV territory, "Trumbo" has enough bite to work. Helen Mirren plays sleazy gossip columnist Hedda Hopper, and John Goodman is especially fun as a bawdy B-movie producer who hires Trumbo to rewrite scripts under a pseudonym. It's too bad Louis C.K., portraying another ostracized screenwriter, doesn't know he's in a movie about Old Hollywood. His schlubby nonchalance sticks out like an anachronistic thumb when lined up with Cranston's haughty Mid-Atlantic vernacular. But there's enough to appreciate about "Trumbo," which escapes the forced sentimentalism that dragged down 2013's "Saving Mr. Banks" by bopping through the years that troubled its title character's life. It isn't a complete biopic -- it's a microscope that's trained on Hollywood's uncomfortable intersection with politics in the days of the studio system. In that sense, it could stand to be a lot grittier. Even though it isn't, "Trumbo" manages to find a heartbeat anyway. -- MJ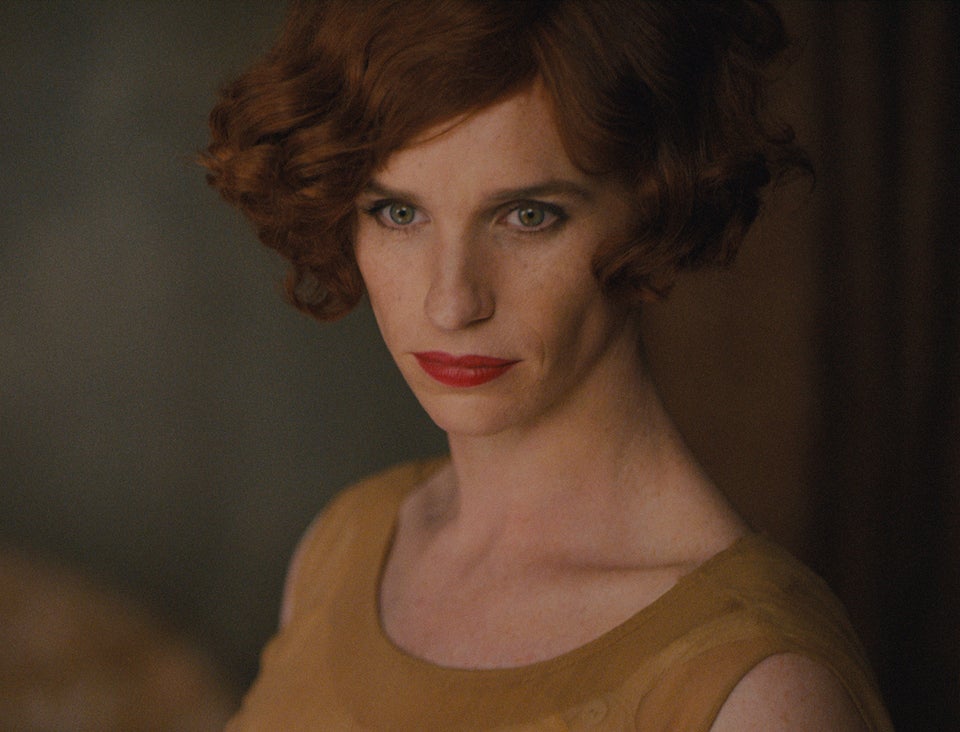 Toronto Film Festival Preview 2015
For a constant stream of entertainment news and discussion, follow HuffPost Entertainment on Viber.
Popular in the Community