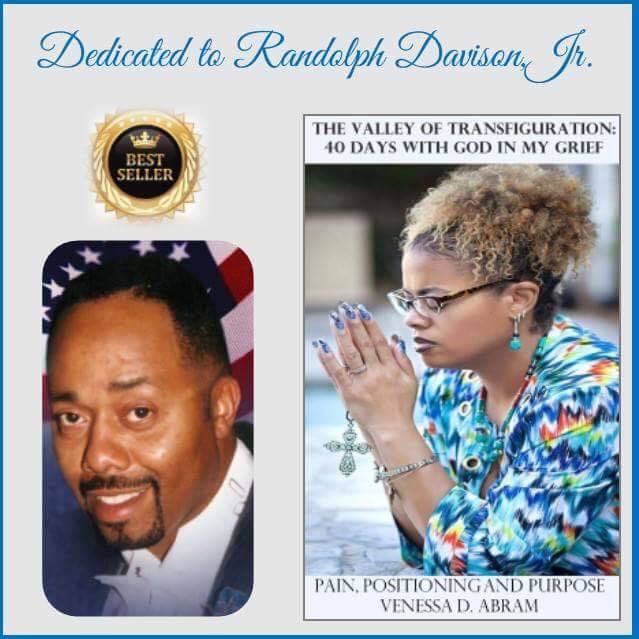 "If I can reach one person and save their life; then my
living is not in vain. It's Self-Discovery Time. Get into
position to prosper on purpose."
Based on Venessa's personal and practical life experiences, she is a firm believer that, "When we know better, we do better." Therefore, as we walk life's journey, it is expected that we mature mentally, physically, emotionally and spiritually so we can grow into all that we are destined to be and become 'extraordinary' and 'set apart' and hence learning to embrace life to the fullest, without lack. Even though her brother's death was tragic; Venessa vowed to make sure her brother's life and his death was not in vain by becoming a Suicide Awareness Advocate and American For Suicide Prevention Board Member where his legacy continues to live.
She is and plans to be the voice for those Veterans, and Civilians that are not being heard and suffering in silence by way of mental illness. Venessa- "I pray to reach the masses and provide awareness around mental illness and suicide." She fights each day to embrace the pain and loss of her brother by way of suicide 10 months ago. His suicide changed her life and the pain so intense she is now going for therapy to learn how to grieve and cope in a healthy way. Vanessa says – "As Roman 8:28 states." "We know that in everything God works for the good of those who love him. They are the people he called, because that was his plan."
Venessa D. Abram was born and raised in Gary, Indiana. Venessa is the wife of twenty-three years to Anthony Abram, Sr. and they are blessed with three beautiful children; Brie'aunna, twenty-nine, Anthony, Jr., twenty-four, DaVontre, twenty and Chocolate, their Cocker Spaniel son, thirteen. Venessa's education includes a Master's of Business Administration Degree with a focus in Human Resources Management and Bachelor of Administration Degree in Business Management. Venessa is humbled to be 2015-16's Past Toastmasters District President in Atlanta, Georgia, as well as earning her Toastmasters Certifications for both Competent Communicator (CC) and Competent Leader (CL). Venessa's passion is mentoring, coaching, developing and praying with others to reach their untapped potential by introducing them to mindset change.
We are Spotlighting Venessa D. Abram's book ' A Daily Journal' and her many accomplishments within her community and beyond for suicide prevention. Venessa is an Inspirational Speaker, Coach, Grant Consultant, Radio Personality and American For Suicide Prevention Board Member. Venessa has open slots for coaching, which are filling up fast. She is also available for speaking opportunities. Her journal: 'Self-Discovery – A Daily Journey' was birthed in December, 2015 and is the epitome of how we should embrace each day with the mindset of becoming better from trials, tribulations and the pains of life.
Upon tapping into the mindset and understanding that we are capable of change, realignment and readjustment, a mental shift should begin and as we are tapping into the mindset and understanding the importance of change and repositioning, a mental shift will manifest.
Venessa says she is humbled to be a Multi-Amazon Award Winning Author for: "Self-Discovery. A Daily Journey Daily Inspirational Book and Journal, "The Valley of Transfiguration: 40 Days with God in My Grief" and Co-Authoring with 23 women on the 'Soul Source Anthology Book,' which was featured in Huffington Post Newspaper. She is a Contributing Writer and Business Partner with Owner, Sherrill Valdez of "Today's Purpose Woman Magazine,' and member of the 'Black Speakers Networking Group.' Venessa is the Radio Personality of Self-Discovery - A Daily Journey; that is aired on Steel City Gospel Internet Radio. She has also been a featured guest on Today's Purpose Woman Roundtable, 'WGVE Radio Station,' 'We Are Beautiful Magazine,' as well as several other Radio Shows and Platforms.
"My Valley is my Victory. God used my pain to propel me to His Purpose, as I worship while wounded." Venessa D. Abrams
Popular in the Community