By guest blogger Anna Hackman. Anna is a sustainable consultant, helping businesses to green their profits, and holds a LEED (Leadership in Environmental Design) AP certification. She is also the editor of Green Talk, an eclectic green living website with topics including green living, green building, the 3Rs, green business, and organic gardening. She has visited the Rodale Farm and thinks it is a piece of heaven.
I love the holiday season with its festive spirit. We shop for holiday gifts for our loved ones, search for the perfect Christmas tree to adorn our homes, and ring in the New Year with hope for a better year to come. What could be more fun? Unfortunately, it is one of the least kindest seasons of the year to Mother Earth.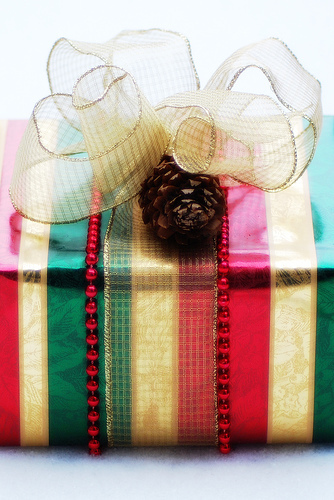 Photo by permission of Kasia
In fact, Americans throw away 25% more trash from Thanksgiving to Christmas. Just think of all the trash that is accumulated from the holiday gifts we give: Wrapping paper, tissue paper, ribbons, greeting cards, gift tags, and cardboard boxes. So how can we change the joy of giving to include Mother Earth? Let's first start with wrapping paper, because this is where all the trash begins.
* For the Minimalistic look, consider using just a white cardboard box with a colorful ribbon. It is clean and neat and very modern. For an extra touch, consider putting a sprig of lavender or rosemary in the middle of the bow.
* Use the funny pages as wrapping paper. It shows you have a sense of humor!
* If you really want to look like everyone else, consider buying post-consumer recycled or tree-free holiday wrapping paper. For some ideas where you can buy wrapping paper, check out Seltzer Goods, Ecosource Papers, or Bloomin.
* Consider using old maps or sheet music to give your holiday gifts a whimsical look.
* Get your children involved, and decorate plain brown paper wrapped boxes. Grandma and Grandpa would appreciate such a work of art. Or use your kids' artwork to wrap holiday gifts! Just think, now you have a use for the zillions of artwork pieces that come home every week!
* Make your own wrapping paper out of butcher paper. See here.
* Use vintage handkerchiefs, napkins, dishtowels, and wash cloths in lieu of wrapping paper. Your local thrift shop is full of those items.
Whew! That was a laundry list of greener options to decorate your holiday gifts. What creative ideas do you have to slim that oversize 22 trash footprint to a comfortable size 8?
Related
Popular in the Community