Every day, The Pollination Project makes grants of $1000 to individuals and startup projects around the globe. Our goal is to make local communities, and the world, a more compassionate, peaceful, environmental friendly and just place to live for us all. This week we celebrate nine people who, through the sheer power of love and commitment, are planting seeds, growing food, educating the next generation, building new sources for livelihoods, conserving the environment, and spreading the love! Congratulations to each of them!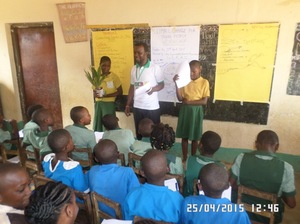 Youth and Climate Change in Cameroon. Ndzishepngong Kelvin Ngwang is the founder of the Geo-Environmental Resource Association (GERAS), a Cameroon-based non-profit working to promote environmental protection and sustainability. In GERAS' newest initiative, Climate Change Workshops for Young People, Ndzishepngong and his team are organizing youth-oriented, environmental education workshops at more than 20 primary schools in and around Kumba, Cameroon. Through their program, GERAS will equip the next generation of Cameroon's leaders with the knowledge and skills they need to tackle global climate change.
Sustainable Agricultural in India. Karpagam Anand's grassroots non-profit organization, the Ford Trust, is helping to solve widespread social inequality and underdevelopment in the Sivagangai District of Tamil Nadu, India. Through the Ford Trust's Sustainable and Environmentally Friendly Livelihoods program, Karpagam is helping impoverished single mothers in the region by teaching them to turn biodegradable waste products into compost for household gardens. In addition to training on organic gardening techniques, participants will receive gardening equipment, seeds, and manure.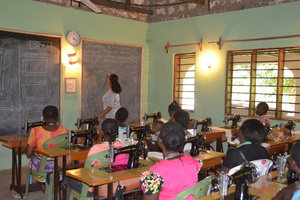 Fair-Trade Fashion Empowers Women in Kenya. Jenny Nuccio's ImaniXchange (IXC) project is empowering disadvantaged women living on the outskirts of Mombasa, Kenya. Founded in 2013, the ImaniXchange (IXC) project provides job opportunities to single, widowed, and disadvantaged women living in Mtepeni by teaching them to sew and tailor clothing. The clothing and fashion accessories made in Mtepeni are sold in local markets and the US as a fair-trade fashion line that helps participating women support their families.
Conservation in Cameroon. Apella Magellan is the Executive Director of Greenlife Conservation Group in Buea, Cameroon (GCG). For the past two years, GCG has worked to promote the use of environmentally sustainable development solutions in and around Mt. Cameroon. In GCG's newest initiative, Apella and his team are teaching disadvantaged women and children from nearby villages how to use sound soil management and pest control techniques for the production of organic produce. GCG's project will help to address regional poverty and hunger while reducing the environmental impacts caused by chemical fertilizers and insecticides.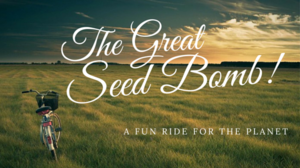 Pollinator Habitat in Fort Worth, Texas. Jillian Jordan is the creator of The Great Seed Bomb in Fort Worth, Texas, a 15-mile bike ride event aimed at restoring pollinator species habitat in the area. During the event, bike riders will toss clay vessels containing non-GMO milkweed and wildflower seeds from their bikes. The seeds that riders distribute will help to maintain local populations of monarchs, honeybees, and other important pollinators while promoting awareness on the intersections of environmental wellbeing and personal health.
School Campuses Go Green in Afghanistan. Over the past 2 years, Ulfat Kazemi's organization, the Youth Volunteer Association, has completed a number of social development and public works projects in Afghanistan's Nangarhar province. In their newest initiative, Sustainistan, the Youth Volunteer Association is helping to create a healthier, sustainable environment by installing waste disposal bins on high school campuses throughout the region. In addition to providing the basic infrastructure for campus waste management, the group plans to hold environmental education workshops and publish institutional regulations on environmental maintenance.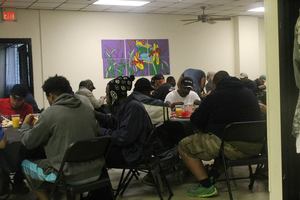 Outreach to those in Need in Tampa, Florida. Roderick Lawson created Blessed 2 Bless in order to strengthen his community by providing those in need with clothing, food, healthcare, and education. Together with a team of more than 30 volunteers, Roderick organizes free, monthly meals open to the public at the Blessed Bistro in Tampa, Fl. In addition to providing their community with healthy food, volunteers at Blessed 2 Bless offer free public services like Zumba classes, health screenings and education outreach, GED courses, and much more.
Environmental Preservation in Rural Uganda. Nyakato Margret is the co-founder of the Action for Rural Women's Development Foundation (ARWDF), a Uganda-based non-profit advocating for environmentally sound and socially responsible development initiatives in the rural countryside. In AWRDF's newest project, Clean Energy Technology in Rural Uganda, Nyakato will provide residents with access to solar power while training impoverished women from Kidodo Village on the manufacture of clean-burning, energy-saving cooking stoves. Overall, the project will empower local women by teaching them a marketable skill, as well as reducing local reliance on wood fuel sources.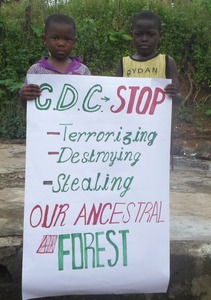 Environmental Conservation in the Rainforests of Cameroon. In her project, Saving Bomboko's Rainforests, Dr. Sally Ojah Okie is working to protect 735 hectares of rainforest in rural Cameroon from development for palm-oil plantations. Working collaboratively with concerned local leaders, Sally is currently engaged in a public outreach campaign on the importance of preserving Bomboko's forests while planning protests and direct action initiatives to stop deforestation. After obtaining a legal injunction against developers, Sally will work with the Ministry of Forest and Wildlife to create a comprehensive management plan for Bomboko's natural resources.
Do you know someone who would be a candidate for a Pollination Project startup grant? We welcome grant applications from anyone, anywhere, at any time!
Calling all HuffPost superfans!
Sign up for membership to become a founding member and help shape HuffPost's next chapter