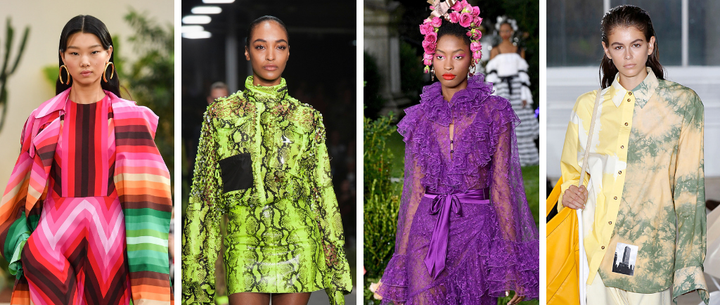 Winter isn't even here yet, but the fashion world has already shown us what we'll be wearing once all the snow melts.
Since the beginning of September, designers in New York, London, Milan and Paris have showcased their spring/summer 2019 collections, giving us a glimpse at what's sure to be the popular trends coming next year. We saw plenty of puffy sleeves, the return of cargo pants and even some Kardashian-esque biker shorts.
But there was so much more. Below, check out the top trends we'll be seeing next spring:
1. Patchwork Denim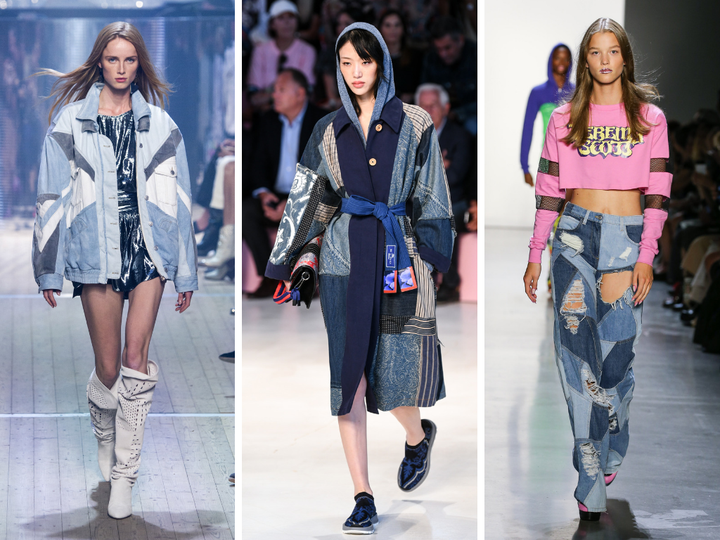 We love a great solid blue or black pair of jeans, but sometimes you need to have a little more fun. That's where patchwork denim comes in. Part crafty, part geometric, patchwork denim is a cool addition to your wardrobe for next spring. Try it in the form of jeans, as seen at Jeremy Scott, or go for a retro-inspired jacket, like the ones at Isabel Marant.
2. Crisp Whites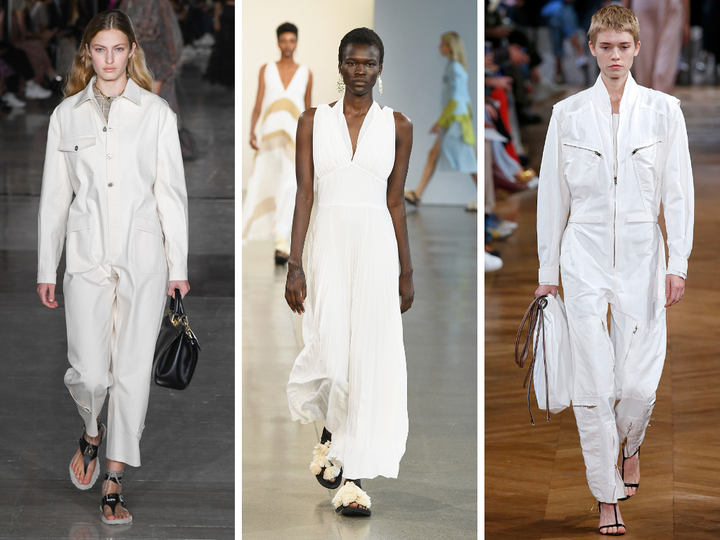 Nothing says the beginning of spring quite like some fresh, crisp whites. For the spring 2019 season, plenty of designers, including Giambattista Valli and Stella McCartney, agreed. Pro tip: If you plan to wear all white, keep a stain remover pen in your purse. Trust us.

3. Biking, But Make It Fashion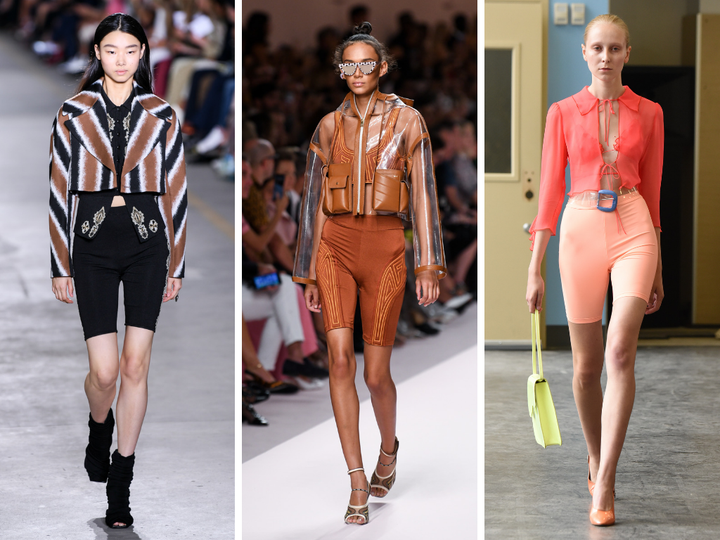 The Kardashians definitely didn't invent bike shorts, but they did help popularize them as a streetwear trend. Designers apparently took note ― we saw bike shorts on the runways at Roberto Cavalli, Fendi, Nanushka, Miaou and Maryam Nassir Zadeh.
4. The Cargo Pants Comeback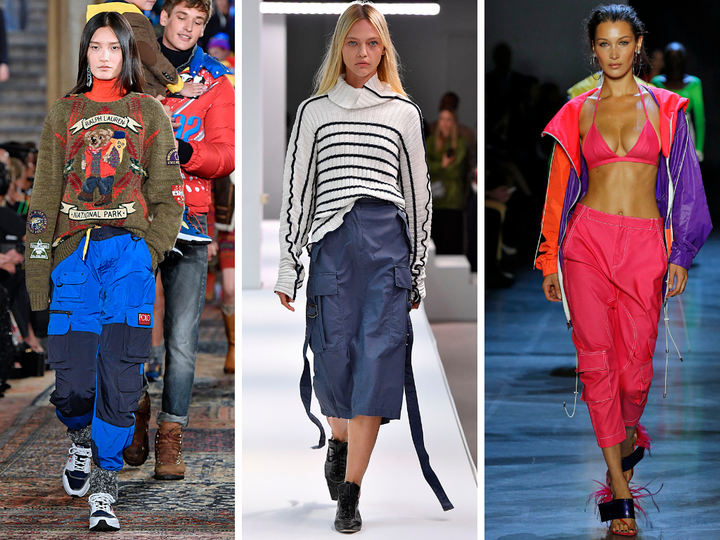 Say what you will about cargo pants, but they are back in all their glory for spring 2019. At Ralph Lauren, there were bright blue versions that looked like they came straight from the '90s, while at Sies Marjan, the cargo pants were a little more muted and modern. Prabal Gurung's take on the trend was a pair of neon pink cargo pants, while Jonathan Skimkhai took a crisp, white approach.
5. The Puffiest Sleeves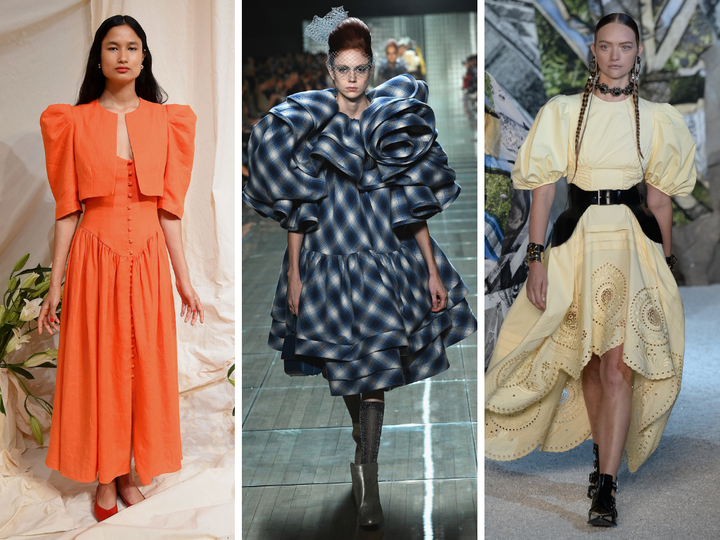 When it comes to sleeves, next spring it's go big or go home. In line with the girlie frills we saw all over the catwalks, there were plenty of ensembles with massive puffy sleeves. At Marc Jacobs, the trend appeared in epic proportions, while at Mara Hoffman, it was a little more wearable. We also saw puffy sleeves at Alexander McQueen, Carolina Herrera and Rodarte, among others.
6. Totally Tie-Dye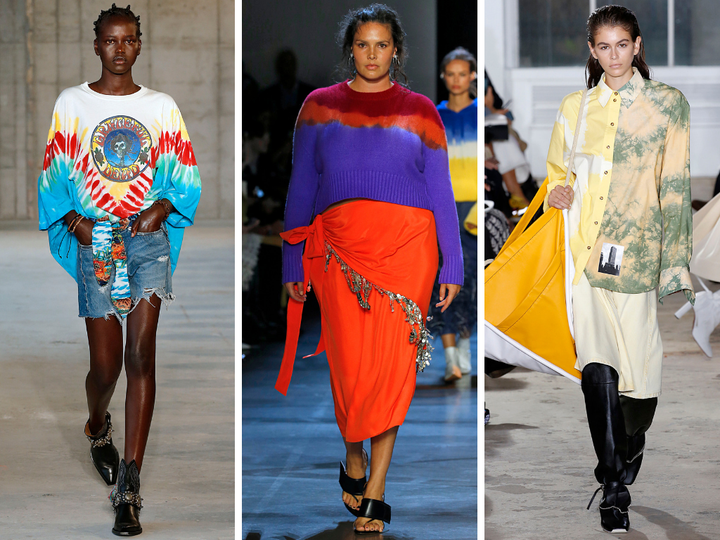 Your camp days are making a comeback. Tie-dye popped up in traditional bright colors at R13 and was a little more muted at Proenza Schouler. There's a tie-dye for everyone! Bonus: Tie-dye is a simple DIY activity that anyone can do. So if you want to jump on this trend, we suggest you get crafty.

7. Marigold Dreams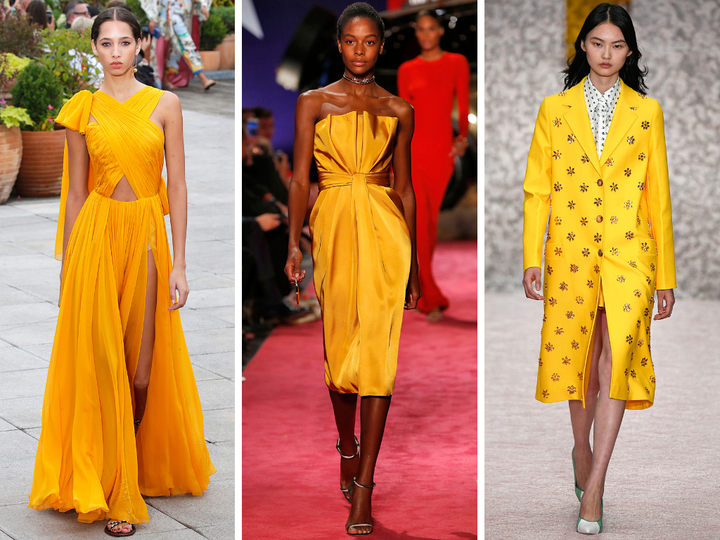 Gen Z yellow isn't going anywhere. On the spring 2019 runways, we saw the bright shade pop up at Oscar de la Renta, Brandon Maxwell, Pyer Moss and Carolina Herrera.

8. Red All Over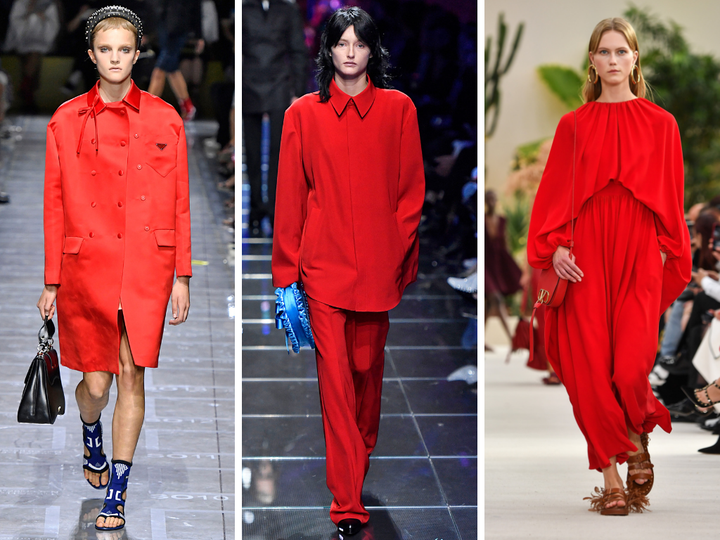 Many people associate red with the holidays, but come spring 2019, it may just become the next Gen Z yellow. At Prada, there was a standout red coat that brought to mind the Mod era, while at Valentino, we saw a number of red dresses that would definitely be a fit on the red carpet this coming award season.
9. Feminine Frills And Ruffles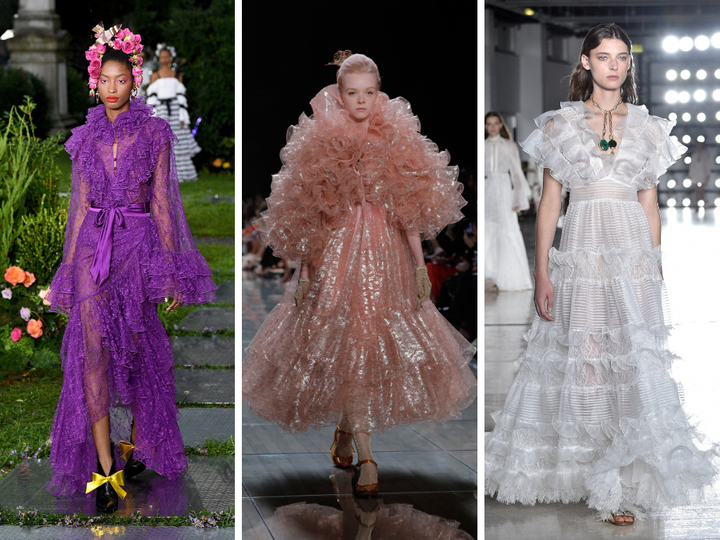 Ultra-feminine looks were all over the spring 2019 runways. Marc Jacobs and Rodarte led the charge, sending models down their runways in girlie (almost doll-like) dresses with lace, ruffles and sequins, but we saw similar styles at Giambattista Valli, Johanna Ortiz and Christian Siriano.

10. Retro Headscarves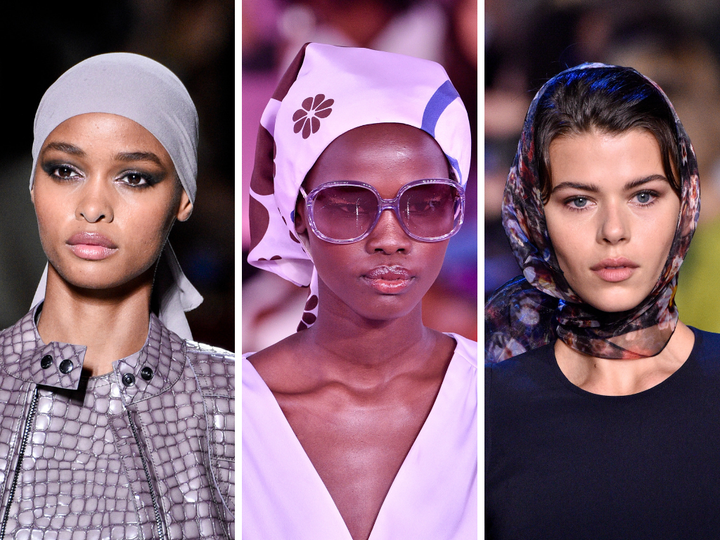 Headscarves were definitely a standout accessory for the spring 2019 season. At Tom Ford, they covered models' hair, save for their messy buns in the back, while at Elie Saab and Kate Spade, the vibe was a little more vintage, with models wearing loosely tied headscarves that brought to mind images of glamorous women riding in convertibles.

11. Snakeskin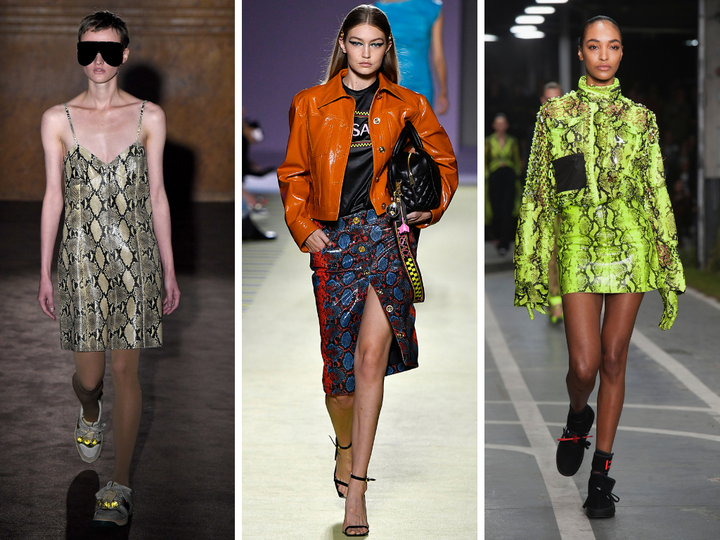 Take a walk on the wild side next spring and add a little snakeskin into your wardrobe. At Gucci, designer Alessandro Michele sent at least one model down in a snakeskin cami dress, while Donatella Versace used the print for a standout skirt worn by one of her faves, Gigi Hadid. We also saw the trend get a neon boost on the runway at Off-White.
12. Wear The Rainbow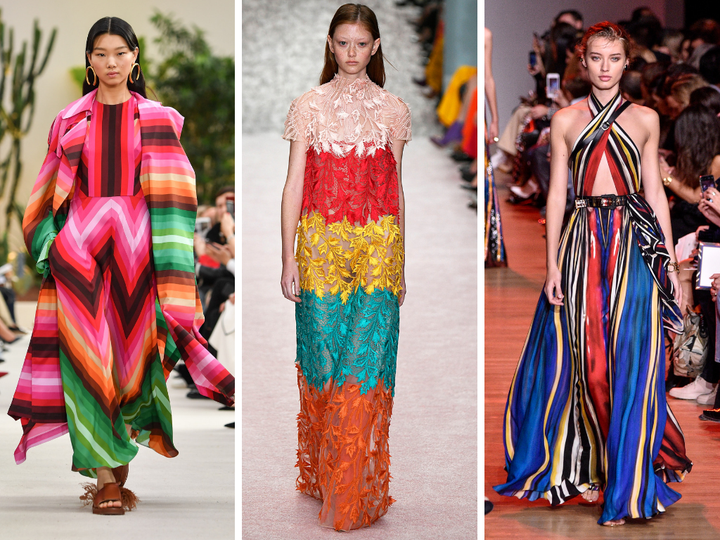 Unleash your inner Rainbow Brite next year and wear the full color spectrum. Whether it's a matching dress and technicolor (dream) coat, as seen at Valentino, or a multicolored gown, like those at Carolina Herrera and Elie Saab, multicolored is in ― perfect for those who can't commit to one shade.
Before You Go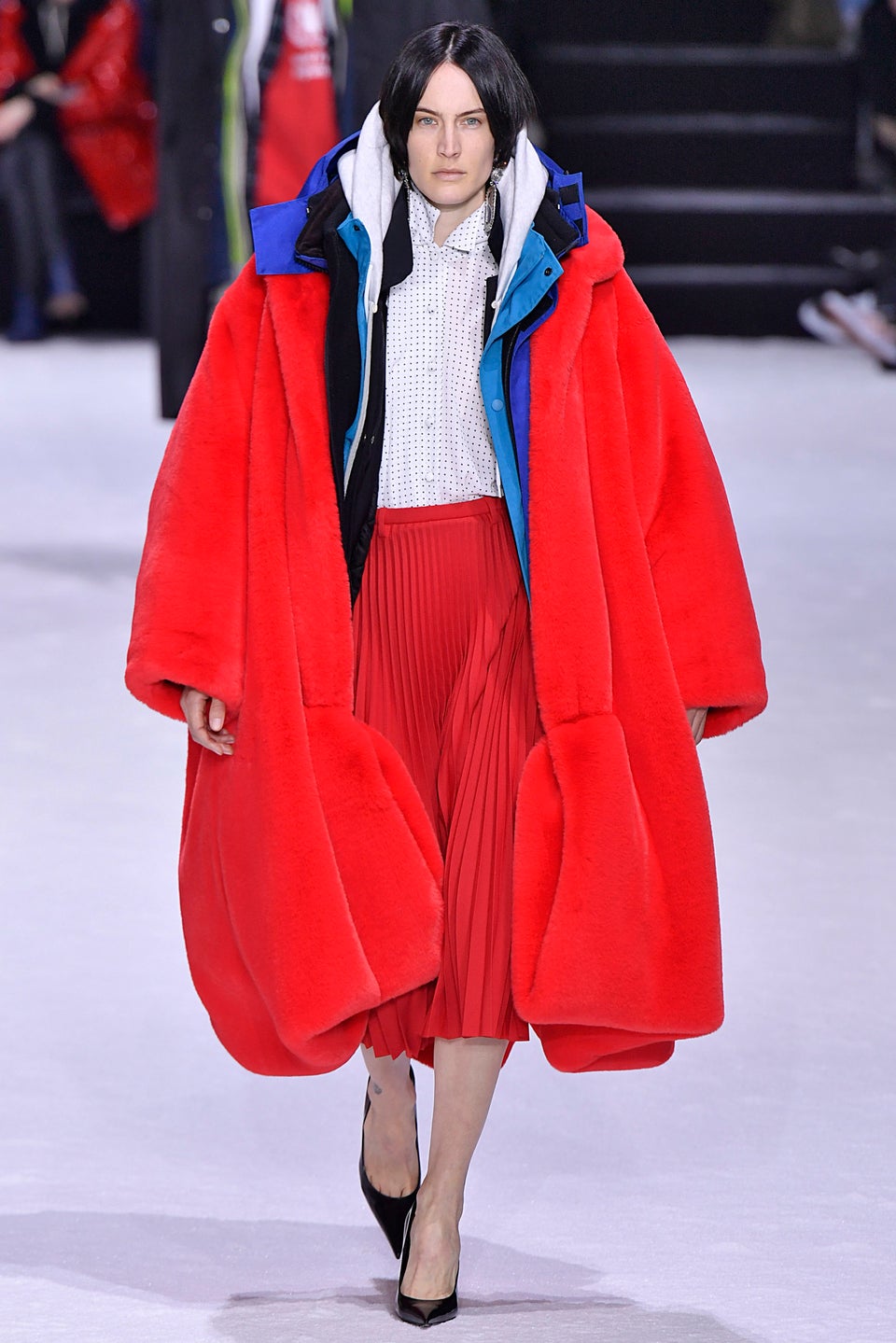 Oversized Coats For Fall 2018