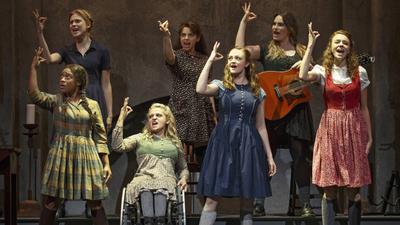 Not only is the current revival of Spring Awakening one of the major "shows to see" this season, it is the most important depiction of disability Broadway has ever seen. American musical theater has had its fill of pitied cripples, beautiful girls in wheelchairs, mental disorders that bring out belted ballads, and (the more than vaguely offensive) comedic disabled characters; think of Nessa in Wicked, Diana in Next to Normal, and Igor in Young Frankenstein.
What Broadway has not had enough of is actual disabled actors playing roles; if a disabled actor is lucky enough to get cast, they are tokenized into those canonical crippled characters in shows dripping with ableism. Spring Awakening (located at the Brooks Atkinson Theatre and directed by Michael Arden) challenges audiences' conceptions about theater, actors, and disability: they have deaf actors playing characters who are hearing.
This production, made possible through Deaf West Theatre has several deaf actors playing major characters, none of whom are deaf in the script. Other actors play the "shadow cast" or "speaking doubles," and in the playbill these actors are labeled as "Voice of ______." To further integrate both the deaf actors and the deaf community as a whole, the entire show is also done in ASL (American Sign Language) and/or supertitles projected onto the stage. This production allows deaf actors to play hearing-roles, be on a Broadway stage, and educate the theatre-going public about what deafness means and what it looks like.
In the playbill there is an insert that gives background on what ASL is, what Deaf West Theatre does, the deaf community in general, and provides graphics on some signs. It also does two other extremely crucial things: it teaches the audience how to applaud in ASL, and ends with the following statement:
"It is our hope that this production inspires you to learn ASL. One day all will know."
On the reverse of the insert, there is publicity information about the show, but also a list of several resources (including local classes, learning centers, and an even an app) for audience members who feel inspired to go out and learn ASL.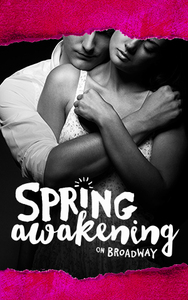 Both the ASL and deaf actors were integrated in a seamless, beautiful manner that helps to show the audience that deafness can be eloquent and there is no reason to stigmatize it. The playbill, insert, and theater marquis all feature Melchoir and Wendla in various types of hugs/embraces. In each, their hand/arm positions reflect well-known gestures in addition to poetic ASL messages. On the cover of the playbill, Melchoir hugs her and crosses his arms over her chest, a well-known "type of hug" for the hearing world, but also the sign for "love."
To introduce the audience to the concept of a shadow/hearing cast, several specific gestures, blocking decisions, and design choices were implemented. The "voice of" actors, for example, are dressed in modern clothes and also act as part of the on-stage orchestra. Both of these decisions helped to take the focus on them and keep the audience looking at the main actors, regardless of their hearing capabilities. To further explain this concept, the show started with Wendla (played by the graceful and emotive Sandra Mae Frank) and her "voice of" counterpart (played by the vocally fierce Katie Boeck) staring at each other through a broken mirror. In this production the character and their shadow self-interacted, shared glances, exchanged props, and more; the "voice of" actor became a character, representing the inner consciousness of the actual character. This made the duality and deafness seem less "strange" for the hearing members of the audience (who have probably never seen a deaf production before).
Although there were seven actors/characters who had shadow cast, speaking/singing equivalents, in the major belt-your-face-off, harmonized perfection songs like "Mama Who Bore Me (Reprise)," "The Bitch of Living," "My Junk," and "Totally Fucked" there was a stunning visual/aural effect: when the entire cast in singing and signing in this fierce moments, the audience cannot tell who is deaf and who isn't.
Several other moments put a large emphasis on the deafness factor, and these were by far the most powerful, striking, and emotional parts of the musical. For example, Moritiz (played by nuanced Daniel N. Durant and voiced by the edgy Alex Boniello) was the only character who was purposefully ostracized for his deafness, which paralleled the way his character's differences were stigmatized in the society. His awful school teacher refused to sign to him, punished him for signing, and at one point even screamed into his ear; forcing the audience to witness the violent ableism many deaf people have faced historically, and still face today. Moritz and his father, both played by deaf actors, shared a scene that was exclusively signed and supertitled--the whole scene was in silence. This helped to show was the deaf family experience was like, and how signing can be loving, but can also be angry and scream-like, thus proving to the audience how diverse of a language ASL is. The other major moment for Moritiz was his suicide by gunshot. Instead of playing a loud shot and having a quick blackout, there was no noise and instead a wave of very bright lights. This trenchant moment gave the audience the "deaf experience" of this gunshot suicide and was the most haunting moment of the work.
The strongest parts of the show were silent. The use of silence in the revival of Spring Awakening was awe-inspiring, educational, and extremely effective. None who watch this musical can leave unaltered and everyone will view deafness and silence in a much more nuanced, understanding, and accepting way.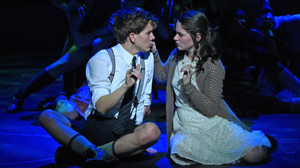 The standout performances of the supporting cast also help boost this production to Tony-level performance; accolades go to the previous "Smash" stars Andy Mientus and Krysta Rodriguez who gave emotionally gripping and vocally intense performances, to Ali Strocker whose wheelchair did not define or limit her spectacular performance, to Marlee Matlin and Camryn Manheim who performed the mothers with comedy, poise, and sincerity, and to Alex Wyse who added some perfectly crafted piano nerd humor.
This production ends a final number in which all of the children characters exit the stage into a mythical forest, symbolizing an Eden-like world free of ableism, sexual assault, suicide, forced abortions, reform schools, and discrimination; the parental figures are left on the stage alone, confused, sad, and ashamed. This leaves the audience in a position to choose: be like the children and accept them for who they are, deafness and all, or be like the parents and be left outside, stuck in the world of oppression.
Popular in the Community