I don't know about you, but most men don't even think about spring or summer clothing until we need it. We tend to be more reactive than women when it comes to shopping, and think first about what we "need" rather than what we "want" -- never mind the idea of getting inspired for something new. The past few years have given us a hearty dose of economic cold feet on top of the "need versus want" mindset. We find ourselves ready for a jumpstart.
In general, men are pretty lucky that each season isn't a reinvention of the wheel, in terms of style. We can get away with a few updates and still look and feel fresh. What has happened in the past couple of years is that most men have been doing bare bones additions to their wardrobes, if any at all. Now that spring has sprung and there is a feeling of optimism in the air, or at least in the news, we are finally feeling the need to reinvent or treat ourselves to some much needed updating.
If you don't normally wear color or you're simply not quite sure how to wear it, this spring is the time to let your experimentation begin. Working in the trenches of fashion every day in cities such as New York, Los Angeles and Chicago, I see the far end of the spectrum on a daily basis. I always say that you should be inspired by the trends, but don't fall victim to them, as they are simply meant to keep us inspired and moving forward.
One big trend this season is colored jeans and I am talking bright. Now I'm sure most of us wouldn't be caught dead in a pair of canary yellow jeans, but you can translate the trend to make it feel a bit more appropriate. Try chinos in muted colors like a soft blue, green or even coral/red if you are feeling more daring. You can pair a shirt of a completely contrasting color or even the same color but many shades darker or lighter. When in doubt just wear a white shirt on top -- you can't go wrong with that! The color wheel (in the slideshow below) will show you what I mean when I talk about contrasting color (just pick a color on the opposite side of the wheel).
If that all sounds a little too "out there" for you, experiment with color in a button-down or a polo by trying something you may not have tried before. Color blocking is big this spring and looks sporty and fresh. If you aren't into the bright hues, try darker color combos such as navy and purple, red and royal blue, or simply navy and white. Color can be an easy and inexpensive way to change it up and get you ready for spring and summer.
In addition, accessories for men are back! Men are wearing pocket squares, scarves, hats, jewelry and bags more than ever before, and there are some incredible options at every price point to choose. Personally, I enjoy a great bag for travel and to go to the gym, but I don't like the feeling of wearing jewelry, except of course a great watch. Men are spending their money on accessories such as bracelets -- or "wristwear" as they are now referred to by designers -- as well as necklaces and bags galore. Looking back to the 70s, it was about a gold chain and bracelet and maybe even a pinky ring and lets not forget, the ID bracelet -- so this is not a new concept.
Remember, all of this is for inspiration and you can take from it any element you wish, or none at all. Check out my spring inspiration on the Visual Therapy Blog. The most important thing when it comes to updating your look is that it has to feel like you. If you step outside of your box once in a while and push yourself to expand your sartorial spectrum, you may be surprised at the outcome. Enjoy and happy spring!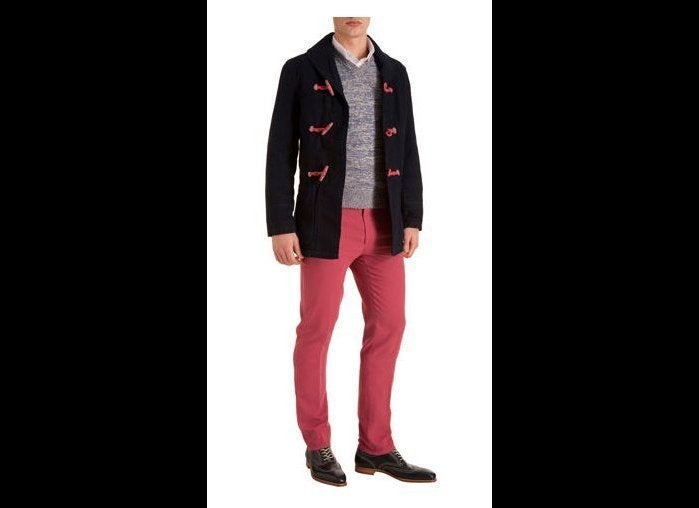 Spring Awakening
Related
Popular in the Community