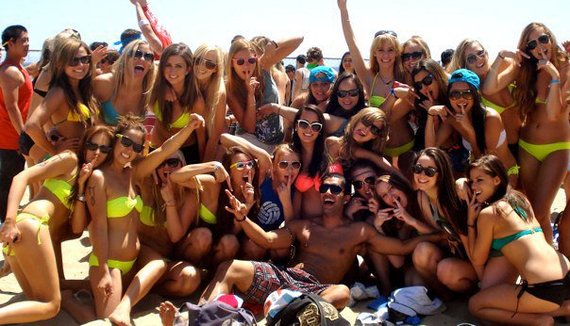 From the ends of February to mid-April, Instagram and Facebook news feeds are overcome with bikini posts, beer bong boasts and a series of other "untag" media.

It's spring break, and after a cold winter, countless exams, work and internships... you get a vacation from your vacation. Sorry guys, college is your life vacation. So party up while you can. Make it count, at one of these top 10 spring break destinations:

1. Cabo San Lucas, Mexico

Five star hotels, exceptional seafood and unparalleled nightlife, Cabo is Mexico's most luxurious nightlife destination, with a Hollywood-meets-Barcelona feel. Water sports and recreation enthusiasts can also indulge in snorkeling, diving, jet skiing, sport fishing, sailing charters, whale watching, swimming with dolphins and more.

Other popular daytime activities include ATV tours, zip lining through Baja Sur and visiting Cabo's award-winning spas. Conveniently within walking distance, you can check out El Squid Roe and Nowhere Bar. Don't miss the popular sunset booze cruises from the Marina. Don't get too wild at the college favorite: Jungle Cruise Tours.

On a budget? Find affordable accommodation at Estancia Real. For a more luxurious experience, stay at the ultra-chic ME by Melia Hotel.
2. Las Vegas, Nevada

Teased by warm weather, notorious pool parties and endless nightlife, the East Coast and Mid-West schoolies prep their flights in anticipation to Marquee, XS, Surrender and Hakkasan.

Perhaps too many West Coast procrastinators fail to pre-organize a spring break trip, but it seems like everyone from California and Colorado spontaneously road trips to Sin City.

"Vegas, again?" said no one ever. Regardless of why or how they get there, JustCollege reports 60,000-80,000 party-goers invade Las Vegas for Spring Break. With flocks of sorority girls, bachelorette parties and millennials from around the world, heterosexual men follow. It's no wonder. You'll find more than just spring breakers in Vegas. With countless promoters, complimentary beverages and the world's best DJs -- Vegas is easy.

If you're a newbie, build you stamina dancing at the following day parties:
Marquee Day Party at the Cosmopolitan
Encore at Wynn
TAO Beach at the Venetian
Also check out Britney Spears at Planet Hollywood and Beacher's Madhouse at the Wynn.
Any of said hotels are great, and yes... I've stayed at all of them.

3. ULTRA, Miami and South Beach, Florida

An EDM festival so massive, they had to share it with the rest of the world. Now in South Africa, Europe, South America and Asia, the original home of the international phenomenon is in the good old American state of Florida.

Coinciding with Miami Music Week, Ultra Music Festival is three days of fist-pumping to Tiesto, Avicii, Afrojack, Above and Beyond, Armin, Alesso, Hardwell, Nicky Romero, Steve Angello, David Guetta, Diplo... too many other DJs to count.

If trance, techno, drum and bass, dubstep, and club music make you want to move your feet -- ULTRA is your dance drug of choice. But if you're going to immerse yourself in a crowd of 330,000 people... you might want to stay off those other drugs.

4. Panama City Beach, Florida

All of the Florida babes (and respective neighbors), who aren't at ULTRA can be found on this jam-packed party central, sponsored in 2014 by Coors Light. PCB hosts the largest nightclub in the U.S. -- Club La Vela with Top 40 and electronic lights.

Sharky's Tiki Bar is always free, and we're not just talking about the cover (or lack of). Harpoon Harry's, Sandpiper Beacon, Spinnaker Beach Club and Hammerhead Fred's also deserve an honorable mention for attracting the masses.

For more thrilling activities, check out the massive inflatable water slide, parasailing, fly-boarding, kayaking, mopeds and snorkeling. Coors Light Free Rides made spring break safer March 1 - 21, with a shuttle looping through downtown bars. Their "put your keys on ice" campaign is an intuitive to reduce drinking and driving.

5. Cancun, Mexico

Viva Mexico! Located on a 14-mile peninsula jutting into the Caribbean Sea, Cancun's oceanside mega-clubs and outrageous pool parties exceed expectations. Check out Señor Frogs water slides and Fat Tuesday's Bungee platforms. Jetskis, parasailing, beach volleyball, windsurfing and other activities along the Zona Hotelera will keep you busy.

Alternatively, sip Coronas and sun-bake in serenity. You'll need some energy to explore Chichen Itza (one of the Seven World Wonders), and the Mayan Riviera's three major ecological theme parks: Xcaret, Xel-Ha and Xplor. Catch a nap on the beach before hitting the scene: The City, Dady'O and Coco Bongo, which feature an array of music, live performances and aerial artists.

6. Habitat for Humanity: Collegiate Challenge, Winston-Salem, North Carolina

Celebrate 25 years of volunteers aged sixteen and older who spend a week working with families to re-build homes. They work with over 200 affiliates across the United States in an effort to eliminate housing poverty.

7. Daytona Beach, Florida

Surf, boogie board, jetski, parasail or meet some people with beach volleyball. Splash all day, and dance all night. Check out Club 600 North, Ocean Deck Beach Club and Razzle's Nightclub. One of the more budget-friendly spring break destinations, it's known for it's wild parties and questionable morals.

8. Punta Cana, Dominican Republic

Crystal waters and the Caribbean coastline makes Punta Cana a spring break gem. Crazy with costumes, light shows and an outrageous club scene featuring Oro, Jewel Imagine and Ariento, Punta Cana is an international sensation. With bars inside the pools of most major resorts, snorkeling, windsurfing and pool parties, the D.R. holds down the day and nightlife. If you can leave your hotel long enough to experience a little culture, try tostones: sweet, fried banana bits and flan: a rich, creamy, gelatin-like dessert.

9. Whistler Blackcomb, British Columbia, Canada

While most of us flock towards the beach, snow bunnies trek to the mountains for paradise on ice. Whistler is notorious for its massive terrain, attracting ski and snowboard enthusiasts from around the world. Also try Ziptrek Ecotours for zip lining over the white wonderland, Scandinave Spas to escape the cold, ice skating at Meadow Parks Sports Centre and bobsledding at the Whistler Olympic Park.

10. Lake Havasu, Nevada

Boasts, boats, boats! Thousands of students congregate to get a little naughty cal. As most connect their vessels to houseboats along Sanbar Havasu, those without a boat seek new to make friends that have one.The Bridgewater Channel is the number one Havasu hot spot where singles consociate. It's the metta of warm weather and ongoing float festivities. After sunset, check out Kokomo and Martini Bay at LondonBridge.

On a budget? Shamelessly pack too many people into one hotel room, you're in college -- it's not like you're expected to have a real job yet.

-------------------

Spring Break is your time to literally, take a break off life -- celebrate your youth, and be a little a selfish. However, be weary of a culture that calls for binge drinking, dehydration and blackouts. According to Do Something, 2,600 Americans are arrested overseas on spring break each year. Know your limits, and consider organizing your vacation through professionals -- especially if you're headed abroad or out of town. Party pros such as JustCollege, SWAT and StudentCity can provide a safer social experience.

Note to reader: I've booked with JustCollege in an unsponsored trip and would recommend them for Las Vegas, Florida or Mexico. I have also heard positive reviews from friends for SWAT and Student City.
Pictured: A bunch of then university students (myself included) at another university's spring event. This event has been discontinued to the dangers of alcohol consumption on the beach. Rage on responsibly, and check out 21 Tricks to Staying Safe Abroad
Photo copyright TravelBreak.