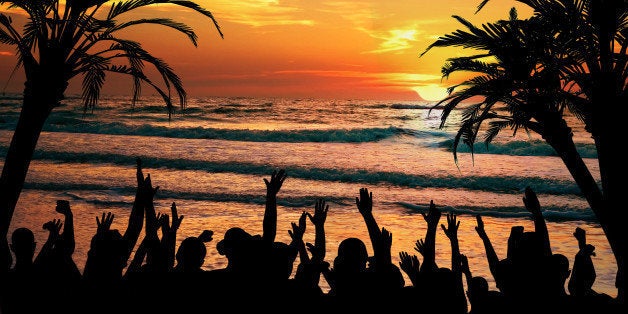 Whether your idea of spring break is a relaxing holiday in the sun or a week of day-drinking and bikini-clad college students, the 2,000-year-old vacation tradition poses its own unique set of travel challenges for college students and adults traveling to popular coastal destinations.
Spring break stressors - which can include crowds, noise and safety concerns -- can be minimized by planning ahead and taking a few simple precautions. If you're heading to a popular spring break destination this year, scroll through the list below for tips to help you enjoy the most stress-free vacation possible.
And we're not just talking about airfare. This rule applies to every aspect of your trip: If you're heading to a popular destination like Aruba, Cancun, Daytona Beach or Puerto Vallarta, it's going to be crowded. Be sure to book your hotel, transit meals and activities like surfing classes and boat trips early so guarantee your spot. Everything will fill up quickly, so make an itinerary before you leave and try to lock in your plans as much as possible to avoid setbacks.
Certain cities and hotels will be overrun with college students during spring break, so choose your destination and lodgings wisely based on whether you're looking for a week-long party or not. Hard-core spring breakers heading to Florida would do well to check out Miami Beach, while Santibel Island is good choice for a more low-key, relaxing trip. The same goes for your hotel: If you're looking for peace and quiet, steer clear of beachfront mega-hotels.
3. Take Extra Safety Precautions.
Unfortunately, countless spring break horror stories make headlines every year. Be sure to stay safe, particularly in destinations with higher rates of crime towards tourists. Following basic safety measures -- leaving valuables at home and refraining from wearing flashy clothing and jewelry, and making sure a family member or friend has a copy of your itinerary -- can go a long way in ensuring that you don't run into trouble.
Sunscreen, flip flops and beach towels can easily cost twice as much as they usually would when you buy them at a tropical tourist destination. When it comes to spring, it's better to risk overpacking than to blow through your vacation budget buying overpriced toilettries and beachwear.
While there's nothing wrong with indulging a little while you're on vacation, be careful about how much -- and where -- you drink. Falling asleep on the each and waking up with a nasty burn because you've been daydrinking is an easy way to ruin to your week, especially since you'll be more prone to dehydration. Be careful about drinking in hot tubs, which can also heighten the effects of alcohol.
6. Get Off The Beaten Path.
Even if you chose Cancun for your vacation so that you'd be in the middle of the action, take an afternoon or a day to get away from it all and unwind in nature by heading on a hike outside the city or boat tour of a neighboring area.