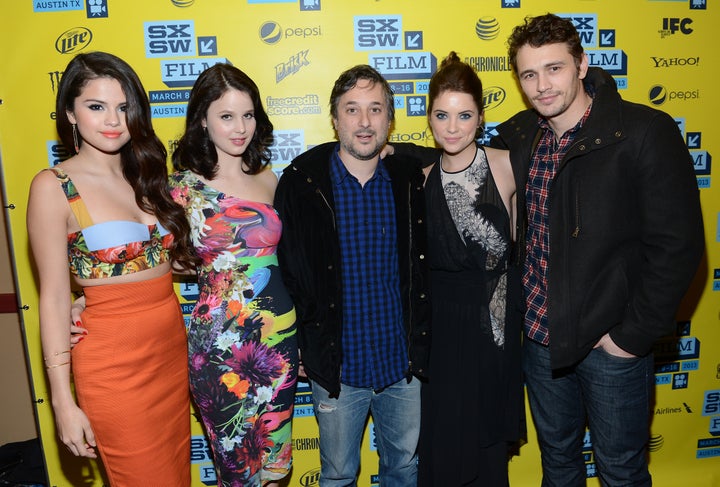 Spring break forever. At the South By Southwest Film Festival in Austin, Texas on Sunday night, crowds descended upon the Paramount Theater to watch the U.S. premiere of Harmony Korine's new film "Spring Breakers." As one film journalist noted on Twitter, the line for "Spring Breakers" was as long as any they had seen in the years coming to SXSW.
"Open your mind, take it in and see what happens," Korine said before unveiling his Day-Glo exploitation satire, a drug-fueled odyssey where Selena Gomez smoking pot out of a bong is about the 17th most scandalous thing depicted onscreen. Running just over 90 minutes, "Spring Breakers" is a relentless assault on the senses, the type of film where every sound effect is pushed to 11 and half the images could be labeled as NSFW. Korine's film, which he also wrote, focuses on four young women (Gomez, Vanessa Hudgens, Ashley Benson and Rachel Korine, the director's wife), who head to Florida for spring break after three successful rob a local chicken restaurant. Once there, the quartet engage in all manner of bad behavior -- sex, drugs, more drugs -- until an arrest brings them bikini-to-face with Alien (James Franco), a local rapper-slash-life force who teaches them the ways of spring break by proudly showing off his "shit."
"The movie came to me like a dream," Korine said. "I had been collecting spring break imagery for a couple of years. From fraternity sites and online pornography. […] I started looking at it and I liked the world and the colors and the feel of it. There were all these hyper-sexualized, hyper-violent subjects. But then there's all these interesting, child-like details. Nail polish. Bags. Stuff like that. I just imagined girls on a beach in bikinis robbing fat tourists."
At the moment, "Spring Breakers" -- which is out in New York and Los Angeles on March 15 before hitting theaters nationwide on March 22 -- is the movie equivalent of a Google trending topic, thanks to great interest among general audiences for the way film uses Gomez and Hudgens, two actresses with Disney Channel backgrounds and young fans.
"I hired all the actresses in the film for all different reasons," Korine said. "They were terrific and bold, but also, in a lot of ways, in real life, representative of this pop mythology. They were all at a point in their lives where they were ready to experiment and push themselves. Lucky for me they did."
Of course, nothing in "Spring Breakers" would be half as fun -- or subversive -- if not for Franco, who gives one of the most committed and original performances of the last 12 months. Alien, inspired in part on Florida rapper Dangeruss, who appears in the film (a question after the screening about whether Alien was based on Riff Raff, as that rapper has speculated, was met with eye rolls), is an evil empire unto his own. He's American excess gone wild, complete with a collection of machine guns, nunchucks, and shorts. Alien boasts that he has "Scarface" on repeat as if it's a flush 401k account.
"What was it like? Fun," Franco said about playing Alien. "It was great. Harmony makes a movie that can support that character and that's why I kind of could go so crazy. There was no way to go over the top. It was always going to be supported by Harmony and his movie and the context. To have that as an actor is a dream. You can really feel like there are no boundaries and you can just create."
In fact, the only boundary for Franco may have been one of comfort. To create Alien's distinctive look, the actor put his hair in cornrows and metal grills on his front teeth.
"The grills were cool. I hated the cornrows," he said. "If anybody had cornrows, you're in the club. We can get together and say, 'Aw, the itch; it's horrible.'"
PHOTO GALLERY
'Spring Breakers'
REAL LIFE. REAL NEWS. REAL VOICES.
Help us tell more of the stories that matter from voices that too often remain unheard.
BEFORE YOU GO