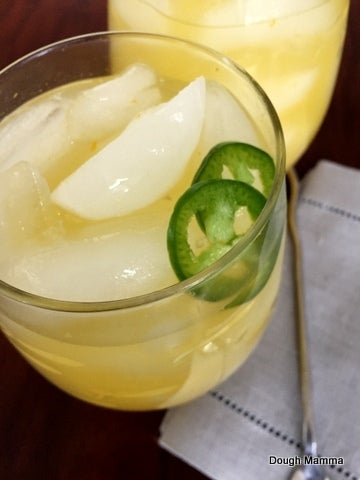 I've never been in a bar fight but I imagine the aftermath feels pretty similar to a sinus infection. Achy cheekbones, a tight jaw and sore eyes, are just a few characteristics many allergy sufferers experience seasonally. Since Spring is nearly here, I thought I would share this little gem of a beverage to help ease your pain. This lovely libation contains anti-inflammatory properties naturally found in pineapple juice and ginger and also provides a serious punch of vitamin C. Throw in the addition of fresh jalapenos to clear passageways and "eureka!", we've got a cure for whatever ails you. Though originally formulated to help clear our sinuses, the husband and I loved it so much, we thought the next time we imbibed, the addition of Tequila or Whiskey might just make this drink absolutely superb. Cheers!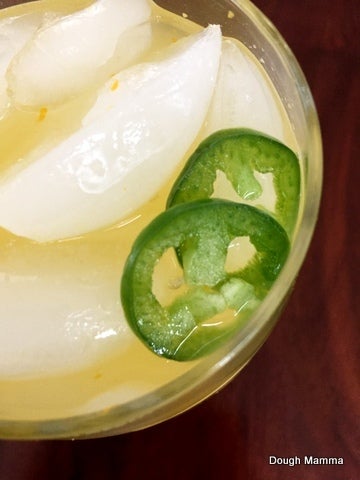 Title: Spring Citrus Elixir Author: Doughmamma Prep time: 15 mins Total time: 15 mins Serves: 2 Notes: Use organic ingredients whenever possible, especially when utilizing the zest. Natural pineapple juice can be found at your local health food store and has better benefits than juice from concentrate.
16 oz pineapple juice, not from concentrate
2 navel oranges
2 lemons
1 piece of fresh ginger, enough for 4 tbsp
1 jalapeno, thinly sliced and seeds removed
1 lime, optional garnish
Cut the oranges and lemons in half. Squeeze the juice into a fine-mesh sieve over a medium bowl or pitcher. Set aside.
Zest the lemons and oranges. Place 1 tsp of lemon zest and 1 tsp of orange zest in the juice pitcher. You will have extra zest, you can wrap the rest in plastic wrap and save for a few days.
Peel the ginger and zest. Add 4 Tbsp of ginger zest to the juices.
Thinly slice the jalapeno, removing the seeds. Add about 4 slices to the pitcher. You can add more heat later if preferred.
Stir your liquid and pour into your shaker filled with ice. Shake for 1 minute and pour into a glass filled with ice. Garnish with lime and/or add a few slices of jalapeno to add extra heat.
Continue until all juice is consumed.
Related
Popular in the Community