When you think of spring cleaning, the last thing on your mind is probably tidying up your skincare routine. But in order to maintain a healthy complexion year round, this should be a top priority on your seasonal checklist.
Whether it's decluttering your bathroom of expired beauty products, incorporating lightweight cosmetics that lock in moisture, or giving your skincare tools a thorough washing, these tiny tweaks will make a huge difference.
We asked certified esthetician and director of brand development at InstaNatural Heather Wilson to share four simple ways we can spring clean our skincare routines.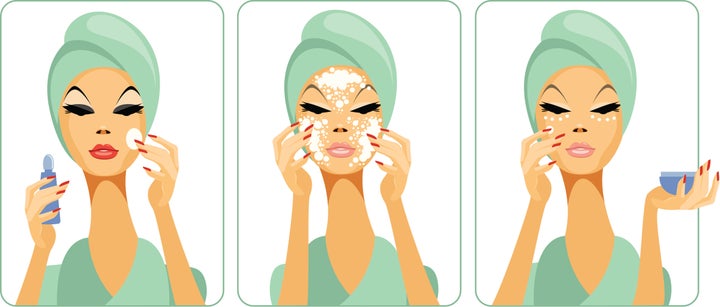 1. Switch out your thicker facial and body creams and foundations for light, water-based products.
This may seem like a no-brainer, but consider this a necessary reminder to swap out those heavy facial moisturizers, body lotions and even full coverage foundations for lighter alternatives. "Rich products that contain oils and emollients are great for winter but can cause oil and breakout as the temperatures rise," says Wilson. Instead, the skincare expert recommends using water-based moisturizers and foundations.
2. Change the brush heads and exfoliating pads on your at-home facial cleansing and microdermabrasion tools.
If you use a cleansing device like a Clarisonic, Wilson believes it is OK to continue usage but to be sure to refresh your brush head. Regularly cleaning and replacing this attachment will help to prevent the spread of germs, as well as ensuring that you're getting the most out of your tools when trying to wash away makeup and dirt. Basic soap and water or rubbing alcohol will rid the brush bristles of grime and acne-causing bacteria.
Wilson strongly cautions against the overuse of microdermabrasion tools that typically use crystals to slough away dead skin cells, as intense exfoliation can make your skin more sensitive to the upcoming increase in sun exposure.
3. Be even more diligent about your daily application of sunscreen, and remember to reapply often.
There shouldn't be a day that you go without wearing sunscreen, especially as the seasons transition from winter to spring (and don't be fooled by spring's cloud cover -- those rays still sneak through).
"While we are spending more time outdoors, exposing our skin to harmful UVA and UVB rays, we need to be sure we are protecting it from damage," says Wilson. "Applying a daily sunscreen with an SPF of 30 or higher is recommended, reapplying after every two to three hours of sun exposure or after contact with water."
4. Add vitamin C serum to your regimen to boost your skin's defenses against allergens.
According to Wilson, springtime can cause irritation and sensitivity in the skin due to a spike in allergens. Common physical signs that you struggle with allergies may include redness, dryness or rashes.
"The first step to addressing the concern is to try and limit your exposure to the allergen as much as possible," she says. "When and if that isn't possible, you can protect your skin by boosting your application of antioxidants such as vitamin C. Our skin doesn't receive enough vitamin C from our diet, so topical application can make a huge difference in our skin's protection process, tone and texture."
If you experience any noticeable changes to your skin such as a rash or redness that is uncomfortable, painful and doesn't subside within a few days, Wilson believes you should seek medical attention from a dermatologist or your primary physician.