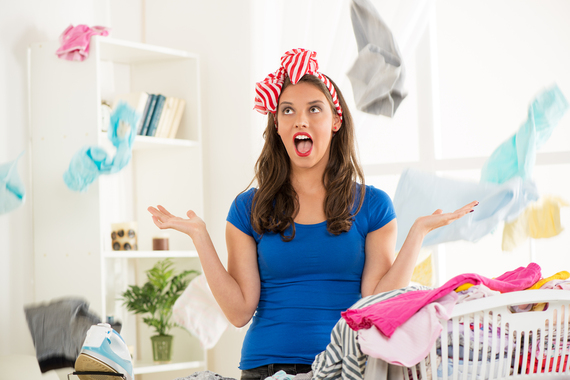 Hey fellow "keepers of the home," it's almost time to get our Spring Cleaning aprons on! Fun times, huh?! I have to admit, as much as I like the idea of a clean house, the actual effort required to make it happen can sometimes leave me feeling disgruntled, shat upon even, or downright ready to blow!
Sure, family life is wonderful. Kids are a blessing. But, honestly, the aftermath of sharing a life with them has the power to overshadow all the goodness by making a tidying dad or mum feel all sorts of glum.
That's right we may experience a sense of anger or woe when we find ourselves ass-deep in Rainbow Loom bands (I thought this was last year's trend?), dried up play dough creations (What the hell are these things anyway?), and abandoned Barbie shoes (I'm just going to through these little mofos away once and for all!).
The glum can even creep-in when our kids lend a helping (or forced) hand because, let's be honest here, their efforts are only nice "in theory." In reality, little hands can only do so much. The fact is, the bulk of the household cleaning and organizing is left for the grown-ups to do. And, in my case, I'm the grown-up in charge...
Luckily for me, my 6-year-old has my back. Not only has she noted that I appear bogged down by a shoulder-load's worth of shit, she has kindly offered some helpful tips to make cleaning more "fun" for me. I am happy to report that, after only a few days of implementing these simple-yet-effective strategies, more "cleaning fun" has been experienced!
This got me thinking, maybe other cleaners of the home would benefit from her helpful tips. So, here you go...
The Top 5 Ways to Make Cleaning More Fun (quotes from my 6-year-old):
1. "All you have to do is put a smile on your face, Mom. Try it!"
2. "Just pretend your mop is your boyfriend and you are at prom togeva."
3. "Talk to yourself and then talk back to yourself."
4. "Dance to Taylor Swift's "Shake it Off" when you are cleaning and make a YouTube video."
5. "Give yourself a chocolate every time you finish a job."
I have to admit, these ideas really have given new life to my role as "keeper of the home." Not only do I stroll around, happily cleaning with a perma-smile that would give June Cleaver a run for her money, I also feel less alone while mopping the floor with my prom date. I am sporting some fine new dance moves and I've shaken off every last bit of glum and then some. I'm even contemplating starting up my own YouTube Show called "Cleaning Can be Fun." Oh, I also have a toothache and my pants won't do up but I guess that's what happens when you listen to the wisdom of a 6-year-old.
Shannon Day and 36 other writers have released a book! Have you checked it out yet?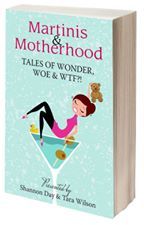 Shannon has teamed up with some talented writers to create a very funny, sometimes ridiculous, heartstring-tugging book/martini guide for moms. Check out Hot New Release Martinis & Motherhood: Tales of Wonder, Woe & WTF?! on Amazon.com 37 tales by 37 amazing mom-writers from around the globe + 37 martini recipes!