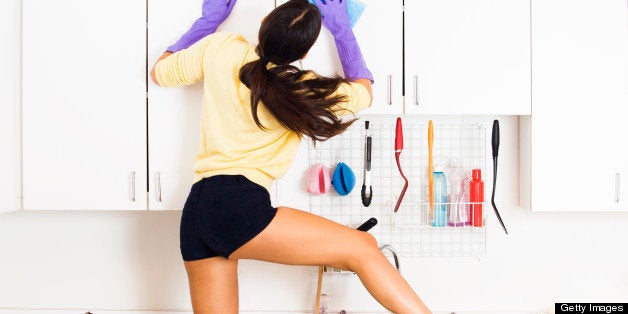 I am not angry about my divorce. In fact, my ex and I are actually in a very good place. Just the other day, we were able to joke on the phone a bit, and he even called to ask me for some advice. But, at the end of the day, when I go home each night, he is no longer there. In order to ensure that my apartment reflects the new person I feel I have become, I have had to make a few changes.
It was necessary for me to do some spring cleaning (this past winter) post-divorce. These are the items I think are important to make changes to so that you can go on with your life. Let me know if you have anything to add to the list.
1. The Bed: This was a must for me. We had a king-sized bed that was the first thing we really purchased together. As much as I loved it, it had to go. I replaced it with a much less expensive Queen-sized bed that is a totally different color. Best of all, it's all mine.
2. Jewelry: Having an Eat, Pray, Love moment, I purchased an amazing silver ring in an Italian street market during a post-divorce trip to Italy. Each time I look down at my ring, I don't think about the fact that my marriage ended, but rather that I am whole again.
3. Pictures: When we first moved to New York, we found some fun pictures for our apartment. I loved them, but they represented a different time in my life. Out they went. Donate it; give it away or just put it in a closet until you are ready to part with it. I have pictures that represent who I am today, not who I was yesterday.
4. Bathroom: This may seem a little silly, but it was so important to me. I am not saying to get rid of your entire bathroom, but since it is a place where I put myself together each day, I had to make it my own again. I replaced my towels and my shower curtain and a few of the knick-knacks on the counter. Bed, Bath and Beyond became a good friend post-divorce. A new start is important visually as well as mentally.
5. Energy Drainers: I love people. I am a very social person. But it became clear to me early on that I needed to be around people who supported me and didn't just remind me of my failed marriage. It took some time for me to see our "couples" friends again, but now I can do it effortlessly.
Related