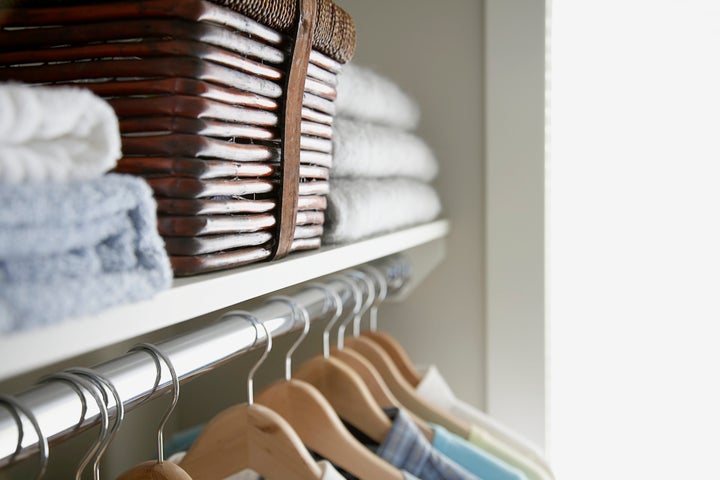 As a new, warmer season inches closer, you might get the itch to start purging, cleaning and organizing.
Spring cleaning is a popular task to tackle, but sometimes it's hard to figure out where to start. We chatted with organization and home decor experts to learn how to make the most of your time while giving your home a nice, fresh redo for spring. Here's what they want you to know.
Start small
So you want to throw out old clothes, clean the bathrooms, organize the closets and still have time to take on the dirty dishes? A manageable way to tackle those tasks is admitting that you might not get all of them done in one day.
"It really is important to start small," said Ashley Murphy, co-founder and CEO of the home organizing company Neat Method. "Oftentimes our homes or lives get out of order because the project becomes too big or daunting. Pick one section (just your shoes or just the spice cabinet, etc.) and spend 20 minutes going through it."
If you've accepted your fate of having to spend more than a few hours on spring cleaning, you still might have a difficult time choosing your starting point. Murphy recommends focusing on your clothes and closets.
"What we wear every day is often a reflection of what makes us feel good," she said. "So sorting through and getting rid of those things that no longer make you feel great is always a good place to start."
Tracy McCubbin, founder and CEO of dClutterfly and author of The Clutter Code, which will be released in spring 2019, is a fan of first surveying what needs to be thrown out from the laundry room (it's time to give up on those socks without a match) as well as getting real about the condition of bedding (sheets with holes have probably seen better days). She also reminded hopeful spring cleaners to not forget about cleaning under the bathroom and kitchen sinks. Empty product bottles need to go.
If you're the kind of person who's OK with pulling off the Band-Aid, feel free to start with the dreaded "junk drawer."
"This might be the scariest one of all, but it will feel so satisfying!" McCubbin said. "Worn-out rubber bands, dead batteries, menus that are now available online ― be ruthless and strip this drawer down to the essentials. Yes, you need a screwdriver, scissors and a book of matches. No, you don't need a Pez dispenser, a broken fridge magnet that you are never going to fix or an expired coupon to a yogurt shop that closed a year ago."
Make sure you have the right tools ahead of time
According to McCubbin, every home needs one good mop, one Swiffer and two brooms (one for inside and one for outside). Say goodbye to the others.
"You are not going to fix a broken broom handle," she said. "If a mop gets too gunky, you'll never use it again. Let them go. And if you want extra credit, hang a broom and mop holder on the wall to organize them and get them off the floor."
Before the deep clean, you might also want to stock up on those appealing storage containers you saw the other day, but McCubbin recommends purging your belongings before you do any organizing or add more things to your home.
"Too often people think organizing is only about putting their things in pretty bins," she said. "They want to get organized and they go out and buy a bunch of storage containers to put everything in. To me, that's not organizing, that's just moving your clutter around. I say purge before you organize. The easiest way to be organized is to have less stuff."
If you'd rather organize your belongings first to get a sense of what you have, your cleaning style is more like Murphy's.
"It sounds funny, but once you have everything in a neat and orderly manner, it allows you to really see what you have," she said. "Maybe you didn't realize you actually had 20 white shirts but really only wear 10 of them. Once you have all of your like categories grouped, it makes the decision process that much faster when approaching the decluttering phase."
Parents, get the kids involved
Organizing a room reserved for children almost seems impossible considering the pace at which many kids like to play. Instead of stressing, have your kids help, if possible. To make saying goodbye to their toys easier, McCubbin recommends donating them.
"If kids know their toys aren't going in the trash but to a child that has less than they do, it's often easier for them to let go," she told HuffPost. "Get the whole family involved in the decluttering process. Set some time aside over the weekend to tackle the common areas. It's easier to get kids to clean up their toys, if your personal space is organized. "
To break up the cleaning year-round, Marty Basher, home organization expert at Modular Closets, suggests thoroughly evaluating kids' closets as the seasons change and switching up what's in them.
"Rotating what is in the closet seasonally is also the perfect opportunity to purge what doesn't fit and is no longer needed while keeping the clutter to a minimum," Basher told HuffPost. "Make use of a few plastic storage containers for off-season items and keep the closet open and user-friendly instead of jammed full of all the things."
Don't be afraid to get creative
Spring cleaning can be stressful enough. Don't make it harder by limiting yourself to the standard ideas of what makes a clean, organized home. Basher understands the traditional functionality of closets, but if you've got the space, use it the way you want.
"Using free-standing pieces for clothes [and other items], a closet can become a mini office or a kids' play space," Basher said. "Create the space that brings the most use and joy to you."
Also consider how worn items or things you don't want anymore can have better uses if donated. Some animal shelters welcome old towels and blankets, and that piece of clothing with the tag still on it (we've all been there) could probably find a better home elsewhere.