It's been said that trends come and go but style is timeless. This is so true, darlings!
I was sitting with a group of girlfriends recently discussing this topic because spring is in the air! And you know that means spring fashions, spring shoes, spring bags... and more! We easily agreed that we have all established our style; our look. But that does not stop us from wanting to add to our wardrobes. After all, darlings, we are gatherers by nature!
During our conversation I chimed in, "I have found that our classic pieces we have tucked away, or continue to wear, do come back into style!"
Personally darlings, I have saved shoes, handbags, and outfits for years, for no other reason than that I love them and enjoy wearing them!
Over the years I have often been happily surprised to see some of the items in my closet pop up on the pages of Vogue and Bazaar magazines. My jumpsuits are twenty-five years old! My channel backpack bag is twenty-six years old! My mother's ball gown is fifty years old!
And that is what 'personal style' is about; building a wardrobe around classic vintage items and 'the new 2016 fashions' while saving your money; not buying the 'fads of the day!'
After my girlfriends left, I thought it might be fun to share some pictures of my vintage pieces.
I will start with a few of my favorite jewelry pieces.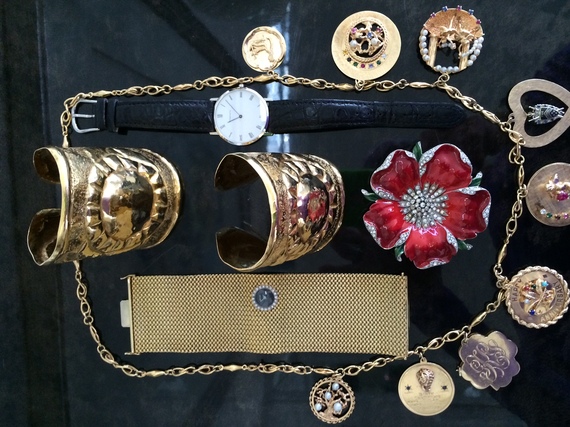 Shown: Old Charms Hung on My Grandmother's Chain Link Necklace
Charms were "the rage" when many of us were little girls. We wore charm bracelets! On birthdays or on a special occasion we were given the gift of a charm from our parents and grandparents. My charm bracelet had my grandmother's locket, a charm with the date and year of my birth, another had the tree of life, my late husband's fraternity pin and on. Charm bracelets went out of style. I saved mine for sentimental reasons. One day, I decided to hang all my charms on my grandmother's chain link necklace. I wear it often. It is a conversation piece. If you saved your charms you might consider doing the same.
I searched for a broach for a few years, dragging my husband with me from one shop to another (he has great taste), including the famous flea market in Paris. How lucky was I? My husband's eye caught sight of the red broach! It has been mine for over fifteen years. It is a Trifari piece dating back to the 1960's. It was a hat pin! I can tell by the thick prongs on the back. A memory of shopping with my husband comes to mind when I wear my beautiful red enamel flowered broach.
My Father's Tiffany & Co. Watch
When my father passed away, almost three years ago, my mother gave me his watch. When I took it into Tiffany they told me it was definitely vintage! My father was ninety-eight when he died and had it for years. It is now like new, and can be seen on my wrist often. It is a treasured piece! It is in style and beautiful.

Gold Cuff Bracelets.
My husband gave them to me. They had been in the family for many years. They are fifty years old. The cuffs are vintage Van Cleef and Arpels from the French jewelry house. They are so handsome. I wear one on each wrist. Their size and beauty make a statement. More importantly, I carry the memory of my husband's gift.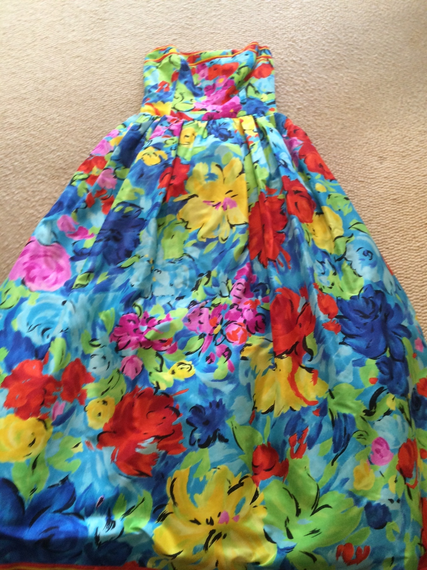 My Favorite Flowered ball gown:
I wore this gown to the first black tie event with my husband, Shelly. It is breathtaking to this day...25 years later! It is Monet's Garden in print. The designer is Leonard. It still fits but my arms aren't as great! If the occasion should arise I will wear it because no one will notice my arms...it is all about the gown!
Twenty six years old and still at the top of my list as my most favorite handbag. I have had it refurbished and wear it often. I always travel with my backpack.

My first pair of expensive shoes:
I was in my early twenties when I bought these alligator shoes for $100. I knew my husband would not be pleased but I could not resist, darlings! The shoes are now forty years old. I saved them because I loved them, not knowing that today they would cost $3,000! I found out when I took them to the shoemaker a few years ago. He looked at them and said, "Did you know these shoes are worth $3000?" In shock I answered, "No!" I wear them to this day.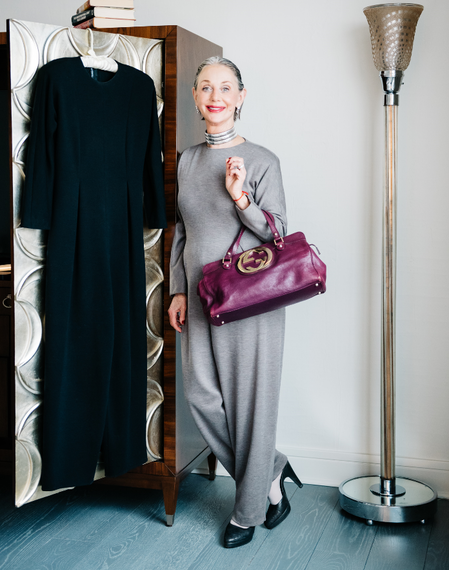 My Geoffrey Beene Jumpsuits:
My husband bought me a grey and black jumpsuit in New York at the GB shop twenty-five years ago! They still fit and they are both staples in my wardrobe.
Spring is right around the corner; the time we look into our closet and sweep clean those items we are tired of or have had too long. This year consider weighing your options before you toss!
Calling all HuffPost superfans!
Sign up for membership to become a founding member and help shape HuffPost's next chapter