DENVER ― A large and rapidly growing wildfire in southern Colorado's San Luis Valley exploded in size overnight, aided by what authorities described as a 300-foot-tall fire "tsunami" that raced along the fire's western edge.
The Spring Creek fire, having engulfed at least 103,357 acres, is already the third largest inferno in Colorado history. The fire was only five percent contained as of earlier Thursday and is growing so fast officials are struggling to keep track of its size.
So far, no one has been killed or injured by the fire. But at least 132 homes have been destroyed, and another 119 damaged.
Fast-moving 35 mph winds swept through the area Wednesday night, fueling the fire at a time when blazes are typically more subdued. The fire grew 8,500 acres overnight, an incident commander told KDVR-TV. Nearly 1,000 firefighters are fighting the blaze.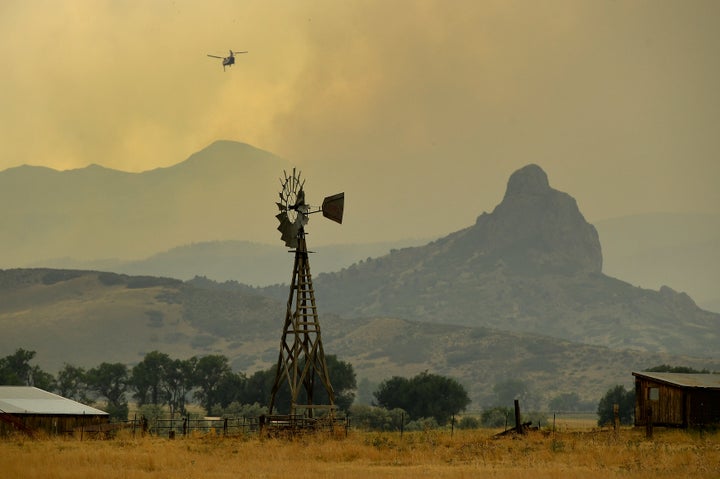 "We're seeing unprecedented fire behavior that pushed this fire through the night," Ben Brack, public information officer for fire-fighting officials, told the Denver Post. "Because the fire has been moving so fast we don't know exactly know how big it has become.
"You can imagine standing in front of a tsunami or tornado and trying to stop it from destroying homes. A human response is ineffective."
The fire ignited June 27 after Jesper Joergensen lit a fire in a pit to cook on, then went to bed without properly extinguishing it. Joergensen is a Danish immigrant who's in the country on an expired visa, according to the Department of Homeland Security.
Deputies with the Costilla County Sheriff's Office arrested Joergensen, 52, on Saturday. He's being held on charges of arson. 
The Spring Creek fire is the largest of 10 major blazes burning throughout Colorado.