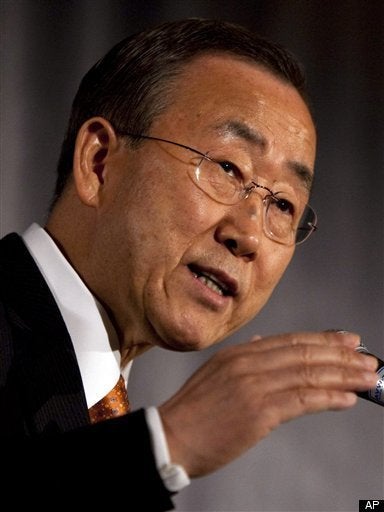 What festivities and what a feast! The vernal equinox is now considered a global holiday, part of the world's cultural heritage. The celebration at the United Nations included the ambassadors of more than 10 countries speaking to a full house in the General Assembly hall. Afghanistan, Tajikistan, Azerbaijan, India, the Islamic Republic of Iran (where I'm told the celebrations go on for 12 days), Kazakhstan (where the spring equinox is a three-day national holiday), Kyrgyzstan, Turkey, Turkmenistan, Albania and the Former Yugoslav Republic of Macedonia were all represented. The crowd of more than a thousand festive people enjoyed a scrumptious meal afterwards, all together.
Speakers over and over had stressed the connection of humanity with nature, and the celebration of spring's renewal. Nowruz means new day, and is the world's oldest New Year celebration. Festivities welcoming the first day of spring have been enjoyed for thousands of years; from an astronomical point of view, it's a universal celebration.
Secretary-General Ban Ki-moon noted that
"Nowruz has special meaning for many peoples in the Balkans, the Black Sea and Caspian Sea regions, the Caucasus, Central and South Asia, and the Middle East. Celebrated for millennia, the holiday is associated with a rich tapestry of customs and rituals linked with the arrival of spring. ... Nowruz is a day for renewal. It is an opportunity to reflect on the intimate links between people and the natural world. And it carries a strong message of peace and harmony between peoples of all cultures on the basis of mutual respect and understanding."
Depending on the country, activities may include lighting candles, cleaning the house, jumping over small bonfires, painting eggs, and enjoying food with family and friends. It is a time of renewal, a natural new beginning, for peace, for life in harmony with nature.
Honoring this cultural tradition reconnects humans with the earth, and encourages sustainability, as well as dialogue and connection among neighbors and among neighboring countries. Reflecting ancient culture, this day affirms the cycles of renewal in life. Celebration overrules differences; as many as 300 million people celebrate. Like the pollen of spring, hope and peace can spread all over the world. Bring it on. Welcome, spring.
Calling all HuffPost superfans!
Sign up for membership to become a founding member and help shape HuffPost's next chapter