You can't miss one of the big fashion trends this season: eye-popping neon colors. As Stephanie Solomon, fashion director of Bloomingdale's department stores, says, "Whether it be a handbag, belt, a pair of jeans, a dress or skirt, this spring, neon is what will make anything in your wardrobe a wow."
The description "classic with a twist" is a fashion cliche, but it's true that the most striking acid brights are those that bring a "wow factor" to otherwise classically cut clothes and accessories.
Jennifer Lopez epitomized the look when she appeared on American Idol in March in a sleek neon-pink gown from Michael Kors's Resort 2012 collection. Days later, Lopez wore Kors's fitted acid-yellow crewneck dress with neon-pink Casadei pumps for a Brazilian television interview.
In the U.K., British ELLE wanted the "brightest bag possible" for a photo shoot. Cambridge Satchel Co., whose traditional-looking, handmade leather satchels are sold at upscale stores such as Harrods and Harvey Nichols, rose to the challenge with neon colors. Sales of the resulting fluorescent green, pink, orange, yellow and blue satchels exceeded the company's expectations. Cambridge Satchel opened new workshops in the U.K. to keep up with demand.
This isn't neon's first time in the style spotlight. Ingrid Johnson, professor of textile development and marketing at the Fashion Institute of Technology, says a vivid orange-red that was a signature color of designer André Courrèges in the 1960s was a predecessor of the DayGlo colors that the influential late designer Stephen Sprouse used in the '80s. Paul Cavaco, now creative director of Allure magazine, helped launch Sprouse's signature line. He says Sprouse custom-ordered fine Italian fabrics in fluorescent colors previously seen in '60s psychedelic posters and '70s punk hairstyles. "He made [neon] part of the vocabulary of fashion." Cavaco says, "It was no longer just 'downtown,' it wasn't grubby, it was very chic." Sprouse's cashmere sweaters, dresses and camel coats in DayGlo colors -- "always rooted with black or camel or grey," Cavaco notes -- were sold at high-end department stores including Bergdorf Goodman.
The aesthetic that led Sprouse to balance neon with neutrals might explain why today's other big color trend is the polar opposite of neon: soft pastels, especially mint green. "You've got this dichotomy," says Leatrice Eiseman, the executive director of the Pantone Color Institute. "The natural aspect of color on the one side ... and what's unnatural as an attention getter." She describes mint green as "a breath of fresh air and that's what we look for at this time of year" while fluorescent colors are more like "15 minutes of fame."
If you're ready for your 15 minutes and don head-to-toe neon, "Own it," say Rob Zangardi and Mariel Haenn, the celebrity fashion stylists who put Jennifer Lopez in Kors. If you're intrigued but not that daring, they suggest a neon bag or bangles. As for color choice, they say, "Highlighter yellow and neon greens look great on a darker skin tone and brunette hair. Neon pink and electric purple look great on lighter hair and skin tones. "
My fellow fashion bloggers are adding neon colors in a variety of ways, including neon-yellow nail polish and striped neon socks. (I'm sticking to my vintage Sprouse jacket in DayGlo orange.) Pastels are equally popular; skinny, mint-green BDG jeans from Urban Outfitters are the hot item. Take a look at how these bloggers interpret the trends.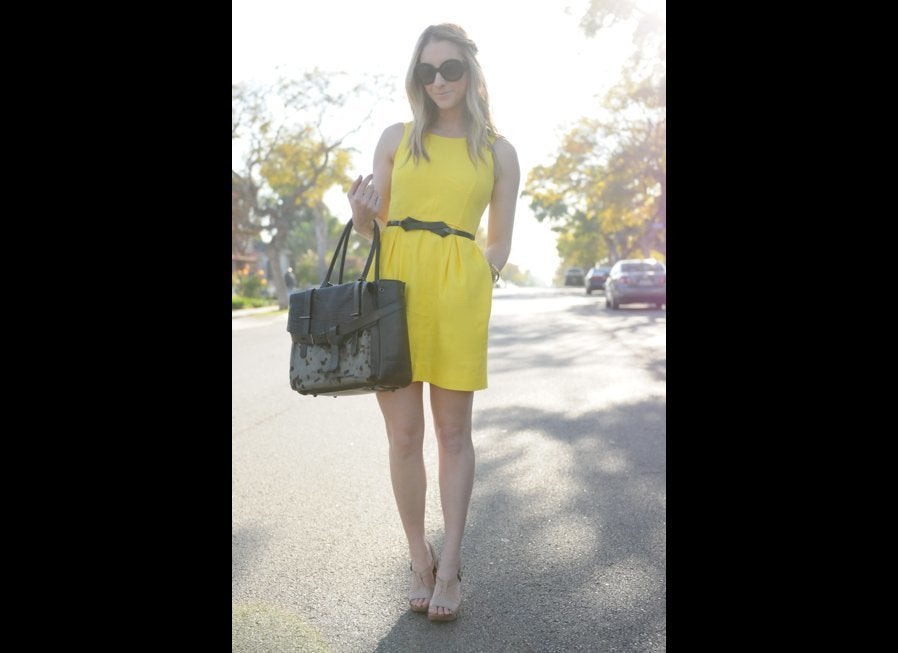 Neon and Pastels
Related