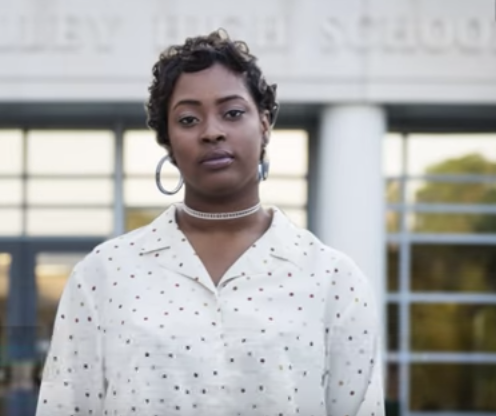 Kenny was sitting in math class last October at her high school in Columbia, South Carolina, when a student sitting a few rows away got into a verbal squabble with their teacher. When the 16-year-old student, named Shakara, resisted the teacher and a school administrator's instructions, the adults called on a school cop for assistance.
What happened next became the subject of a U.S. Department of Justice investigation, two arrests and several cell phone videos that received millions of views online. The cop flipped Shakara and her desk to the ground, violently dragged her across the floor and put her in handcuffs.
Unlike her classmates, Kenny was unwilling to stand idly by. She encouraged her peers to film the incident and yelled at the cop for using so much force on a child. When the dust settled, Kenny and Shakara were arrested under a vague South Carolina law that makes it illegal for students to "disturb" schools.
A year later, the incident has become one of the highest-profile examples of the dangers of stationing cops in school. And Kenny, now a high school graduate living in Brooklyn, doesn't want anyone to forget its lesson.
Kenny is currently interning at the nonprofit African American Policy Forum, working alongside Kimberlé Crenshaw, the organization's co-founder and a professor of law at the University of California, Los Angeles and Columbia. Together, they have been working to raise awareness about how the school-to-prison-pipeline impacts all students, but especially students like Kenny ― that is, black girls.
The school-to-prison pipeline is the idea that harsh school discipline policies help push students out of school and into the criminal justice system. Activists say cops are part of this problem. In recent decades, the number of cops placed in schools has risen dramatically. With this increase, more teenage misbehavior is being met with arrest records and court dates as opposed to detention and trips to the principal's office.
Crenshaw believes that girls of color are overlooked in conversations about justice and discipline in schools. The focus tends to be on boys. But girls face the double bind of both racist and sexist stereotypes.
Indeed, research from Crenshaw shows that black girls were suspended at six times the rate of white girls during the 2011-2012 school year. Black boys ― while still disproportionately disciplined ― were suspended at three times the rate of their white counterparts.
"Niya's case alone is simply a powerful example about how leadership skills and courage and the ability to reason right from wrong ... get turned into a justification for bringing them into the juvenile justice system," said Crenshaw. "[Black] girls in particular tend to run into trouble because they're seen as defiant, they're seen as having an attitude or being in need of discipline rather than being rewarded and recognized for exercising leadership."
Kenny is proud of her role in trying to stop police abuse at Spring Valley High School that day. She wasn't always so sure, though. After getting arrested, she was led out to a paddy wagon in front of her classmates. She spent hours in jail.
"That day everything was going down, I felt like I did the wrong thing. I kept telling myself, 'You should have just sat down and just been quiet,'" said Kenny, whose charges were later dropped. "But speaking up and being arrested and everything, it just brought so much awareness to the school-to prison-pipeline. Honestly, if I could go back, I wouldn't change anything. It was like the universe brought me there that day."
After the incident, Kenny decided to leave Spring Valley High School. She spent time in a local charter school before withdrawing and opting to get her GED, said her mother, Doris Ballard. Kenny is now thinking about applying to college.
"The incident, it was very embarrassing. She was arrested, she was handcuffed in front of her peers. She was walked out of school in handcuffs like a criminal," said Ballard. "The only thing she did was speak up for another student who she didn't feel was treated right."
Ballard and Kenny hope the suffering has not been in vain. In August, the American Civil Liberties Union filed a lawsuit on Kenny's behalf challenging the South Carolina law that allows the state to prosecute students for disrupting school. The cop involved in the incident was ultimately fired from his job, although he did not face criminal charges.
Although Kenny faced a traumatizing scenario, she has poured her trauma into activism. Similarly, Ballard has gotten involved with Every Black Girl, a campaign inspired by the Spring Valley incident that aims to empower young girls.
"It just opened up a whole new world for us. It introduced us to a lot more things going on in the community and heightened our awareness. We were living an ordinary life before this happened. Day to day, going to work, going to school, life. But now that this happened it just made us aware of all the issues dealing with the school-to-prison-pipeline," said Ballard.
Kenny never expected to become part of a larger movement. She just wanted to stand up when she saw a classmate in harm's way. But in the year since, she has become a powerful voice in making sure girls of color are treated equitably in schools.
"I feel like people are more aware of the issues that young black females face now, because its actually caught on camera this time. It wasn't just a he-said, she-said, situation," said Kenny. "Before I was involved in that situation I had never heard of the school-to-prison pipeline. That's actually come to the light now. It's not a conversation that's overlooked."
This story was also published as part of an investigation of police in schools.
Rebecca Klein covers the challenges faced in school discipline, school segregation and the achievement gap in K-12 education. In particular, she is drilling down into the programs and innovations that are trying to solve these problems. Tips? Email: Rebecca.Klein@huffingtonpost.com.