March 20 is the official launch date of spring in the Northern Hemisphere. But much like a hit single or a Super Bowl ad, spring was leaked a few weeks early this year -- lifting spirits for now, but also raising concerns that summer might try to upstage it.
This is only happening in select U.S. markets so far: The Midwest and East Coast are sizzling, for example, but the West is cool and stormy. Minneapolis was nearly 40 degrees warmer than average last Friday, one of more than 2,200 daily U.S. heat records already set this month. Meanwhile, a winter storm slammed Arizona and New Mexico Sunday, dumping nearly 2 feet of snow and stirring up 60 mph winds.
So what's going on? The weird weather is at least partly due to a "blocking pattern," or stationary set of atmospheric conditions, hovering over the country. A sprawling area of high pressure is fueling the Eastern and Midwestern heat waves, while a low-slung jet stream is keeping winter alive out West. Here's a map that illustrates the effect, showing average temperatures across the Lower 48 states from March 12-18: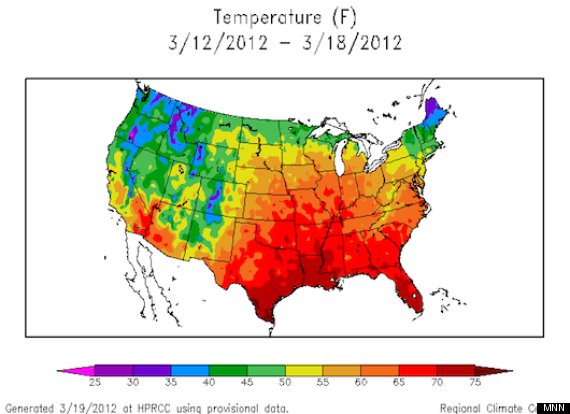 But that map doesn't tell the whole story. The map below, also for March 12-18, shows temperature anomalies, with dark red indicating the warmest departures from normal: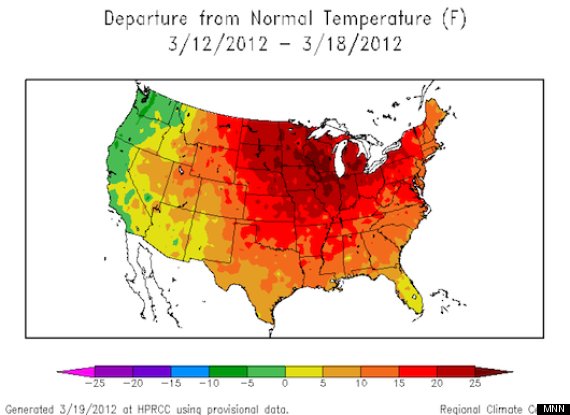 In a statement issued this week, the National Weather Service explains that "It is extraordinarily rare for climate locations with 100+ year long periods of records to break records day after day after day ... though it is very difficult to precisely quantify just how rare it is because as the period of record grows the likelihood of seeing so many consecutive record-breaking days decreases."
The heat also causes trouble in less obvious ways: Excess warmth is being blamed for Michigan's recent tornado outbreak, as well as other unusually early thunderstorm activity this year (similar to the record 2011 tornado season). And it's also wreaking havoc with some wildlife that uses weather to coordinate life cycles -- many plants now flower too early, for example, leaving themselves vulnerable to late frosts and making less food available to birds and insects. A recent study highlighted this effect in the Mormon fritillary butterfly, which is suffering population declines as wildflowers adapt to rising temperatures in the Rocky Mountains.
While it's impossible to definitively link one season's weather quirks to multiyear climate patterns, this does fit a broader trend toward earlier springs -- one that dates back decades and is expected to continue for decades to come. As climatologist Heidi Cullen wrote in a March 19 New York Times op-ed, the vernal equinox may no longer be a useful starting point for spring; instead, she suggests the "first leaf" index, which estimates the day when leaves appear on plants. And, as she notes, this date has drifted three days earlier for much of North America since the 1950s:
'First leaf' has gone from March 20 (1951-1980 average) to March 17 (1981-2010 average). This forward creep is consistent with the effects of an overall warming climate, roughly 1.4 degrees over the past century, what we refer to as global warming.
This trend is already significant, but in many cases it will likely accelerate in the near future. Consider Washington, D.C.'s famous cherry trees: They now bloom about five days earlier than they did 90 years ago, but a study in the journal PLoS ONE reports they could bloom as much as four weeks earlier within the next 70 years.
Of course, it's not just spring that's growing warmer. The winter of 2011-'12 was estimated to be the fourth-warmest on record, which meant much less snowfall across the Lower 48 states than in the previous two winters. On one hand, that's good news -- the National Weather Service estimates there will be a reduced risk of flooding this spring. "We're not forecasting a repeat of recent historic and prolonged flooding in the central and northern U.S., and that is a relief," Laura Furgione of the NWS says in a statement. "The severity of any flooding this year will be driven by rainfall more so than the melting of the current snowpack."
But on the flip side, small snowpack is also one of the dangers associated with global warming, especially in the U.S. West. That's because many major rivers in the region are fed by spring snowmelt, and reduced flow in those rivers can worsen water shortages downstream. So while the overall risk of spring flooding may be low in 2012, the risk of lengthy droughts across the country's southern tier is relatively high.
On top of a warmer winter and spring, the prospect of a warmer and drier summer in 2012 is especially troubling to many Americans. La Niña may start fading away in the next few months, potentially bringing some relief from southern U.S. droughts, and the recent thunderstorms have already helped. But much of the Southeast and Southwest will remain parched through June, and El Niño -- which sometimes brings rain to the South -- isn't expected to immediately follow La Niña. Regardless, the NWS forecasts above-average heat for several regions of the country at least until July.
Here are three maps illustrating what U.S. forecasters expect this summer to be like:
1. Seasonal drought outlook: Low spring snowmelt is a big reason why many drought-stricken areas may not get relief anytime soon. Combined with warm weather, this could once again create dangerous fire conditions in the Southwest and parts of the Southeast. The retreat of La Niña and the eventual re-emergence of El Niño are wild cards in determining how dry the U.S. is this summer.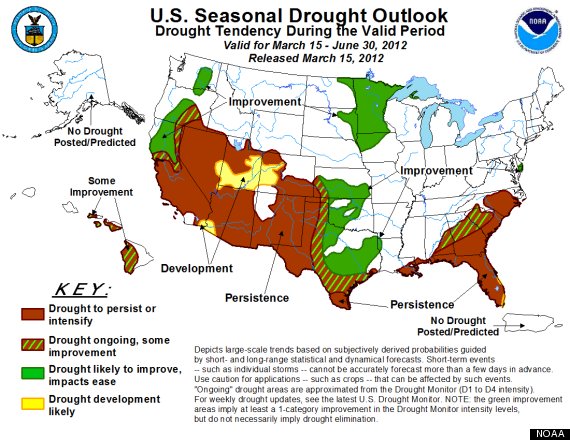 2. One-month temperature outlook: This map shows the likelihood that various regions will have above- or below-average temperatures in April 2012. The Mid-Atlantic, Midwest, Great Plains and Southwest are expected to continue sweltering, while Alaska and the Pacific Northwest are expected to remain cooler than usual.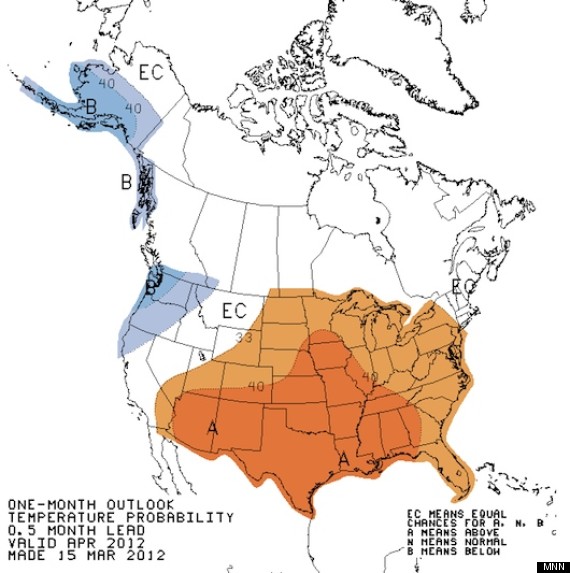 3. Three-month temperature outlook: This map shows the same type of information as above, but projects three months into the future, covering April, May and June. It indicates prolonged heat waves in the Gulf Coast and the Southwest, as well as the potential for unusual warmth across the Eastern Seaboard and Midwest.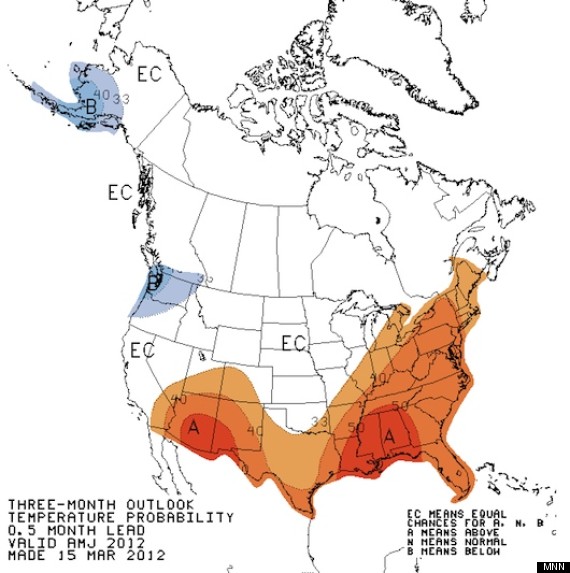 It's still too early to make specific predictions about summer weather, but we might find out soon enough. As the maps above suggest, summer could follow spring's lead, offering Americans a sneak preview well before the solstice arrives on June 20.
Calling all HuffPost superfans!
Sign up for membership to become a founding member and help shape HuffPost's next chapter
BEFORE YOU GO