I was recently invited as a media guest to SpringHill Suites San Diego Downtown/Bayfront hotel for its grand opening. The grand opening marked the 3,000th Select Service Property for Marriott's Global Portfolio. This was my first time visiting the west coast and I was excited to see and explore San Diego--"America's Finest City." I have always wanted to see the Pacific Ocean, so I jumped at the chance to go. The only thing I knew about the SpringHill Suites San Diego Downtown/Bayfront is that it was newly built and unlike any other property on the bayfront. Needless to say, I was excited to see what the hotel had to offer!
After a long red-eye flight from Tampa and a layover in Dallas, I finally arrived at San Diego International airport. As I walked to baggage claim I was pleased to see a driver waiting for me. Once I collected my bag we were off to the hotel. Luckily, the hotel was in close proximity to the airport--only a 15-minute drive. As I gazed out of the car window I saw gorgeous bay views on my right and stunning views of downtown on my left.
As my car pulled up to SpringHill Suites, the first thing that caught my eye was its cutting edge design. The hotel was extremely modern and featured a massive bright yellow strip that instantly grabbed my attention. I couldn't wait to get inside and see more.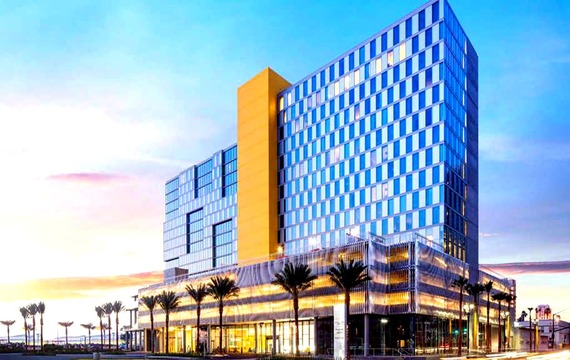 The hotel lobby was stunningly refreshing, showcasing modern furniture, lighting and colors at every turn. Digital wall art doubled as touch screens that allowed guests to explore the city, find local attractions and get flight details.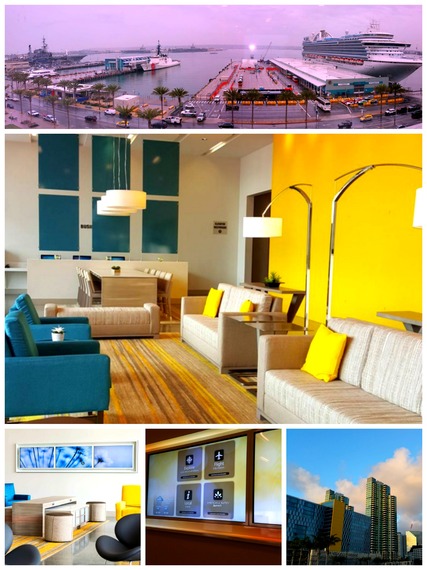 As I stepped inside my room, I was surprised to see a welcome note addressed to me sitting on the table along with a sweet refreshment. I was overwhelmed by the gesture.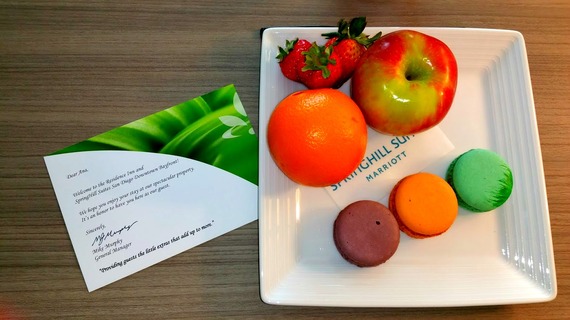 The first look of my room gave me a very calm and refreshing experience. I could instantly tell that the hotel had worked very hard at selecting everything from furniture and lighting to colors and fabrics. My room was just perfect! There were separate living, working and sleeping spaces to provide flexibility and functionality. The perfect place to sink into a good night's sleep, this hotel offers deluxe linens and plush pillows, while a comfortable pullout sofa bed and lounge chair offer additional space for relaxation or extra family members. The room had all the basic amenities, as well as breathtaking panoramic views of the San Diego bay.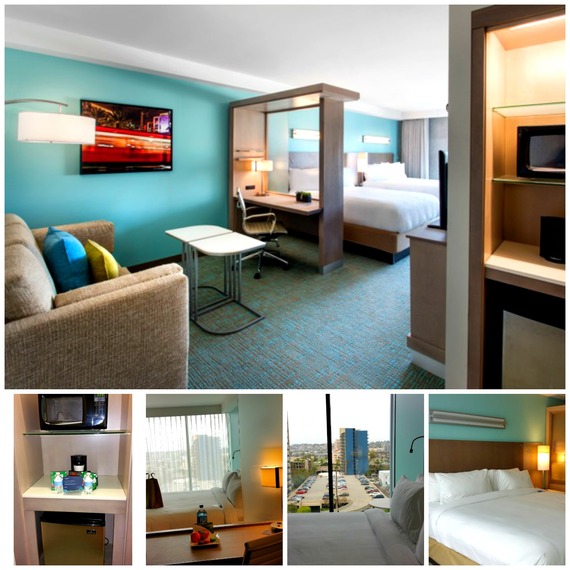 The restroom included modern touches, such as a marble-top vanity, iridescent tile walls and creative lighting features, giving it a modern and refreshing look. The bathroom was spacious and clean, containing all the essential exclusive toiletries from Paul Mitchell hair and bath products. I loved the Lemon Sage energizing body lotion, which was very soothing and relaxing!
The one thing that really caught my attention and made me feel special was all the "little extras" that SpringHill Suits offers. Upon entering my room there was a personal greeting on the television welcoming me to the hotel. It was a great gesture from the hotel to make me feel special.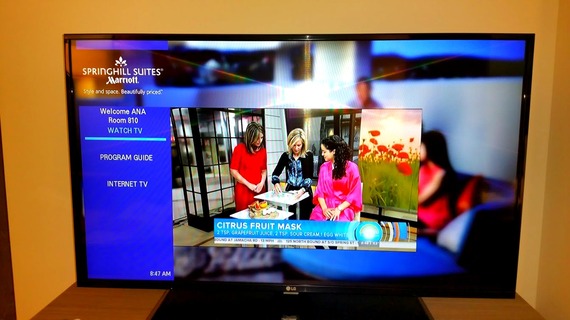 I also loved that the hotel offered free Wi-Fi, delicious food, pampering exclusive Paul Mitchell hair and bath products, as well as a 24-hour Market place that offers snacks and necessities.
SpringHill Suites offers a delicious complimentary buffet style breakfast that is sure to please everyone's taste buds. Guests may sample from the wide variety of eats, including breakfast sandwiches, eggs, specialty waffles, danishes, fruits and more. The hotel staff was very attentive, making sure that guests received everything they needed to enjoy their meal.
SpringHill Suits Marriott also features a fifth-floor outdoor swimming pool, bayfront patio area and state of the art fitness center. They also have 11,000 sq. ft. of flexible meeting space backed by San Diego's stunning skyline for Business conferences or meetings. I was thrilled to know that SpringHill Suites provides a new dimension of extended hospitality for its air travelers by transforming TSA security checkpoints into new levels of comfort and service while maintaining the highest levels of security. Bringing a 'little extra' comfort to the airport experience, SpringHill Suites has unveiled comfort zones in Oakland International, Dulles, Dallas Fort Worth and Charlotte Douglas International Airports.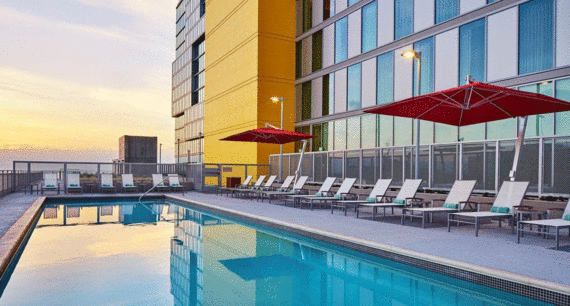 In a nutshell, SpringHill Suites Marriott is a perfect modern hotel catering to the needs of travelers staying for business as well as leisure. With spectacular downtown and bayfront views, as well as "little extras," this hotel will definitely revive and refresh your spirit.