 The cost of fighting the Springs Fire has risen to $10 million, authorities said.
The blaze swept through canyons and hillsides from Camarillo Springs to the Pacific Ocean, scorching 28,000 acres, burning almost 25 buildings and threatening 4,000 homes since it started just after dawn Thursday.
Five days, hundreds of firefighters and some rain later, officials said they had the fire 85 percent contained Monday.
"The weather has just been perfect for firefighters to make a good, aggressive energy to putting more control around this fire," said Tom Piranio, a spokesman for the Springs Fire's California Department of Forestry and Fire Protection team.
Firefighters Monday cut containment lines and mopped up hot spots where smoke and heat were trapped underground. They doused a few flare-ups.
"It was a good day," said county fire Capt. Mike Lindbery. "We're in the final stages of this fire. We're going to be in patrol status sometime soon."
Emergency crews also cleaned up, replacing power lines and sweeping up rocks and debris on roadsides.
Caltrans contractors worked to put barriers between rock walls and drivers along Pacific Coast Highway again Monday. Flames reached the winding coastal road between Ventura and Los Angeles counties last week, burning away brush that helped stabilize the craggy hillsides.
Officials released $2.5 million in state emergency funds for Caltrans to use to prevent falling rocks and debris along PCH. An engineer surveyed the site over the weekend and said it was stable, but fencing and concrete barriers will keep sand and rocks from rolling downhill.
"That can create a slippery situation," said Lauren Wonder, a Caltrans spokeswoman. If a larger rock came down, it could threaten motorists.
Investigators said they know where the fire started near Camarillo Springs and Highway 101 and have ruled out arson. Calling the cause an "unknown roadside ignition," officials said a number of things could have sparked it, such as a backfiring engine or chain dragging on the pavement.
Eight injuries have been reported since the blaze started. All were minor, Lindbery said.
Naval Base Ventura County was back to full operations by Saturday, after the fire jumped PCH and reached the base last week. No buildings were destroyed, but Navy officials said 300 acres of brush burned on the base.
A shooting range also sustained damage, said public affairs officer Kimberly Gearhart. Public works crews and others were continuing to assess damage Monday, she said.
Firefighters worked through the night Thursday and saved the $1 billion Naval Satellite Operations Station on Laguna Peak, but power lines leading to the peak were damaged.
Relatively light rain fell Sunday and Monday in areas burned over the past several days, from less than a 10th-inch to nearly a half-inch in some areas. Showers were expected to continue Tuesday.
Agencies reported no problems Monday from the rain. But officials said a bigger storm would raise concerns about possible slides.
For years after a fire, hillsides and debris can slide into yards, homes and streets.
The National Weather Service reported a chance of thunderstorms Tuesday but said it didn't expect slide warnings.
A fire burns away brush that helps anchor dirt and rocks in place and also makes soil less pervious.
"It hardens soil," said Jeff Pratt, Ventura County public works director. "It becomes almost like pavement."
The Fire Department and several other agencies will continue to assess burn areas and help with restoration. In some cases, that means taking steps to prevent erosion, such as using straw bales as anchors or reseeding.
"We usually assume it takes about four to six years for the watershed to get back to where it was," Pratt said.
Agencies will do what they can to help areas rebound, county fire spokesman Bill Nash said.
"This is a very early-season fire," he said. "We have good potential for some early regrowth."
Staff writers Cindy Von Quednow and Kathleen Wilson contributed to this report.
(c)2013 Ventura County Star (Camarillo, Calif.)
Distributed by MCT Information Services
Before You Go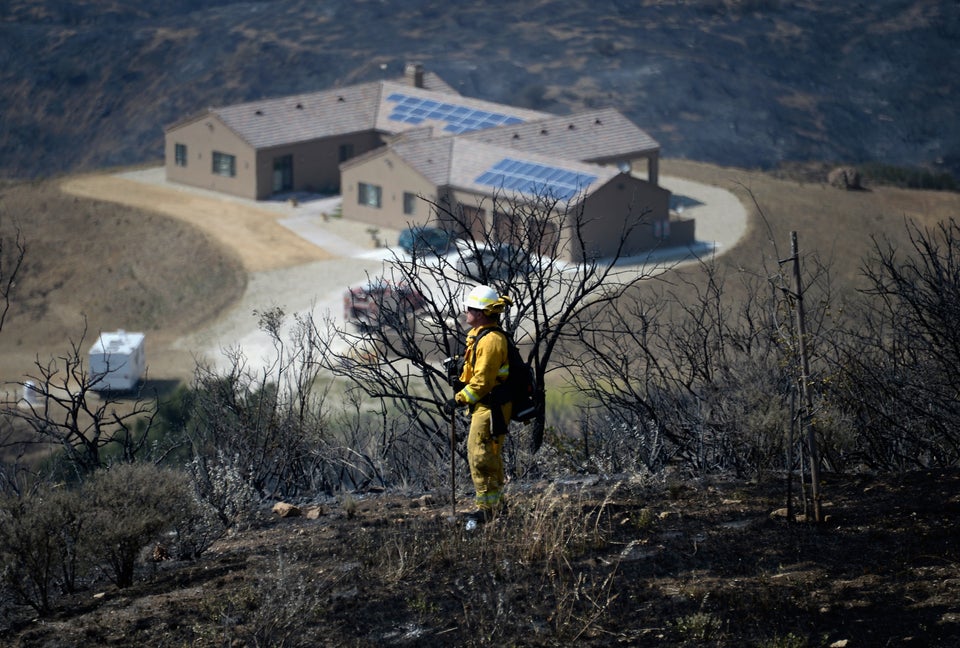 Wildfire Burns In Southern California
Popular in the Community