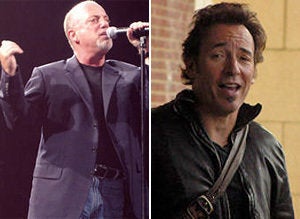 The Boss and the Piano Man are officially hitting the campaign trail.
On Tuesday, Obama donors were informed that Bruce Springsteen and Billy Joel will join the Democratic nominee for his "last event in the Tri-State region before the election," at the Hammerstein Ballroom in New York City.
Please join us the evening of Thursday, October 16th for a very special concert with Billy Joel, Bruce Springsteen and other exciting guests! This is the first time that Billy Joel and Bruce Springsteen will play the same concert!
Even in an election year with some historic "firsts," that's pretty notable. And pretty expensive: balcony tickets go for $500, "premiere" seats cost $2,500 per person, and lounge tickets go for $10,000.
UPDATE: Turns out the Obama release was wrong, Springsteen and Joel have played together at least once before:
Popular in the Community