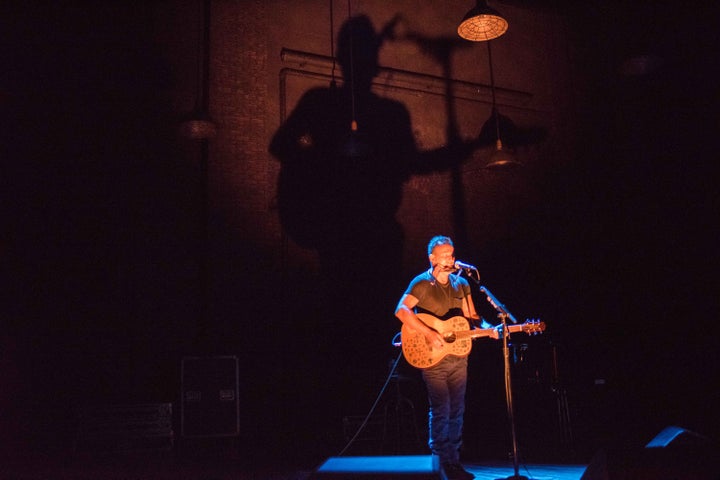 He gets sentimental. He cracks jokes. And, damn, he sings his heart out. The "Born in the U.S.A." singer even took a political jab during Wednesday's preview show in New York ahead of Thursday's opening night. Sure, fans have seen these sides of Springsteen before, but never in such an intimate — almost vulnerable — setting. (And this observation comes from someone who's seen upwards of 100 Springsteen concerts dating back to 1992.)
Inspired by his 2016 best-selling memoir Born to Run, "Springsteen on Broadway" finds The Boss sharing revealing personal stories alongside solo performances of relevant songs from throughout his career. He tackles love, heartache and loss, and opens up about his upbringing, his parents and living in the "boondocks." Joined onstage only by his wife Patti Scialfa (for two songs), Springsteen gives an autobiographical tour of his life.
October marked the start of an 18-week run at the Walter Kerr Theater, probably the smallest venue Springsteen has played in 40 years, he says. Ticket sales for the first week grossed an estimated $2.33 million, according to The Broadway League, and the production is already starting to break records on the Great White Way.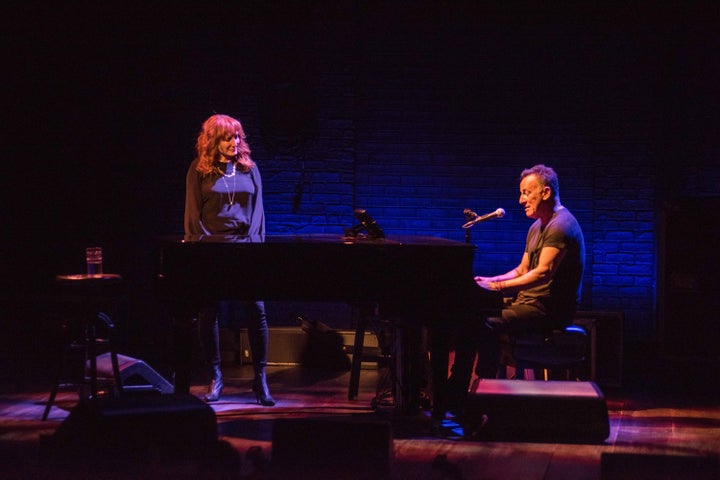 The New Jersey rocker, dressed in a black T-shirt and jeans, told the crowd at the 939-seat venue on Wednesday that all his screaming fans over the years are just waiting for him to do his "magic trick."
When backed by the E Street Band during major stadium and arena tour stops, Springsteen almost seems larger than life. But here, in this small theater, he's human down to the core. He's a buddy who's invited you into his living room for a night of great music and compelling storytelling.
Switching between guitar and piano, Springsteen showcased songs from his entire catalog, starting in the earlier days with "Growin' Up" through "The Promised Land," "Born in the U.S.A," "The Rising," "Land of Hope and Dreams," and even more recently with "Long Walk Home."
The spoken material mirrors the arc of his book and actually pulls from it at times, but he changes it up enough so it's not redundant. It's scripted beautifully and reaches the level of poetic at times. Just like his songwriting. The show is mostly scripted and likely won't change too much from night to night, but when Springsteen goes off the cuff and improvises, his personality really shines. He tweaked the cadence of some tracks and interrupted others with a story, only to finish with even more enthusiasm.
For longtime fans, it's a real treat, and for the causal concertgoer or curious attendee, it's an ideal introduction.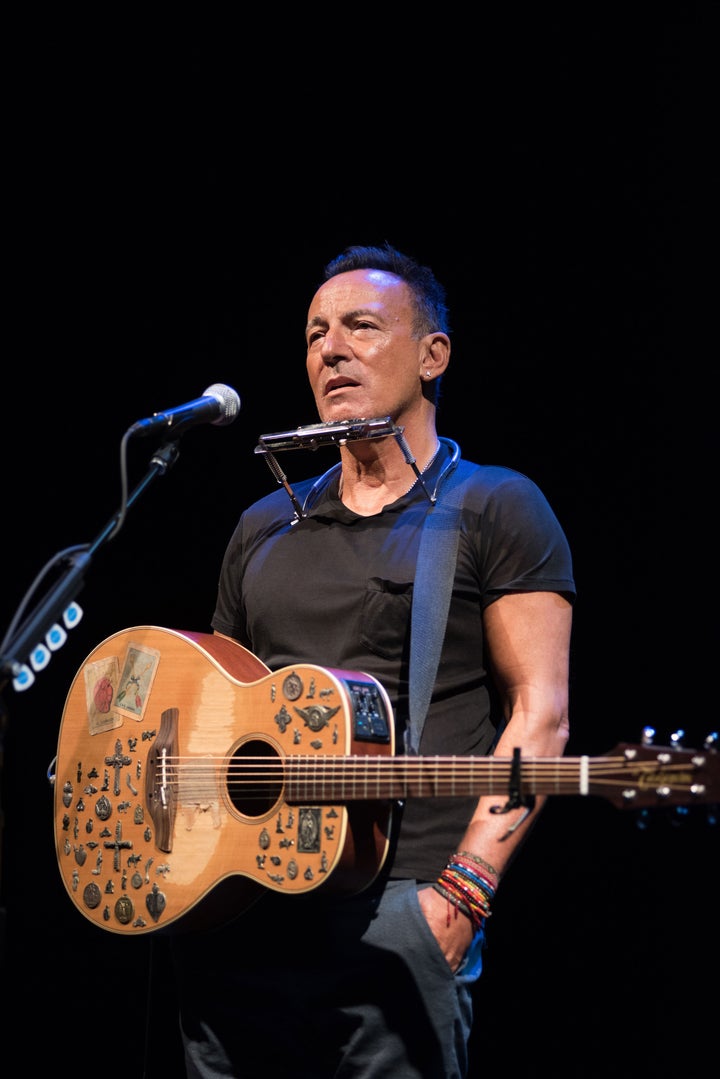 Aside from the crowd chanting the obligatory "Bruuuuuceeee" ahead of his onstage arrival and greeting him with a standing ovation, there's nothing standard about this Springsteen show. There are no fists pumping along to "Born to Run." Fans aren't chanting the songs' lyrics word for word.
It's Springsteen's show, and he'll be the first to let you know who's Boss. At one point when audience members started clapping and singing along to "Dancing in the Dark," Springsteen jokingly said, "I can handle it myself."
The clapping quickly ceased.
Springsteen is jovial when talking about his mom, thoughtful when speaking about his late dad and celebratory when remembering E Street Band saxophonist Clarence Clemons ― all moments in his "rock and roll storybook."
He's nostalgic, too. Prior to performing "Thunder Road," Springsteen reflected on the joys of youth. "That's the one thing that I miss about getting old. I miss the beauty of that blank page and of its endless possibilities," he said. "That blank page just laying there, daring you to write on it."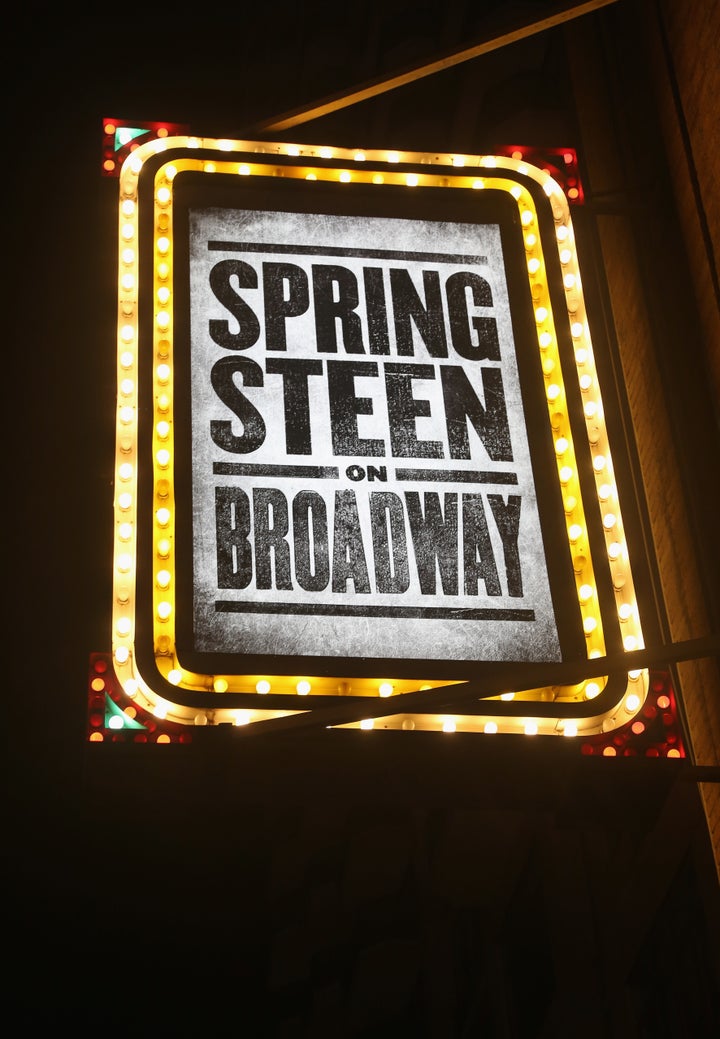 Throughout the show, he shared lessons learned and conveyed hints of inspiration. "The future is not yet written. So when things look darkest, lace up your dancing shoes," he said, prior to a stripped-down version of "Dancing in the Dark."
At one point, albeit brief, he turned political, alluding to the 2016 presidential election and his support for Democratic candidate Hillary Clinton.
"I never believe that people come to my shows or rock shows to be told anything. I suppose if that was true, we wouldn't be in the fucking mess we're in," he said.
Always the charismatic showman, Springsteen knows how to simultaneously raise important issues, entertain, and even elicit quite a few laughs along the way.
Ultimately, Springsteen has been here making music all this time, he says, to share his own story. He's here to try to figure out the larger American story, and maybe help fans make sense of their own. In the end, he said, "I hope that I've done that, and I've been a good traveling companion."
For many fans, both old and new, he's probably accomplished that.
Maybe it all really is just a "magic trick." But even if that's the case, we can't wait to see what else Springsteen has up his sleeve.
Popular in the Community