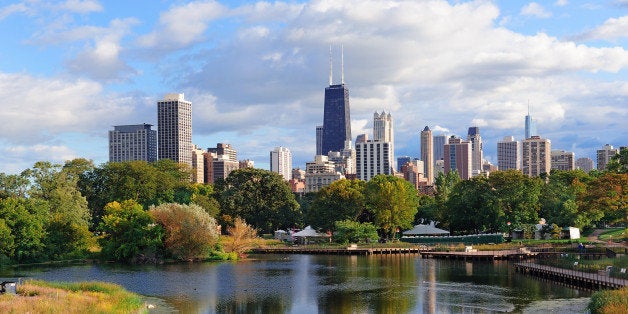 Spring is finally here in Chicago, and while I'm still waiting for it to keep warming up a bit more so I can pack away my coats, I am thrilled to say goodbye to winter. Luckily the move is coinciding with spring and we will be able to fully enjoy the warm weather downtown this year!
To say I'm excited about being able to take part in all that is offered in Chicago once the chill goes away is an understatement. I feel like my to-do list of fun things is never ending. So I wanted to share with you what I'm looking forward to doing most this year! Some items are Chicago specific, but most can be enjoyed no matter where you are as well.
Fly a Kite (at Northerly Island)
There is no better place to fly a kite, than on a
peninsula that juts into Lake Michigan. Northerly Island is just that (though not really an island, I guess I understand why they didn't name it Northerly Peninsula), and in the spring it is pretty much always windy. I haven't flown a kite in many, many years, but it sounds like so much fun.
Visit Nature (at the Peggy Norbert Nature Museum)
When you think of a large city, nature isn't usually the first thing that comes to mind. But Chicagoland is full of parks, gardens, arboretums, and beautiful outdoor spaces. The Peggy Norbert Nature Museum is the last large one on my list that I've yet to visit. I plan on taking a trip there as soon as I can, but likely on a Thursday for their donation day. For a longer list of areas in Chicago with free or donation days, check out my post 
.
Go to a Baseball Game (Cubs and Cougars)
Each spring I look forward to buying tickets to a Cubs game as well as tickets to a Cougars game. I bleed Cubbie blue but I also have a special place in my heart for the minor league the Kane County Cougars. I worked at the stadium for 5 summers and spent my childhood attending games. Going to a game each spring is a tradition, and even if I will not live close by anymore, I plan on keeping it up.
Go on a Bike Ride (down the lake shore)
Chicago is quickly becoming more bike friendly by the day. And the paths along the lake are some of my favorite, scenic areas to visit. A long bike ride heading north or south from the heart of Chicago will thrill you with amazing views. I always take my camera along and find new views to photograph each ride.
Go to the Park to Swing (at Maggie Daley)
Am I the only adult who looks forward to the sunshine and swinging at the park like a little kid? I know I inherited this from my mom, but as soon as I see a playground, I make a beeline for the swings. Maggie Daley park in Chicago tends to be crowded on the weekends, but during the week is the perfect time to stop by and unleash your inner child for awhile. I'm seriously in love with this park. I wrote a review of it HERE.
Eating Outside (at one of the many sidewalk patios)
Chicago has world-class restaurants in all price ranges. And in the spring many of these restaurants open their front windows and set up their outdoor seating area. Fresh air (well, as fresh as city air gets) and amazing food is such a wonderful mix.

While I know those activities will keep me busy for spring, summer is really when Chicago shines. Sign up for my email list to be notified when my guide to summer in Chicago is posted.
Calling all HuffPost superfans!
Sign up for membership to become a founding member and help shape HuffPost's next chapter