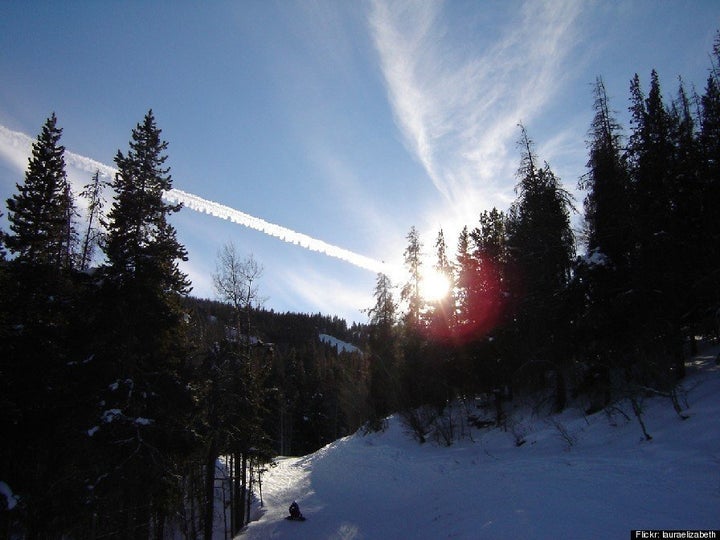 We are now in Vail, Colorado, and it is as glorious as it was the many times I have been here before. Common wisdom says this has been a bad year, and the snowpack is low here and in most other snow resorts in the world. But the trails are wide and groomed, the sun is shinning, and the weather is warm. Anyone who is here is truly fortunate!
Our visit is helped by the fact we are staying in a luxury condominium and conference center, "Antlers at Vail." Our suite is incredible -- modern, spotless, and large. We have two master bedrooms and two smaller ones with two single beds each. The condo is large enough for two couples who are always on their computers, for a large, friendly dog and more friends, if they chose to visit. There is also a large kitchen, a balcony overlooking Vail, a whirlpool bath, fireplaces (for next winter) and big flat screen televisions. Outside they have baths and hot tubs. And they knew I was coming -- there is unlimited coffee, tea and hot coca in the lounge. There are also newspapers, and dog biscuits for the dog guests. Is there a correlation here?
Antlers is within easy walking distance of the Lionshead Mall and gondolas. There is plenty to do in the village, after the skiing. There were many people savoring the sun in the outdoor restaurants, and hundreds were strolling through the Mall or visiting the restaurants. Vail is approaching its 50th Anniversary and has added features (it coincides with my 50 years skiing, but more about that later). Vail will soon have a new gondola which will replace the Vista Bahn Express. The 10 passengers can zip up to Mid Vail in seven and a half minutes. If they are too jaded to look at the scenery, there is wi-fi access in the car. They can tweet, but they may miss some views! What is this world coming to? There are also heated and cushioned seats -- definitely not needed in this warm weather!
Vail also has a new Mid-Vail Restaurant, called The Tenth (spelled with a Roman Numeral X). It honors the 10th Mountain Division. Many of the returning soldiers founded the top ski resorts in the nation, including Vail. This is timely, at a period when more people are paying attention to wounded warriors and all those who serve.
We have not yet hit the slopes, and are looking forward to that tomorrow. It will be the first major test of my hip since I broke it here a year ago. I want to emphasize I did not actually break it skiing. I was standing on the mountain, flopped over and hit the hip in a sensitive spot. I heard a crack, but could not believe I had done serious damage. So I skied down with a broken hip and limped around on it for two days, using a ski pole as a crutch. No wonder I messed it up. This year I will be wearing special hip protector pads from New Zealand. They have helped me so far, and hope they will not be tested again.
One other point on negative events: As we arrived in Colorado, wild fires were lashing parts of this magnificent state. Some people and animals died, and homes and forests were burned. The flames were fanned by winds reaching as high as 90-miles-an-hour or less. We could see the billowing smoke and smell it, from the airport. In fact, we flew into Denver in gusts of 70 mph. I was terrified, and did a lot of praying. But those pilots of South West Airlines did an excellent job, and I am grateful to live to ski another day.

Related
Popular in the Community