Hello warm weather. You are welcomed with open arms, lots of barbecues, flowery dresses and beach volleyball. Some of the vital components that make up my life.
Not to mention this salsa. It's feels a little more like a summer salsa than springtime salsa but when you live in California springtime = summertime. So let's roll with it.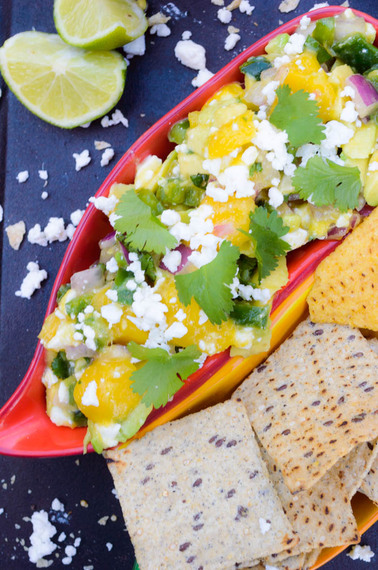 This salsa is a little anti-traditional and is something I feel like my Mexican grandmother would wrinkle her nose at and grimace. Mangos? Feta? I know...it's not exactly representing my Mexican heritage but I promise it's worth it.
Plus there are jalapenos and lots of limes involved so that has to earn some respect right? And it is the perfect excuse to have a fish taco + margarita date night. Another vital component to my life, and hopefully yours as well.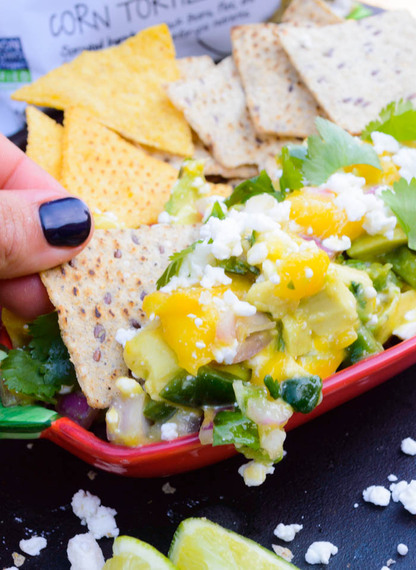 Even if you're not into cooking or would rather opt for some Trader Joe's jarred salsa for your next fiesta night...try to reconsider. This salsa is totally idiot proof and requires minimal labor. Plus everything is easier with margaritas right? Make it happen people.
Ingredients
3 large mangos, diced with no skin
1 red onion, chopped
3 jalapenos, diced with no seeds*
1-2 avocados, diced
1/2 cup crumbled feta cheese
Juice from 3 limes
Sea salt to taste
Handful of cilantro
Directions
Combine all the ingredients in a large bowl and mix evenly. Store in the refrigerator and allow to marinate for a few hours. Top with extra feta and cilantro and serve.
For more information in this recipe click HERE!