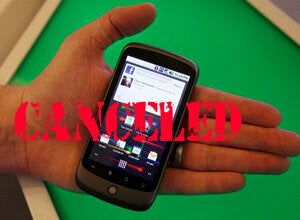 The first-ever Google Phone, the Nexus One, was supposed to "shake up" and "upend" the wireless phone industry as we know it.
But one carrier after another has nixed Google's Nexus One.
In late April, Verizon announced that it had changed its mind and decided not to carry the Google Phone.
Now Sprint has flip-flopped, too. Today, the carrier revealed that it has decided to scrap Google's "superphone."
The reversal is due in part to Sprint's plans to offer another Android phone, the EVO 4G. According to the Associated Press, "A Sprint Nextel spokeswoman says the wireless carrier concluded another new phone called the Evo would be a better choice for its customers."
Even though the Nexus One got solid reviews when it launched--Walt Mossberg dubbed it the "best android phone so far"--the new EVO 4G is in many ways superior to Google's "superphone."
When Sprint's Michelle Leff Mermelstein told us that the company wouldn't be selling the Nexus One because of the "upcoming availability of the award-winning Evo 4G," it didn't change much for your average user. The Evo, like the Incredible, looks at least as enticing as the Nexus One, and even shares a lot of the same hardware. Where it diverges, Sprint says it's a "more robust, full-featured device," which, well, it is.
Engadget calls the EVO 4G "basically better in every respect" than the Nexus One.
Calling all HuffPost superfans!
Sign up for membership to become a founding member and help shape HuffPost's next chapter