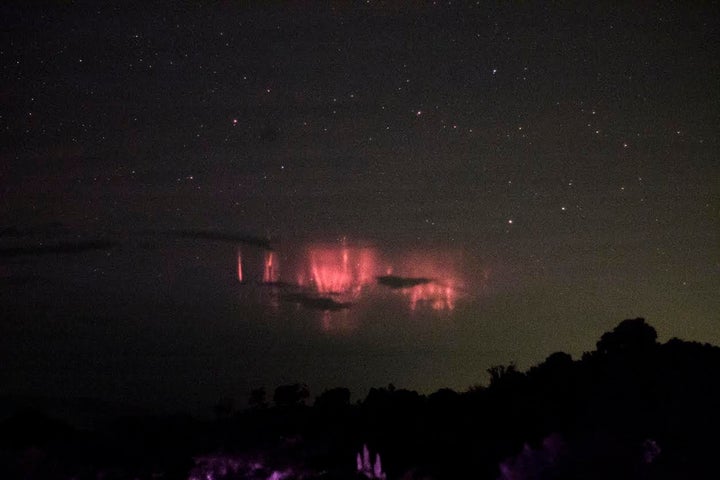 A series of extremely rare bursts of light lit up the night sky near Puerto Rico over the weekend, creating a spectacular display that one eagle-eyed photographer was fortunate to capture.
At least 28 of these electrical discharges called sprites flashed directly above thunderstorms brought by the barreling, category 4 Hurricane Matthew on Saturday, photographer Frankie Lucena told The Huffington Post. 
In addition to the unique lights, one of his photos managed to capture gravity waves ― not to be confused with gravitational waves ― directly above the flashes as well. Steven Miller, an atmospheric researcher at the Cooperative Institute for Research in the Atmosphere at Colorado State University, confirmed the extremely faint lines ― which resemble ripples ― after looking at satellite images.
Sprites, as magical as they may sound, are rare, massive but weak luminous flashes associated with thunderstorms, according to researchers at the Geophysical Institute of the University of Alaska Fairbanks. Powerful lightning flashes trigger the sprites. 
The first photo evidence of sprites was snapped by accident in 1989, according to the Geophysical Institute's website. The reason it took so long for them to be documented likely rests with how infrequently they show up and how difficult it is to capture them on film.
Capturing sprites isn't easy. You might go through your entire memory card and have nothing but stars.

Frankie Lucena, photographer
Though it's not impossible to see sprites with the naked eye, their flashes, which last for as long as just 10 milliseconds, appear at random and in only about 1 percent of lightning strikes. They also only appear above active thunderstorms, meaning the viewer must be at some kind of elevation or angle that allows them to see over the clouds, according to the Geophysical Institute. 
Lucena said it's also possible to capture them if you're far enough away from the storm, like he was.
"Capturing sprites isn't easy," Lucena told HuffPost via email Monday. "You might go through your entire memory card and have nothing but stars, so it helps to have a little luck on your side also."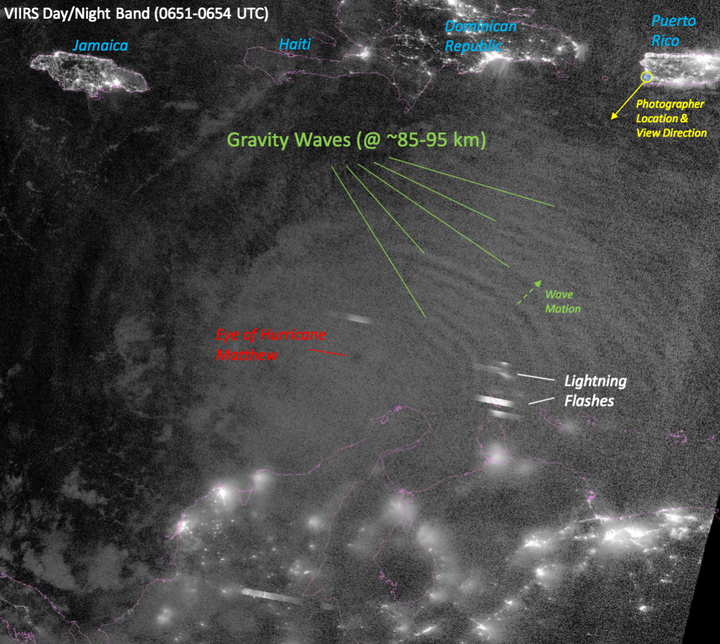 Lucena, however, apparently got extra lucky with his photo as it also shows gravity waves above the sprites.
"You can see the ripples going through the sky that are caused by the gravity waves passing through," Miller, the atmospheric scientist, told HuffPost Tuesday of Lucena's photo. "They're very faint. They almost look like stripes."
As Miller explained, gravity waves are the result of energy moving between the various layers of the Earth's atmosphere. He said Lucena's photo captures them above the mesosphere, which is the third highest layer of the Earth's atmosphere. To put that into perspective, it's directly above the troposphere (where humans live and most weather formation occur) and the stratosphere (where commercial jets fly).
"At the top of the mesosphere, about 50-60 miles up, is this level of the atmosphere that's glowing," he said of the unique photograph.
"A lot of energy gets released and it releases these gravity waves that propagate up and away from the storm," he continued. "There's actually a lot of heat being released by this hurricane. It's like a big heat engine. ...It's just an indicator of the power of this storm."
Though gravity waves "happen all the time," Miller said, they're not often photographed.
"I haven't seen many examples where somebody has been able to see them above a cyclone like this hurricane," he said.
Lucena shared some of his tips on how to photograph sprites. 
"You have to know where to aim the camera and you do that by either looking for the flashes of lightning in the distance or by checking the lightning maps [online]," he said.
The skilled photographer, who said he's been capturing the marvelous spectacles since 2010, said he sets his camera to continuous shooting so he's able to capture the sprites just as they flash. 
In a YouTube video posted on Sept. 21 of another sprite sighting, Lucena shows what a difference speed makes while photographing a "jellyfish sprite" that appears at a regular speed and then slowed down.
"You have to do test shots first using different settings to make sure you don't over or under expose the night sky," he said. "The lens is also important because you need a wide aperture to help capture the red." 
In another video Lucena posted to YouTube in late August, he captures the illuminating effect of the bright red sprites' light on the night sky.
"I used a photo taken just 2 seconds before the sprite appeared to [create] this animation," he said.
Calling all HuffPost superfans!
Sign up for membership to become a founding member and help shape HuffPost's next chapter
BEFORE YOU GO
PHOTO GALLERY
Places You're Most Likely to Be Struck by Lightning