Gabion walls have tradition that goes back for centuries. They are making a comeback in modern gardens and outdoor spaces because of their industrial yet functional look. To build them, wire structures are filled with rock and stone creating walls, benches, dividers and retaining structures. In early days, they were used in military on the front battle lines because of their ability to be moved so easily. The mesh and wire could be rolled up and transported to the battlefield and then filled on site with rocks from around the area. They provided cover for oncoming bullets and canon fire and could be broken down easily when the army moved on.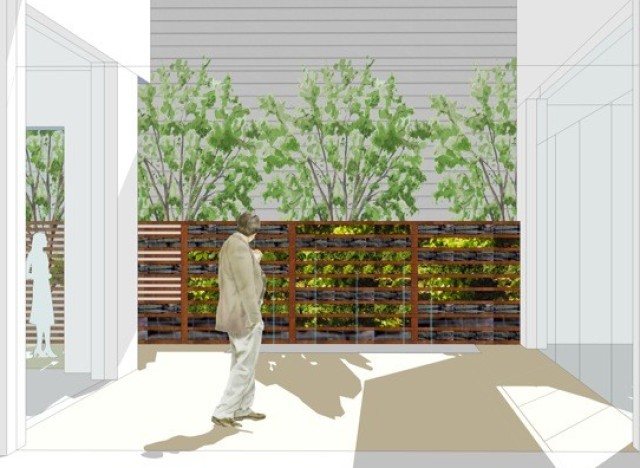 Photo by Catherine Trudeau of Sprout Home

In today's backyard we hopefully are not fending off rifle fire or canon balls (unless they're the kind in your swimming pool!), but we are bringing back this historic architectural structure to serve other purposes. Gabion walls can be made to surround a property or simply to divide a space into entertaining areas without adding large bushes or trees that need tending to. In new modern spaces we are seeing them installed to act as outdoor furniture that never needs cleaning or a cover and can be left out in the elements.

They bring a rough texture that's still controlled and carries clean lines, and they're industrial without being overbearing. They still feel refined even though the rocks lay chaotically inside. Gabion walls are useful in areas where there is need for a retaining wall to control soil erosion or to create usable living space on a previously undesirable hill or terrain. They are anchored in deep and can hold for 50-80 years or more.

In the modern diy household, they can be a fun weekend project as all you need is wire mesh (even chicken wire can work), a sturdy frame and rock. This can be round rock, colored stone, something from a local blast site or even landscaping remains found on Craigslist. Make them in one long shape or small containers that stack together to cater to your individual needs and space requirements. You can even use the small spaces in between the encapsulated rocks to mount epiphytic or rock garden plants to 'green-up' the surface. Rocks are your friend.