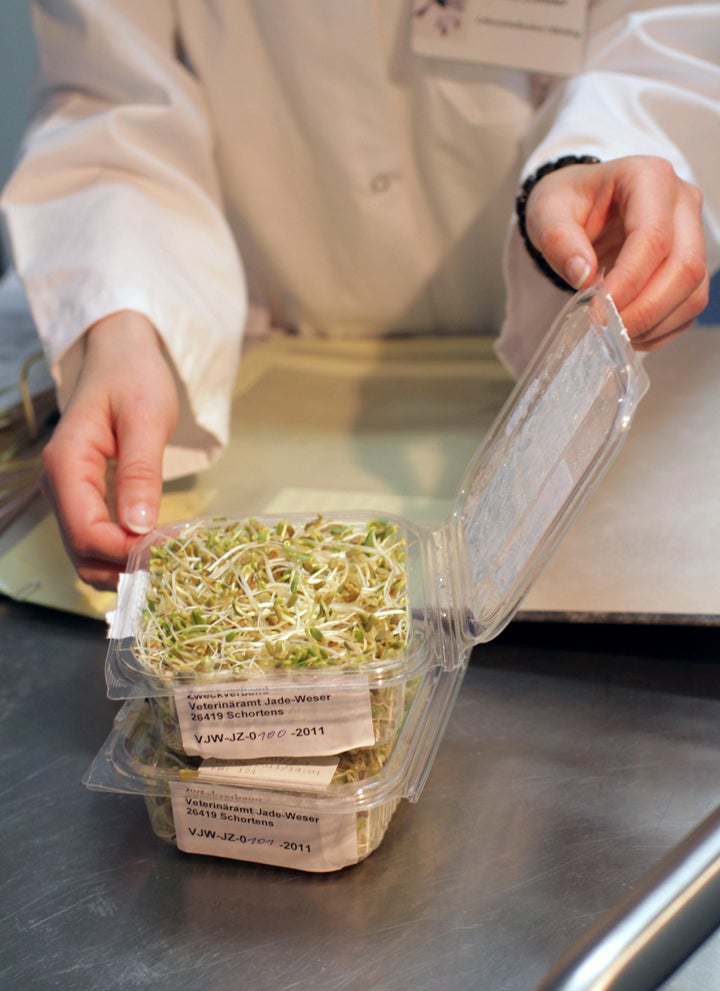 BERLIN (AP) -- German vegetable sprouts caused the E. coli outbreak that has killed 31 people and sickened nearly 3,100, investigators announced Friday after tracking links to the bacteria from patients in hospital beds to restaurants and then farm fields.
Reinhard Burger, president of the Robert Koch Institute, Germany's national disease control center, said the pattern of the outbreak had produced enough evidence to draw that conclusion even though no tests on sprouts from an organic farm in Lower Saxony had come back positive for the E. coli strain behind the outbreak.
"In this way, it was possible to narrow down epidemiologically the cause of the outbreak of the illness to the consumption of sprouts," Burger told reporters at a press conference with the heads of Germany's Federal Institute for Risk Assessment and its Federal Office for Consumer Protection. "It is the sprouts."
The breakthrough came after an expert team from the three institutes linked separate clusters of patients who had fallen sick to 26 restaurants and cafeterias that had received produce from the organic farm.
"It was like a crime thriller where you have to find the bad guy," said Helmut Tschiersky-Schoeneburg of the consumer protection agency.
"They even studied the menus, the ingredients, looked at bills and took pictures of the different meals, which they then showed to those who had fallen ill," said Andreas Hensel, head of the risk assessment agency.
Burger said all the tainted sprouts may have been consumed or thrown away by now but warned that the crisis is not yet over and said people should still not eat sprouts.
After the announcement, state officials in North Rhine-Westphalia said a new test Friday had confirmed the deadly strain of E. coli on a bag of sprouts from the organic farm in Bienenbeuttel. But the bag was found in the garbage of a family near Cologne where two of three people had been sickened, and officials cautioned that federal authorities were conducting further tests.
Authorities did lift the warning against eating cucumbers, tomatoes and lettuce. "Lettuce, tomatoes and cucumbers should be eaten again - it is all healthy produce," Hensel said.
Russia agreed to lift its ban on European vegetable imports and Spanish farmers - who had been hardest hit as wary Europeans shunned vegetables - breathed a sigh of relief.
It is not unusual to lack a "smoking gun" in food-borne outbreaks, said Norman Noah, a professor of infectious disease epidemiology at the London School of Hygiene and Tropical Medicine who has investigated numerous outbreaks.
He said the culprits are often identified only by epidemiological evidence because the contaminated food has long since disappeared by the time scientists begin taking samples.
"Having gone this far down the line, the chances of finding contaminated food is quite small," Noah told The Associated Press. "If (laboratory) evidence is missing, then epidemiological evidence can be quite compelling."
The farm near the northern German village of Bienenbuettel that has been blamed for the outbreak was shut down last Thursday and all of its produce recalled. Still, the experts said some tainted sprouts could still be around and people could still get infected with E. coli.
Also, since it has not yet be established why the sprouts were bad - whether the seeds had been contaminated or the farm's water was - the experts said it was possible that other farms could also be affected. No other farms have been shut down, however.
Germany has been the epicenter of the world's deadliest known E. coli outbreak. The Koch Institute raised the toll Friday to 31 dead - 30 in Germany and one in Sweden - with 2,988 people sickened, 759 of whom are suffering from a serious complication that can cause kidney failure. The World Health Organization says 97 others have fallen sick in 12 other European countries, as well as three in the United States.
The number of new E. coli cases has been dropping in recent days, but it was not clear whether the epidemic was waning or whether consumers were just successfully shunning tainted vegetables.
The sprouts were blamed Sunday for the outbreak, but authorities backpedaled the following day after lab tests came in negative and there was not yet enough epidemiological evidence. During the investigation, non-lethal E. coli was also found on cucumbers from Spain and beet sprouts from the Netherlands - prompting general fears about produce from the European Union.
Russia and Saudi Arabia had issued a blanket ban on vegetable imports from the EU, and EU farmers claimed to be losing up to euro417 million ($611 million) a week as demand plummeted and ripe produce was left to rot. The EU pledged Wednesday it would offer farmers compensation of up to euro210 million ($306 million) for the E. coli losses.
Andres Gongora, leader of the Spanish farm association COAG, hoped that confidence in Spanish produce would return but was still furious with German authorities.
"At this point, the German government has very little credibility when it comes to clarifying the source of this bacteria," Gongora said Friday from the southern city of Malaga, where COAG was giving away tons of fruit and vegetables to promote Spanish produce as safe. "You have to be careful because Germany has screwed up several times now."
Maria Cheng in London and Daniel Woolls in Madrid contributed to this report.
Calling all HuffPost superfans!
Sign up for membership to become a founding member and help shape HuffPost's next chapter