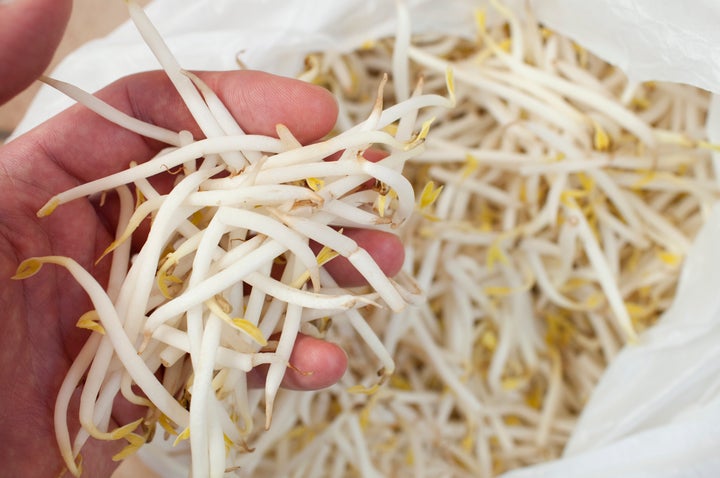 Sprouts are seeds that have just begun to grow, usually less than a week old. Inside every seed is a "germ", a sort of a baby plant, waiting for water and warmth to germinate. This is not a bad germ. It is part of the seed. Sprouts are easy to grow, and many people do it at home, you just soak the seeds in warm water until the germ is awakened, then rinse the seeds daily keeping them wet, and preferably warm and dark. So how do they turn into high risk disease vectors?
Once the bugs are on the seed and in the seed, yes, they can get down into the seed where they cannot be washed away, they can survive in a dormant state for weeks. They can even get down past the shell and into the germ. Then the seeds are harvested, mixed together in hoppers, and thus the seeds of a single plant that had bird poop on it can be distributed widely among millions of clean seeds. They are often then bagged in cloth, and stored in warehouses or sent overseas in the holds of ships where mice and rats have a chance to do their business on the seeds
It is easy and fun to grow sprouts at home and there are scores of companies that sell kits. But the risk is only slightly less. You can start with an impressive range of tasty seeds. The first catalog I found offered this enticing array in their customer favorites list: Adzukis, alfalfa, almonds, amaranth, arugula, barley, broccoli, clover, cress, dill, fenugreek, garbanzos, garlic, groats, kamut, lentils, millet, mung beans, oats, peanuts, peas, pumpkins, quinoa, radish, rye, sesame, spelt, sunflower, and wheat. There are many more options.
Some say that the risk is much less than eating burgers, but that's because we eat so much more hamburger than sprouts. And most of that is cooked properly. Nobody knows the odds for sure, but I'll guess that it is probably less than driving your car, and probably more than eating eating raw burger.
E-coli is more common in cattle than in sprouts. There are dozens of strains, and most are harmless, but some glom onto your intestines and grow and produce toxins. There are some, like Dr. David Katz,
. But remember, runoff from livestock is only one potential source of the bug. Bambi, Porky, Bugs, Tweetie, Mickey & Minnie, and other cute little critters who refuse to use sanitary stations to do their business can easily be the source.
Now you have the facts. Still want to eat raw sprouts? Serve them to grandma and the kids? In the words of Dirty Harry "You've got to ask yourself one question. 'Do I feel lucky?' Well, do you punk?"
Related