It took less than a full quarter of the first game of the NBA Finals to see how the rest of the series between Miami and San Antonio will go: The Spurs are going to push the ball as much as possible, and then run secondary transition when that doesn't work. Adjustments over the course of a prolonged series are inevitable, but perhaps even more than he did in 2013, coach Gregg Popovich wants his team to control the pace of play at all costs.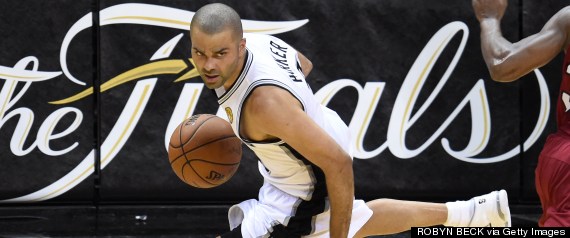 The effects of pushing the tempo were more apparent in a sweltering arena where an air conditioning problem pushed the temperature to more than 90 degrees, but what was most clear was the conditioning and relentlessness of the Spurs offense. The transition game -- when executed as the Spurs did it -- creates an overly rotated, exhausted defense that ideally breaks down in the fourth quarter.
The clearest sign that Miami was gassed? After scoring 23 fast-break points through the first three quarters, it didn't score any in the fourth. Sans LeBron James and his cramps, Miami's defense was unable to maintain any cohesion late: In the fourth quarter, the Spurs shot 14 of 16 from the floor, including a remarkable 6 for 6 from 3-point territory. Wide-open looks, clean passes and Danny Green's silky jumper led to a 110-95 victory that thwarted any of the momentum Erik Spoelstra's club brought with it from the Indiana series.
The Spurs were not without their faults. They faced a seven-point deficit in the fourth quarter, despite having won their previous seven home playoff games by 15 or more points. Tony Parker was not his usual efficient self in the first half, and the offense turned the ball over a stunning 23 times for the game. But great offense -- in transition, the secondary break and in the half-court -- led to 59 percent shooting and an almost video game-like 30 assists.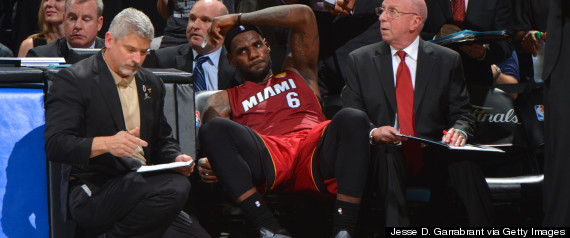 If Miami is to bounce back in Game 2 Saturday night, then it's not as simple as plugging LeBron in for the fourth quarter. Its transition defense must improve from abysmal at least to adequate, because the Spurs will run all night if they can. Better defense could limit the Spurs' advantage in 3-2 and 2-1 transitions, which would slow down and tire out even the Spurs' offense.
The Game 1 loss for Miami was purely a defensive issue. From an offensive standpoint, the Heat shot over 47 percent and played quite well. In limited minutes, James had 25, while Chris Bosh and Dwyane Wade (though he tired quickly) combined to go 15-29 from the floor for 38 points.
As I noted during the Eastern Conference Finals, Miami's defensive shortcomings are significant. Despite having the best perimeter defender in the game, the Heat ranked just 15th this season in opponent field goal percentage. To limit mediocre offenses like Charlotte and Indiana is one thing, but it's something else entirely to control one of the league's most cohesive units -- the Spurs lead the NBA in net efficiency so far this postseason (+10.1 net pts/100 poss.), per ESPN Stats & Info.
During the previous two title runs, Spoelstra showed a real knack for game-by-game adjustments, particularly in his willingness to go small and play faster. The results are indisputable, with the Heat having won 12 straight playoff games following a loss.
But the Spurs, with 56 points from their own Big 3 in Game 1, have shown they are just as deep and versatile, and clearly able to match Miami's high-octane offense.
Email me at jordan.schultz@huffingtonpost.com or ask me questions about anything sports-related at @Schultz_Report and follow me on Instagram @Schultz_Report. Also, be sure and catch my NBC Sports Radio show, Kup and Schultz, which airs Sunday mornings from 9-12 ET, right here.
REAL LIFE. REAL NEWS. REAL VOICES.
Help us tell more of the stories that matter from voices that too often remain unheard.