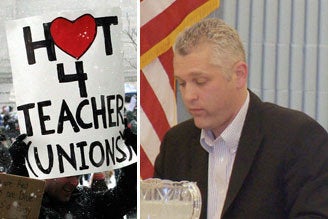 Michael Carbone described himself as "a watchdog for the parents and children" of Grayslake School District 46. Fellow board member Colleen Wade called his actions "completely unethical."
In the end, Carbone, a member of the school board in Chicago's north suburbs, was censured for allegedly attempting to dig through private computer records.
He was allegedly looking to see which teachers had requested a day off to attend pro-union demonstrations in Madison, Wisconsin.
"Board member Carbone requested from district administration the number of teachers who were not at school on that day (Feb. 22)," Garcia said. "He was told that he would not be provided with that information until it had been reviewed by Superintendent Correll. Carbone said that he had been told that a large group of teachers were attending the Union rally in Madison and that he wanted to determine if that was true."

"A cell phone call was then placed to our SubFinder administrator asking for Mr. Carbone's password because he had misplaced it. School board members do not have access to confidential staff information, so the provider notified the district of the call."
Carbone was openly defiant. "Let he who is without sin cast the first stone," the Chicago Tribune quotes him as saying, alluding to the Gospel of John while questioning the Board's motives in criticizing him.
"I consider it a high honor to be a watchdog for the parents and children of this district. I will continue to fight for transparency in the district for the next two years," Carbone went on, according to Patch. In a scene straight out of a movie or a State of the Union address, half the audience reportedly jumped to its feet for a standing ovation.
Grayslake is located in the very northeast of Illinois, about fifty miles outside of Chicago, and only around a hundred miles from Madison, Wisconsin.
REAL LIFE. REAL NEWS. REAL VOICES.
Help us tell more of the stories that matter from voices that too often remain unheard.