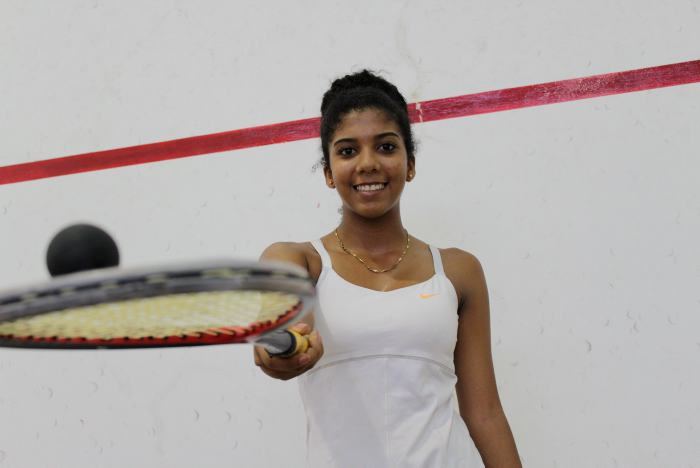 Earning an opportunity to be a Davis International Scholar, Garcia, hailing from the Espinal neighborhood of Cartagena, has been an SUC star participant for the past four years.
"Coming to boarding school in a foreign country has been an extraordinary opportunity that I would not have had without Squash Urbano's support," Garcia said.
The first Colombian to win this [Davis International Scholars] scholarship, Garcia said she hopes to "serve as an example and motivation for the young people of Cartagena."
Since joining the first class of SUC students in 2015, she has traveled twice to Massachusetts to compete at the Urban Individual Nationals tournament on Amherst and Williams Colleges campuses, and visited Malaysia to attend the Malaysian Open in Kuala Lumpur. Other locations Garcia has visited as a result of her participation in squash include Bucaramanga, Bogotá, Medellín and Villavicencio.
The eighteen-year-old's attendance at Westminster brings her one step closer to her goal of attending an American university and eventually, medical school.
"One of the things I enjoy the most about Westminster is having the opportunity to meet people from all over the world like Sweden, Ukraine, Hungary, Turkey," Garcia proudly explained.
An engaged student-athlete, Garcia enjoys studying Human Anatomy, joined the cross country team before squash season and is adapting quickly to rigorous academic curriculum at the prestigious Hartford County school.
Heather Wilson, a SUC supporter, spent countless hours with Garcia in preparation for the TOEFL and SSAT boarding school entrance exams. One of many key people who played a critical role in this life transforming opportunity, Wilson and Kimberly Pope, Davis Scholars Program Director and Westminister's Director of International Admissions, were integral advocates for Garcia throughout the scholarship application process.
"Valeria is an example of determination, hard work and commitment, and is a role model for all our students and the community we serve," Espinal said.
In 2007, Westminster School was one of five boarding schools selected to participate in two pilot scholarship programs, the Davis Scholars Program and the Davis International Scholars Program, designed to increase and diversify the international and domestic student population of American independent secondary schools.
Funded by the Shelby Cullom Davis Charitable Fund (SCDCF), the two programs help promote international understanding and cross-cultural connections across boarding school campuses and around the globe.
Forming a strategic alliance with the Bolivar Squash League to carry out a social and sports program for the benefit of the less fortunate children of Cartagena, Squash Urbano Colombia Foundation serves boys and girls, like Garcia, between nine and 17 years of age.
"The Squash Urbano Foundation changes lives and I am an example of this," said Garcia.
"I would like to show the kids in my community that lack of resources is not an impediment to make one's dreams come true," said Garcia.
Related
Popular in the Community