By Karolina Chorvath MADRID -- Hand-painted flags fluttered from the balconies, waving passersby into the building. Young locals greeted each other with kisses at the enormous open doors, welcoming the mid-summer air through the entrance of the free space known as Patio Maravillas, or Patio of Wonders.
For the last eight years the Patio has been a community center determined to shatter stigmas about squatters -- those who live in abandoned properties without permission. The global financial crisis forced large swaths of Spaniards out of their homes and into squats starting in 2008. While a squatting movement that emerged in the mid-1980s was met with hostility, taking over unused spaces in the wake of the global crisis was not seen as a selfish act so much as a desperate one.
"The criminal policies were evicting people from their houses. And there were no alternative policies from the authorities," said Miguel A. Martínez, former professor of sociology at The Complutense University of Madrid and current professor of political science at the City University of Hong Kong. "They don't use the place just for satisfying their own needs but they are using the place also to protest, and challenge the situation, to call public attention related to these issues."
Martínez said it is virtually impossible to get a grasp on the exact number of squatters, also known as "Okupas" or "Occupiers," because 80 or 90 percent of occupations are done secretly. But since the crisis, more than 100 evictions happen in Madrid every day and there are currently more than 250,000 empty homes in this city alone, he said.
Lucia Lois, 32, one of the founders of Patio Maravillas, said the Patio emerged in 2007 to encourage a more accessible squatting culture. It evolved into a meeting place for the youth-led 15m movement, sometimes referred to as Los Indignados and the Spanish Revolution, which was inspired by the Arab Spring. 15m helped give birth to both the worldwide Occupy movement and the Spanish anti-austerity party Podemos.
"We didn't want to be the young punks that squat, to have a radical place, to have hardcore concerts," Lois said. "We tried to make this in a very open, gentle, social, public kind of way so no one would be scared and so that we could change that negative stereotype."
Lois speaks hopefully, but Patio Maravillas' existence has been full of struggle. The community has been evicted three times, most recently in June. Hundreds of protesters took to the streets, marching arm in arm to defend their community.
Chants echoed off the historic Malasaña quarter walls, dodging the unphased locals as they sat sipping on vermouth and enjoying their tapas.
"El Patio Vive! La Lucha Sigue!" (The Patio Lives! The Struggle Continues!) they sang. And although the police attempted to disband the peaceful protest, the demonstrators marched on and eventually occupied another building just a few blocks away.
"Patio is not a building -- it is a community," Lois said. "It is a social, political and personal community."
According to Lois, the Patio community has consistently tried to negotiate with the government, and is currently in talks with Madrid's new mayor, Manuela Carmena, about finding a permanent, legal building. Occupations happen so frequently that it could appear as if squatting is legal. It is not. In fact, occupations have been specifically banned in the penal code since 1995. Less clear are the punishments for illegal occupation, but some possible repercussions are fines and jail time. Each of these are relative to the amount of time an Okupa is in the space and whether or not they have an existing criminal record.
Lois, who studied at The Complutense University of Madrid, works in international development and humanitarian aid for an NGO. She said she knows she is one of the lucky few to have a job and that she has never squatted out of necessity, but rather ideology.
Lois said that for her, squatting is a form of civil disobedience that expresses the need for affordable housing.
"I think when the crisis started, this new wave of squatters, of family squatters, have changed the view of what the squatting means," she said.
It appears the crackdown on Okupas could soon ease. Ada Colau, new mayor of Barcelona and former squatter, said during her recent campaign that during her term, she would no long evict squatters from unused buildings. That would save places like Patio Maravillas a lot of moving time.
There is a distinction between occupations for domestic use and for the use of social centers like Patio Maravillas, the professor Martínez said.
A former activist himself, Martínez said that these centers act as hubs for many social and political movements.
"They help to connect different social movements, different campaigns, different political actions, and different kinds of people who don't consider themselves squatters," Martínez said. "It's absolutely essential that they remain and they expand their activities."
Ramón Espinar, a Podemos party leader in Madrid, said the activism made possible by Patio Maravillas has shaped Spain's current political situation. In local elections in May, the ruling People's Party (PP) -- which supports austerity measures -- endured its worst results in 20 years. And recent polls for the upcoming parliamentary elections show Podemos nearly tied with the country's two mainstream parties.
Espinar and others believe this is a result of the 15m movement.
"Young people gathered around the need for a new way of political behavior," Espinar said. "For the first time in recent history, young people assumed that their lives could be worse, in terms of social and democratic rights, than the elder generations, not because of any real economic situation, but because of the way of managing politics."
José Ignacio Conde-Ruiz, economics professor at The Complutense University of Madrid, explained that Spain's high levels of youth unemployment come from not only the devastating crisis but the longstanding dual labor market.
"Two thirds of the labor force has a permanent contract with a very large employment protection legislation," Conde-Ruiz said. "But at the same time, we have one third of the labor force living with a temporary contract."
And that third is mostly young people. The youth unemployment rate hovers around 50 percent, and according to Conde-Ruiz the temporary employment rate is now 60 percent. He says temporary employment is better than total unemployment, but that temporary work is unstable.
Activist groups like Juventud Sin Futuro (Youth Without a Future) are fighting for more stability.
Antonio Ponce Aguilar, 24, is an activist for Juventud Sin Futuro, which now stations itself at Patio Maravillas.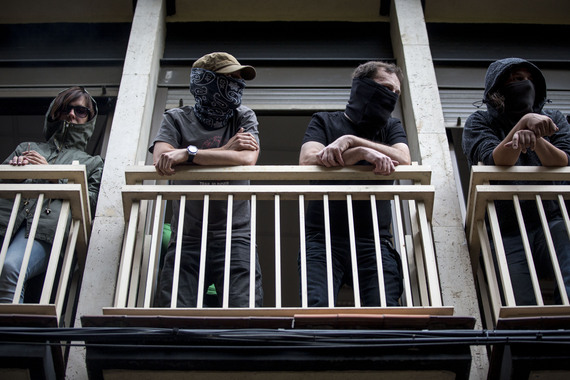 Masked Okupas watch the eviction protest from balconies in the Malasaña quarter. (Maria Amasanti/GroundTruth)
"The feeling is kind of despair and hopelessness," Aguilar said. "You cannot plan your future right now."
"We call it exile because they have to leave Spain because they were not able to find a job here so they were forced to leave the country, their family, their friends," Aguilar said. "They didn't have a choice."
This campaign was backed by hard numbers. In 2014, Spain's National Statistics Institute (INE) found 1.19 million people left Spain between January 1, 2012 and June 30, 2014.
Aguilar wanted to emphasize that these movements of young people were not just angsty youths complaining about their current situations.
"We want to work hard," he stressed. "We don't want the government to give everything to us. But first we need the opportunity. We need the chance to work."
And Lois was adamant that the organizations at Patio Maravillas, including Juventud Sin Futuro, are actively fighting to instill genuine change for their generation and the future of Spain.
"We are going to be able to stand up, to analyze the causes of what we are suffering," Lois said. "Not as victims but as active participants in the politics of this country."
Top photo: Lucia Lois, one of the founders of Patio Maravillas, speaks to a police officer during a demonstration against the community's eviction. (Maria Amasanti/GroundTruth)
Popular in the Community