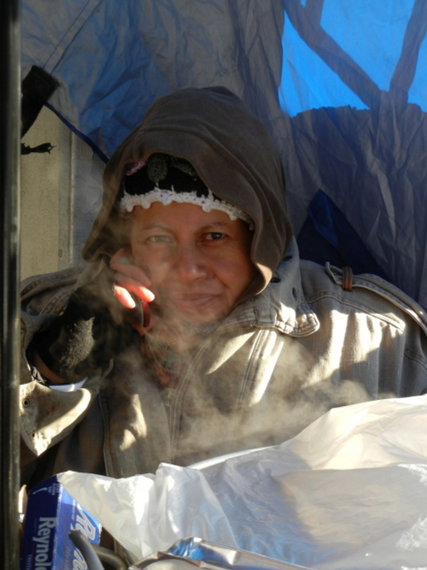 Street Vendor in Spanish Harlem last Winter (Photo: Andrew J. Padilla)
Street vendors have always been in the crosshairs of the Broken Windows theory of policing. When the disorder-busting approach was first unleashed under former mayor Rudy Giuliani and an innovative new police commissioner named Bill Bratton, vendors were some of the first to go. Artists selling their creations on the street were an early target of these so-called 'quality-of-life' crackdowns until 2001 when a federal judge ruled the city couldn't stop art from being sold on the street. Still, other street vendors without proper permits remain at the mercy of both police, who can summons or arrest them, and city inspectors, who can levy fines as high as $1,000.
That practice has continued under mayor Bill de Blasio's administration, one which includes an older, more decrepit Bill Bratton. In the first couple of months of the de Blasio and Bratton era, arrests of panhandlers and peddlers (i.e. vendors) more than tripled in the subway system. Those crackdowns included the arrest of a woman who was selling "Churros", a Mexican pastry, in the subway. Another woman was reportedly arrested seven times over a two and a half year span for selling Churros in the subway. In fact, it's not uncommon for subway vendors to be held in transit precinct holding cells overnight.
In another incident in which video went viral, police in Sunset Park, Brooklyn were seen kicking a young member of a fruit vendor family in the back after an altercation. Street and subway vendors, many of whom are immigrants, are frequent targets of Broken Windows policing, along with subway performers and homeless people.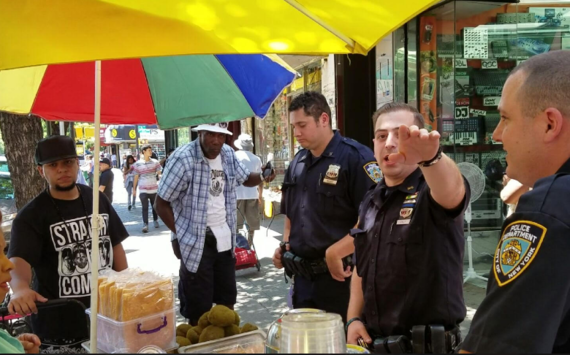 A street vendor is approached by police officers last week in Spanish Harlem (Photo: Andrew J. Padilla)
This past month has seen the city launch an aggressive crackdown on vendors above ground in my neighborhood of Spanish Harlem. A married couple who sell Tamales and Tacos told me that city inspectors showed up early last week and dumped a handful of tickets on them while threatening to confiscate their small tables and pushcarts. The husband and wife, who have been married for over forty years and have sold street food for over a decade, suspect that nearby building owners complained to the local precinct. An inspector sat down in the vendor's chair as he sorted through the tickets he was giving them. He had already pre-filled most of the paperwork and arrived with two NYPD officers alongside him.
Another vendor a few blocks away says she has been hit with thousands of dollars in fines in the last month alone. Lola, 47, has been a resident of El Barrio, as Spanish Harlem is known, for 25 years. Originally from the Mexican town of Guerrero, she has three kids and sells Tacos, Tamales and all sorts of Mexican street food to make a living. Lola, like the vendor couple, has a licence to sell and pays taxes for her small business. However, she, like thousands of other vendors across the city, doesn't have a city-issued permit, which comes in the form of a coveted vendor sticker. Most vendors can't get that permit anymore since the city has capped the number available.
The food vendor cap hasn't budged since 1983.
There were other stories from vendors in El Barrio from the last couple of weeks: one woman, I was told, had her entire grill taken away and was left with multiple tickets. The cost of the grill plus the tickets, amounting to several thousand dollars, would effectively kill her business. A young man who sells Mexican yogurt drinks out of a cooler on third avenue was arrested later that week. To top that off, a well-liked 78-year old icy vendor who's pushed his cart in the neighborhood for decades was also caught in the crackdowns, losing his cart and, more than likely, his business.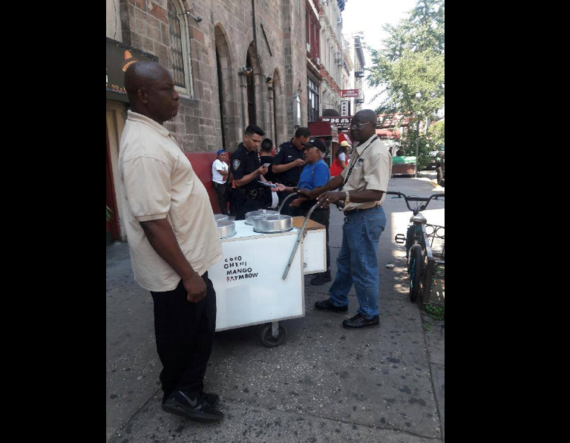 An icy vendor is ticketed in Spanish Harlem two weeks ago.
Sean Basinski of the Street Vendor Project, an organization that advocates for vendors, says the city's cap on vendor permits is a major part the problem. Another is the role of business improvement districts (BIDs), public-private partnerships where property and business owners fund services and wield influence over a specific area. Basinski notes their role specifically with street vendors, who are often neighborhood staples:
"The BIDS are incredibly powerful lobbying machines in support of broken windows policing. There are 82 BIDs across the city, and they have the ability to get to know local precinct commanders in neighborhoods all over. If the BIDs have a complaint about a street vendor, for example, they have a direct line to the NYPD, and can get them to come out much more quickly than a regular citizen ever could. In one case we knew about, the local precinct outpost and the BID security office literally shared the very same facility.

Second, they have a lot of money. Just one BID in Lower Manhattan - the Downtown Alliance - has a yearly budget of $18 million. Of course, this is not raised by individual donations, like regular non-profits have to do, but rather mandatory property levies approved by the city. With all their money, the BIDs can afford to hire private lobbying firms."
In this regard it's important to note how quality-of-life policing extends beyond police. These other levers of power and influence, represented by BIDs, merchant associations and chambers of commerce, fuel the broader Broken Windows ideology. "No police reform or community groups can match the BIDs collective reach," says Basinski.
Vendors from across the city joined Street Vendor Project to rally outside City Hall last year (Photo: DNAinfo)
Queens Neighborhood United (or Queens Barrios Unidos) is a grassroots coalition of resident groups and small business owners which fought the creation of a BID in Jackson Heights. They see BIDs as a spear of gentrification and say that heavy-handed quality-of-life enforcement efforts will only get worse with the expansion of BIDs. Spanish Harlem, which has a local chamber of commerce, has been on the brink of creating a BID in the neighborhood for some time.
Crackdowns on vendors have also been happening in Jackson Heights and Corona, Queens as of late. Last week the city's health department, along with police officers, swept through neighborhoods in Queens harassing vendors, some who are even fined even though they had permits (enforcement can include all sorts other infractions, like being a few inches too close or too far from the curb). There, like in El Barrio, an icy vendor also had their cart confiscated. Even a vegetable vendor was targeted, the group says. Organizer Tania Mattos points to the Roosevelt Avenue Police Task Force and Jackson Heights Corona Business Improvement District, which she says "are tools used by government and the private sector to advance the interests of property owners."
The Street Vendor Project says that crackdowns cost more than one might imagine. Apart from their slice of the police budget--the Manhattan South Peddler Task Force, for example, is reported to enjoy $4.5 Million budget--the policing of vendors can be measured in tens of thousands of tickets each year that vendors have to pay. In 2014, the Street Vendor Project estimates that 1,542 NYPD tickets and summonses were issued to vendors for lack of permits or licences. In 2015, 18,924 tickets issued to vendors went through the Environmental Control Board court (these being those that other city agencies can levy). Put together one can estimate upwards of 20,000-25,000 tickets are being issued to street vendors on any given year.
While getting that cherished but capped vendor permit is nearly impossible, Basinski says that some can be bought on the black market for up to $20,000. More profitable food trucks and out-of-town vendors with wealthy investors (read: hipsters and white foodie-preneurs) may be able to afford those types of costs. However, most vendors, many of whom are immigrants and most of whom are people of color (Street Vendor Project estimates over 95% of vendors are non-white), cannot.
So far the solution has been to police and ticket them like there's no tomorrow. That continues. The Giuliani era, it would appear, never ended.
Related
Popular in the Community